Campus Life
News
"Love over hate": U of A rally for Christchurch victims attracts hundreds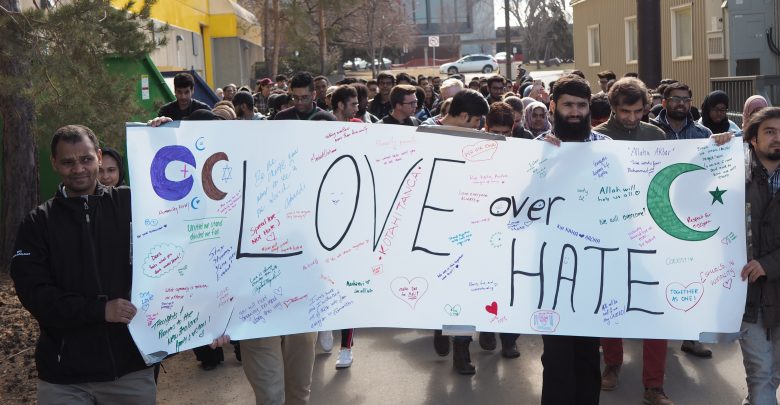 Around 200 people from the university community joined the memorial service and march held in honour of the victims in the Christchurch mosque attacks.
From 1 to 2:30 p.m. on March 29, students and other members of the university community gathered at the Butterdome to pay their respects to the 50 people killed in the tragedy. The event began with a sermon and a prayer, as well as a speech from deputy provost Wendy Rodgers. Afterwards, attendees marched from the Butterdome and through the engineering, main, and arts quads.
The event took place 14 days after a gunman opened fire on worshippers in two mosques in Christchurch, New Zealand. A manifesto released on social media indicated that the attacker was motivated by white nationalism.
"Acts of hate and anger touch us all," Rodgers said. "We will find strength in our shared resolve to stand against the ideas and actions of others who seek to divide us. Together we can reject racism."
The service was hosted by the Muslim Students' Association, with the help of the Students' Union, the university, and other campus groups.
"This is not just for New Zealand, but for all innocent lives lost to hate and ignorance all across the world," said Zainab Abbasi, a third-year pharmacy student and the MSA's secretary.
During the prayer service, a banner was made available for people to write messages of support like "love over hate" and "coexist." The banner was later carried across campus during the march and was made available in the Students' Union Building for anyone else who wished to write a message.
After the march concluded, Abbasi and other members of the MSA were happy with how the service went and how many people showed up for it.
"I didn't think there'd be this many people here," said Rafay Sharif, a third-year civil engineering student and the Friday prayer coordinator for the MSA. "There are about 200 people standing with us. I though there would be like 10 or 20."
"We can see the amount of support that exists on this campus, so thank you all," he added.