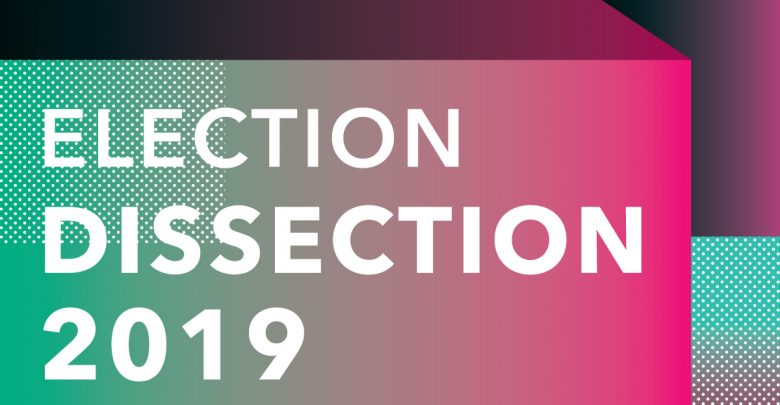 There are only a few days left before students fill out their digital ballot for who they want as the five Students' Union executives, Board of Governors Representative in the 2019-20 year. For those who are still undecided on who to vote for, our election dissection panel is here with their insights on student politics and their takes on this year's candidates.
Opinions expressed by the panellists do not reflect those of The Gateway.
Meet the panel:
Jamie Sarkonak
Jamie Sarkonak was the editor-in-chief of The Gateway in 2017-18, and has four years of experience covering university and Students' Union news. Last summer, she worked as a reporter for the Edmonton Journal covering everything from crime to politics.
Vivian Kwan
Vivian Kwan served as the Students' Union vice-president (student life) in 2015-16, and is currently working as a freelance consultant conducting ethnic research for provincial and federal government agencies, and political parties.
Adrienne Faulkner
Adrienne Faulkner is a first-year law student who previously worked as a legislative analyst with the Ministry of Advanced Education. She first became interested in student government in 2017 when she was sick at home and ended up looking through all the candidates' platforms.
President
Meet the candidates:
Akanksha Bhatnagar is a fourth-year political science and sociology double major and the current vice-president (academic).
Andre Bourgeois is a sixth-year sociology student and the current vice-president (student life).
With two current Students' Union executives running for president, both with strong track records, the panel agreed it's the most competitive race this year and either Akanksha Bhatnagar and Andre Bourgeois would do a good job.
"This is one of my favourite races because you have two really good candidates," Faulkner said. "[Akanksha] has a proven track record where she'll get stuff done. But I think Andre will also do a fantastic job."
Kwan thought both candidates are strong in their own ways, but said she liked how Bhatnagar's platform had a stronger focus on diversity compared to Bourgeois.
"I have a feeling she is stronger in the field of reaching out to minority groups who aren't necessarily as involved," Kwan said.
"I don't think you can go wrong with either one," Sarkonak added. "But Akanksha comes across as stronger, just seeing her posters everywhere."
Sarkonak praised Bhatnagar for some her accomplishments like getting iClickers phased out from classroom use, as well as Bourgeois for his work on security issues in HUB Mall. She also praised Bhatnagar for wanting to find a sustainable funding model for STRIDE, the Students' Union's initiative to increase diversity in student governance. However, Sarkonak is unsure of how Bhatnagar plans to do this.
Kwan said both candidates have done well as current executives, and that the two are knowledgeable in different areas. She praised Akanksha for her work on improving GovWeek, but added there was a lot of overlap with the two candidates' platforms, such as pursuing mental health and deferred maintenance.
"I wanted to see a little more difference based on tangible strategies," Kwan said.
Kwan also wished she got more details from Bourgeois on how he intends to set up an office for restorative practices.
Sarkonak took issue with how both candidates put continuing to work on the student charter of rights high up on their platform goals, as she thinks that initiative is something that is already in the works and will be finished regardless.
While Faulkner echoed Kwan's earlier comment about Bhatnagar's focus on diversity, she said Bourgeois did have a strong performance at the Campus Saint-Jean forum and that he might be more prepared to handle their issues specifically.
Evaluating Bourgeois' platform, both Faulkner and Sarkonak had concerns. Faulkner said she wasn't convinced he could follow through on some of his platform points whereas Sarkonak disliked how Bourgeois said he wanted to fight university administration costs, which she said shouldn't be the president's focus, especially when there's a provincial and federal election later this year.
"Different universities file different budget lines differently, so it's hard to actually say how much the U of A has inflated their admin costs," she said. "In addition, universities need administrations. To say we need to fight this is… I don't know about that."
As for who would do a better job in leading the rest of the executive team, Sarkonak and Faulkner were both impressed by Bhatnagar. Sarkonak said Bourgeois has a lot of experience while Bhatnagar seems to have a stronger sense of what she wants to accomplish.
"It's very hard to say," Kwan said. "I feel like their leading styles are both very different, so either way, whoever becomes president, they'll have a different way of leading their execs, but ultimately it will be okay."
Kwan added that it might take the last week of campaigning to determine who will be the final winner.
Final verdict
Will win
Akanksha Bhatnagar — one vote
Undecided — two votes
Should win
Akanksha Bhatnagar — three votes
Vice-president (external)
Meet the candidates:
Robert Bilak is a third-year political science student and an arts councillor on Students' Council.
Adam Brown is a fourth-year bilingual business student and the current vice-president (external).
Faulkner, who has worked for the Ministry of Advanced Education, started off discussion of the vice-president (external) race saying she wasn't particularly excited about either candidate.
"I don't think either of them are going to burn it to the ground," she said. "They'll both do a decent job, but there's no one I'm really excited about in this race."
Faulkner praised Adam Brown as a politician but criticized his reliance on mentioning Bill 19, legislation which ties increases in domestic student's tuition to inflation, as one of his accomplishments.
"I can't see how he could've done a whole lot to actually make that happen," she said. "This bill was introduced in October. He'd only been in the portfolio for a few months at that point really. He's campaigning as if that was something he made happen when… it would've been a lot of work from his predecessors."
Faulkner said Robert Bilak has some strong points but is less clear on how he will achieve some of his goals.
Kwan said she noticed several of Bilak's platform points didn't necessarily belong with the vice-president (external) portfolio, such as enriching the student community, focusing on residences, and providing safe transit for students, which made her question if he fully understands the role. Kwan said that something like transit belongs more in either the operations and finance or student life portfolios.
Kwan added that since Brown has been in the role for a year already, he is the "safest candidate" for the job, which she said was important considering the upcoming provincial and federal elections.
Sarkonak praised Brown's desire to expand the Alberta government's Summer Temporary Employment Program so that it runs all year long, as well as his point on opposing voluntary students' unionism, the movement to make students' union membership fees optional, which could financially jeopardize them.
But when it comes to Brown's point about freezing international student tuition, Sarkonak was less generous, calling it an "impossible campaign point."
"It's unwise considering who is going to get elected next year," she said. "I mean, this is just never going to happen. Universities need higher international student tuition, that's not about to change. You're going to have a really hard time changing legislation to make international tuition frozen."
Kwan added the only way a freeze on international students would work is if the provincial government covers the difference in revenue, otherwise students might see a cut in university services, or a large hike in fees once tuition is unfrozen.
"I'm not against a freeze," Kwan said. "But right now, it's just a band-aid solution."
In contrast, Faulkner and Sarkonak praised Bilak for wanting to fix increases to international student tuition to inflation, which Faulkner said is "ambitious, but is doable."
As for Bilak's promise of being a vice-president (external) who has more of a presence on campus as opposed to spending a lot of time away, Faulkner said that with the upcoming elections this year is not the year to do that, and students should want someone who will be "out there."
Final verdict
Will win
Adam Brown — three votes
Should win
Adam Brown — three votes
Vice-president (student life)
Meet the candidates:
Jared Larsen is a fourth-year business student and the current HUB Community Association president.
Shuaa Rizvi is a fifth-year science student and a science councillor on Students' Council.
Rory Storm is a sixth-year drama student and past president of the U of A Interfraternity Council
Kwan, a former vice-president (student life), opened the debate by noting how all three candidates vying for the position this year have diverse backgrounds, with Jared Larsen coming from a residence background, Rory Storm coming from a fraternity background, and Shuaa Rizvi coming from a Students' Council background.
However, she said one candidate stood out from the rest.
"I would say, so far, Jared seemed like he's the preferred candidate for the vice-president (student life) race," Kwan said.
Faulkner said she likes both Larsen and Rizvi, and thinks they'd both do a good job. But Faulkner and Sarkonak agreed Larsen wins out by having a website with his campaign information during their deliberation.
"He wins the marketing race here," Sarkonak said.
Rizvi and Storm also have websites with their platforms, but they were only released after the panel had met.
As for Storm, Faulkner said "his heart is in the right place" but that his priorities are misguided.
"I look at his platform points, especially the one he keeps going on about community [building], and I just keep thinking: is this something that anyone asked for?" she said. "When I think of how could student life be better, that's not something that ever crosses my mind."
Additionally, neither of the panellists were sold on Storm's platform point about connecting more with the alumni community, as Kwan felt that it was beyond the Students' Union's mandate.
"What would we do differently than the Alumni Association?" Kwan asked.
As for Storm's attempt to portray himself as an ordinary student compared to the other candidates, Faulkner said it could've worked if it was done well and if he seemed like he was reflecting student priorities.
Moving on to Rizvi, Kwan and Faulkner applauded her for running and praised some of her ideas, such as her platform point on students who parent, and her idea of a community kitchen.
"I think she's got a lot of great ideas," Faulkner said. "I really liked her focus on some things that I maybe wouldn't necessarily think of as conventional student life things."
However, Faulkner and Sarkonak agreed Rizvi isn't as prepared as she could be for the vice-president (student life) role. Addressing Rizvi's point of adding a triage system to mental health counselling, Sarkonak said that's how clinical and counselling services has always worked.
All three panellists said they'd love to see Rizvi run again in a future campaign once she's had more time to prepare.
"I think [Rizvi is] someone who is a little more on the 'average student' kind of level, but is doing a half-decent job of it and has her priorities straight," Faulkner said. "She has a fair amount of emphasis on things like sexual assault, which I like."
As for Larsen, Sarkonak praised how seriously he is taking the vice-president (student life) portfolio, as well as his strong focus on residence issues like regulating rent increases and quality control for meals.
"If you're living anywhere where you need to pay rent, and it goes up suddenly, you can be, quite frankly, screwed sometimes," Sarkonak said. "So all the attention he's putting on residences is well deserved, and it's good he's doing that."
Kwan also liked Larsen's desire to work with cultural communities, and how Larsen seems to recognize the cultural barriers around mental health services. However, her only criticism is Larsen's talking point of keeping services on campus instead of directing students to Alberta Health Services, as Kwan thinks there are occasions where going to AHS is necessary.
Final verdict
Will win
Jared Larsen — three votes
Should win
Jared Larsen — three votes
Vice-president (academic)
Meet the candidate:
Joel Agarwal is a fifth-year biology student and a science councillor on Students' Council.
When evaluating the sole candidate for the position of vice-president (academic), Joel Agarwal, Faulkner said he had good ideas — such as his focus on experiential learning. However, she said Agarwal didn't seem to have a lot of concrete plans and that she wished she could see more.
"It's hard when I have nothing to compare him to in this race," Faulkner said. "[He's] got big shoes to fill, and I just don't know if [he] can do that."
Sarkonak said while Agarwal doesn't have a lot of new things in his platform, she said a big part of the vice-president (academic) position is already laid out in the role, such as attending General Faculties Council, the highest academic decision-making body at the university, and communicating students' concerns regarding their classroom experience. Because of that, she isn't sure if new platform points matter much.
Faulkner said the VPA can do new initiatives, but she isn't convinced by Agarwal's campaign that he can follow through with them.
As for Agarwal's platform, Kwan wondered why Agarwal specifically focused on removing cost barriers associated with the Academic Success Centre, and not other services offered on campus, and if there is any data that shows students were having issues accessing it.
Sarkonak said because the Academic Success Centre is run by the university and not by the Students' Union, Agarwal is unlikely to make progress on that point. She added there are other services on-campus students can access for free if the prices charged by the centre are too high.
Sarkonak also wasn't sold on Agarwal's focus on better equipping first-year students for university through expanding current workshops.
"For first-years transitioning into university, they're not going to see those things that say 'Go to this workshop to figure out first year,'" Sarkonak said. "They're going to be figuring out where to go on campus and they're going to be stressed out over a million other things."
Faulkner said part of university is learning from experience and that "there is no amount of workshops that is going to prepare you for it."
As for Agarwal's desire to expand GovWeek, the Students' Union event that promotes student governance, Faulkner said she isn't opposed to it but wondered if there is a better way to get students involved in governance than through GovWeek, as she doesn't see it as effective.
"The only people I know who go to GovWeek are people who are already into student governance," she said. "You're preaching to the choir. We need a new idea."
The panel praised Agarwal's desire to integrate Indigenous content into courses, but Faulkner and Kwan said it will be a long-term project.
"I think he's coming at this with good intentions and some good ideas, and I think he's going to hold down the fort," Faulkner said. "I'm just not excited."
Ultimately, while the panel was critical of some of Agarwal's idea, Faulkner said, "Ultimately, he'll do a fine job."
Final verdict
Will win
Joel Agarwal — three votes
Should win
Joel Agarwal — three votes
Vice-president (operations and finance)
Meet the candidate:
Luke Statt is a fourth-year business student and a business councillor on Students' Council.
With only one candidate running for the race, neither Kwan or Faulkner said they were enthusiastic about the race.
"[Luke Statt] seems like a capable person," Faulkner said. "Again I'm just not overly excited."
Faulkner said Statt has good intentions but may have fallen into the trap of running in an uncontested race.
Sarkonak said she appreciates how Statt's platform did stay in the confines of the vice-president (operations and finance) position, whereas candidates in other races seem to have platform points that expand beyond their position's scope.
Faulkner also commended Statt for thinking about the issue of voluntary student unionism with his focus on making Students' Union businesses more profitable.
The panel also discussed Statt's position on the student spaces levy. While it isn't in Statt's platform, he has indicated at forums that he would work on passing a new version of the levy.
The version of the levy proposed this year would've cost students $18 in the 2019-20 academic year, doubling annually until it reaches $54 by 2021-22, and would have been used to renew spaces around campus not funded by government sources. However, Students' Council voted no to putting the proposal forth to a referendum.
Faulkner said Statt would need to work hard on communicating the levy as it would be a "hard sell" to students, whereas Sarkonak said Statt's support of the student spaces levy shows that Statt might not be thinking critically compared to his peers on Students' Council.
"It appears to me he's not thinking too critically about it and he's just wanting to run with it because that's what you do if you want to be part the SU institution, is that you agree with all these other people," Sarkonak said.
Statt has also indicated he would rely on student consultation should a new levy proceed, which Faulkner said isn't entirely a bad thing, but she wished she could see a harder answer from Statt on what he would want to do with it.
"You're the person in charge of something like this," Faulkner said. "You need to be able to stand up for your position."
As for Statt's emphasis on accessible communication in his platform, Kwan was also a bit critical.
"He talked a lot about communications and engaging students and advertising the SU, I feel like that shouldn't be a platform point," she said. "You're pretty much obligated to be selling the SU and representing the SU."
Sarkonak said the worst thing he could do is to "go hard" on the student spaces levy, pointing out Statt voted yes to having the levy go to referendum this year. Faulkner agreed, but believes that Statt will be able to "keep anything running."
Final verdict
Will win
Luke Statt — three votes
Should win
Luke Statt — three votes
Board of Governors Representative
Meet the candidate:
Rowan Ley is a third-year political science student and an arts councillor on Students' Council.
When it came to Rowan Ley, the lone candidate for the Board of Governors Representative position, Faulkner said Ley had the potential to be a stronger candidate for the job compared to some of his predecessors from the last few years.
"He seems like he'd be more vocal and slightly more effective," she said. "Maybe he'll raise the bar a little bit."
Sarkonak praised Ley's desire to make a business case against potential decisions by the Board of Governors, the university's highest decision-making body, that may be against student interests. She said she's seen that tactic used successfully by Colin Champagne, who was Board of Governors Representative in 2016-17. A proposed meal plan for students living in residence was voted down during his term.
"[Champagne] took actual numbers to the board and that was enough to sway board members if you are convincing with your numbers," she said. "So if he's going to do this, great, that's all we need."
Kwan noted that while some of Ley's ideas are ambitious, she appreciated his optimism for what he wants to do with the position. Faulkner built on Kwan's comments and said that while candidates can come off as not knowing what they're doing if they're very ambitious or hopeful, she said that Ley seems competent.
"Hopefully this optimism will keep him moving forward because dreams die really fast," Kwan said.
When it came to scrutinizing Ley's platform, Faulkner took issue with how Ley wants to add additional student seats to the Board of Governors. While Ley points to Bill 19, which increased student representation for other universities in Alberta, Faulkner said that was an "equalizing measure" as those universities had fewer student representatives at their boards compared to the U of A.
"So we can't just go and be like, 'Oh, now we'd like more,'" she said. "Because they're going to be like, 'No, you have as many as anyone else, what makes you special that you should get one more?'"
Faulkner and Sarkonak added that for Ley's idea to work, he'll need to convince the Minister of Advanced Education to amend the relevant legislation, which seems unlikely in their opinion.
Sarkonak also doubted if the two town halls per year Ley promised would actually happen. Faulkner said town halls are not the most effective as they make people go out of their way to have their voices heard and that Ley's idea of doing surveys through social media might be more effective.
Final verdict
Will win
Rowan Ley — three votes
Should win
Rowan Ley — three votes
Referendum: Aboriginal Student Council
All three panellists had difficulties discussing the Aboriginal Student Council (ASC) referendum, which is asking for an opt-outable $1.00 per-term fee to fund things like more cultural programming, awards, and child care for Aboriginal and non-Aboriginal students.
Faulkner said she wasn't sure if it was her place to comment on the referendum, but added that she liked the idea of what the fee is proposing. She is also glad the "Yes" side of the campaign gave a more detailed breakdown of how the money will be used by ASC, but said she wants to see more details later in the week.
"It seems to be the logistics that is the issue, more than anything," she said.
Sarkonak said she liked the cultural supports ASC wants to offer, and that she has no problem with paying the fee as this will be supporting students on the ground, in contrast with the university's reconciliation initiatives.
"I'm for grassroots stuff rather than just the SU or university saying, 'We need to help engage more Indigenous students,'" she said. "Like no, fund the grassroots stuff, which is what these guys want to do."
However, Sarkonak said she's confused by ASC's plan to support students who parent.
"There are student parents, yes. There is an issue with being a student and a parent at the same time, it's harder," she said. "But is a fee that's supposed to go towards supporting Aboriginal students the way to do it? I don't know."
Sarkonak and Faulkner also discussed ASC's decision to make the child care subsidy available to all students. Sarkonak said some would rather pay towards something that would specifically help Aboriginal students, and not something anyone could apply for, whereas Faulkner said excluding non-Aboriginal students from the subsidy could've received a lot of push back, whether it was justified or not.
However, Sarkonak later said the decision to open the subsidy to Aboriginal and non-Aboriginal students could be so that Aboriginal students who don't have formal Indian status can apply for it.
Kwan said the fee would help a lot of Aboriginal students, and that the Students' Union has mechanisms to make sure the financial accountability is there. While Kwan agreed with the other panellists about seeing more details, she said students do have the choice to opt-out of the fee if they're not satisfied with ASC's proposal.
"To me, I think $1.00 is not that much of a big deal," she said. "I would happily pay it if I know that it's going to be something that will actually help support the student population."
Faulkner added that financial accountability would be a bigger factor if the fee was larger, but because it's $1.00 she isn't as concerned.
Final verdict
Will it pass?
Yes — two votes
Undecided — one vote
Should it pass?
Yes — three votes
Plebiscites: Student Legal Services and CJSR
All three panellists said students should support the continuation of the two fees. Student Legal Services, which provides free legal assistance to low-income individuals, is asking students whether they support continuing to pay $0.75 per term. CJSR, the campus-based community radio station, is asking students whether they support continuing to pay $2.18 per semesters for full-time students and $0.78 per term for part-time students.
"You can't go wrong by funding either one, I think," Sarkonak said.
Sarkonak said Student Legal Services is valuable considering how costly it is to get a lawyer. Faulkner said she's volunteered for Student Legal Services and "genuinely believes they're doing good work."
As for CJSR, Faulkner said she grew up listening to it, adding she was surprised to learn later that it was a campus radio station, as she was impressed by the quality of the station's programming.
"I was like, 'Oh wow, this is run by university students,'" she said. "It's really unique from the other stations in the city and it benefits students as well."
Will it pass?
Yes — three votes
Should it pass?
Yes — three votes