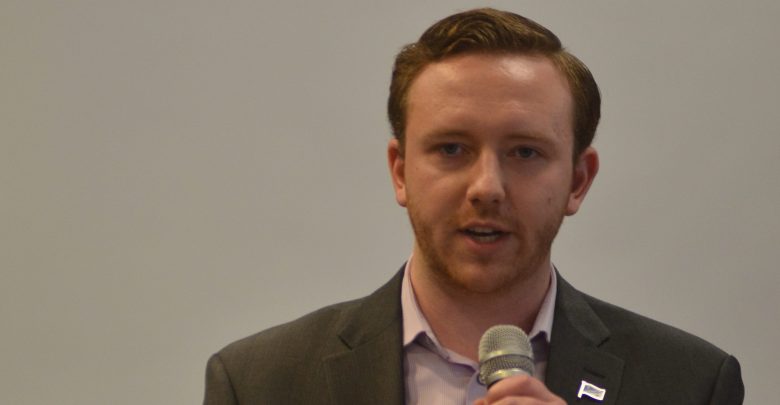 The Campus Saint-Jean (CSJ) forum helped to somewhat filter the murky waters when it comes to who's the more capable candidate for vice-president (external).
The forum started rather unimpressively; barely any of the candidates bothered to give so much as a "bonjour" to our French sister campus in their opening remarks. However, Adam Brown, a former AUFSJ president, impressed by being one of only two candidates to address the forum entirely in French. Robert Bilak was forgotten for the third time this election season, nearly missing the chance to make an opening statement. When he did speak, he disappointingly parroted the same points he has been speaking on since the first forum: needs-based grants and funding for mental health. A brief interruption of these points to introduce some of his ideas for French grant interfaces and advocating for CSJ students was the only respite in his introduction.
When asked what needs they were aware of at CSJ and what they would do to address them, Bilak gave another disappointing response. He said that he could "only guess" that they needed more funding for mental health issues and access to programs in both French and English. This kind of generic response implies that he knows little of the issues students at CSJ face. It's incredibly difficult to solve issues you know nothing about.
While Brown clearly felt like the stronger candidate at this forum, he made a grave mistake when asked about the Council of Alberta University Students' (CAUS) much-criticized Indigenization policy. He said that the new CAUS chair would need to be aware of what happened this year, as if somehow they would enter the organization blind to any previous happenings.
Brown has, in fact, given vague answers to many of the Indigenous-related questions at every forum. Brown is clearly an experienced political figure, and his constant repetition of his platform points could give a pull-string doll's limited vocabulary a run for its money, but it is unclear whether this latest statement is a result of that training or a lack of sensitivity. It would be interesting to see how he responds if asked about more Indigenous issues at the next forum.
Both candidates have flaws that they must work on. Bilak gave extremely weak responses this forum, and combined with the fact that he has now been overlooked thrice by the forum moderators, this practically seals his fate as a meek candidate. Brown, though strongly versed in public speaking, continues to feel like an dispassionate tin-man, which does not combine well with today's slip-up. But if Brown is indeed the tin-man, then Bilak must be the lion, for today he did not find the courage to say anything noteworthy.
The clear leader after this forum is Brown. If the race continues this way, Brown will likely win by media training and previous experience alone. It will be exciting to see what happens at the Meyer Horowitz forum, and whether they will have stronger statements to make.
Correction: A previous version of this article critiqued Adam Brown for saying that CAUS should hire an "Indigenous consultant" to work on their Indigenization policy. This was not said by Brown. Brown said at the CSJ forum that "CAUS needs to do its research, and any research done should be done by an Indigenous research assistant." The Gateway apologizes for this error.