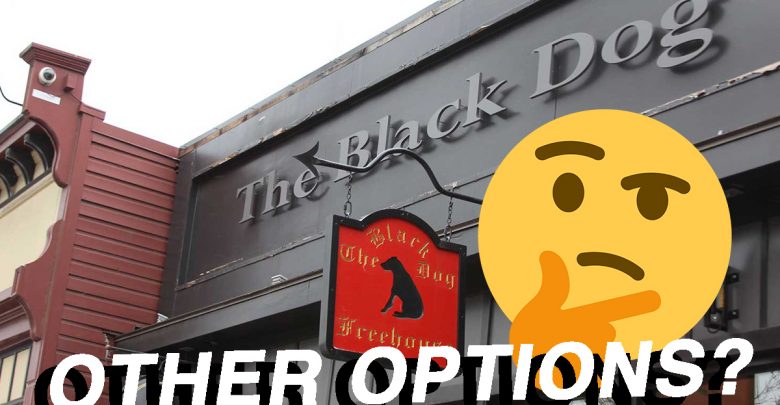 We all know the drill. After a dreadfully long week filled with papers, tests, and other disheartening bureaucratic measures of success, Saturday rolls around in Edmonton, which means it's time to get boozy. For my social gatherings, this typically results in one question being asked: "Black Dog at 10?"

If any of this feels familiar, I challenge YOU to enact this simple five-step program to help your social group break past the Black Dog barrier.

1. Empress Ale House — for the dependent

Your first impression of Empress will likely be "It's Black Dog, but with better beer," and to start, this is likely all the change you need. This dimly lit watering hole with its sticky tables and dart boards will ooze familiarity while exuding an unassuming charm.

Pro Tip: Try the Gose from Collective Arts.

2. The Next Act — for the homesick

Perhaps you're not ready for a radical switch in your drinking atmosphere. But even so, maybe clean tables and enough light to see your friends wouldn't be remiss. Luckily you don't even have to venture off of Whyte Ave for this one. The Next Act is a perfect "gateway drug" to weaning yourself off of Black Dog and getting hooked on new things.

Pro Tip: Try the bomber of Fat Tug IPA.

3. Have Mercy — for the nostalgics

Black Dog is in the rearview now. Making it this far means you've ventured off a couple blocks physically — and perhaps many more mentally. Have Mercy is what my 12-year-old self imagined all bars to be: a plethora of whiskey bottles lining the shelf and neon lettering explaining that "If you don't gamble, you'll never win" all wrapped up in a Southern-styled feel. There's no better way to whisk away the February blues than with a batch of Patsy Cline tunes and an ounce of whiskey that you can valiantly try to sip straight.

Pro Tip: For extra adventure points, close your eyes and point on the menu to choose your whiskey.

4. DOSC — for the bold

Are you willing to spend outside your means to convince yourself you could snag a six-figure job post-graduation? Undergrads at DOSC epitomize the philosophy of "faking it till you make it." While sipping on an expertly crafted cocktail, you can dream of life beyond the confines of a Tory or CCIS lecture hall and drink away the nagging worry of whether the degree is even worth it.

Pro Tip: Try the "Lovely Lucifer" made with elderflower — you can taste its wisdom.

5. Create your own bar — for the revolutionaries

If none of the alternatives above have enticed you, there remains but one option: a complete rejection of the bar system itself. Gather your fellow revolutionary brethren and seize control of the means of alcohol consumption. Gone are the days of supporting the booze-oisie. Something as important as cracking open a proletarian cold one calls for nothing short of a revolution.

Pro tip: Reference the Cocktail Manifesto for ideas on where to start.

Honourable mention: The Black Dog Freehouse

When all else fails, it's still there.