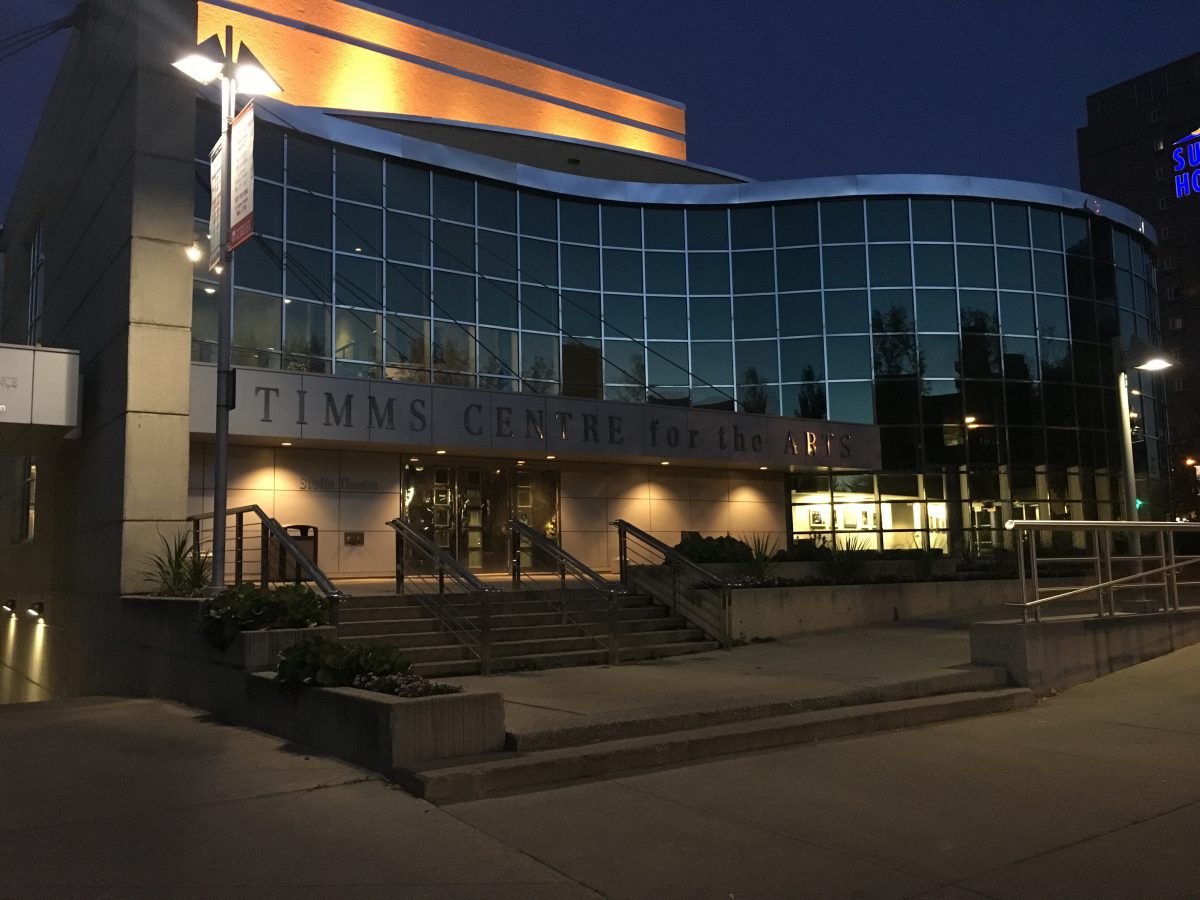 What: All For Love
When: February 7-16, 7:30 p.m. (no show on February 10, matinée on February 14 at 12:30 p.m.)
Where: The Mainstage at the Timms Centre for the Arts
Tickets: $12 for students, $22 for seniors, $25 for other adults ($5 on Wednesday preview, 2 for 1 on Mondays)
---
Playwright: John Dryden
Director: Peter Hinton (Mary Mooney Distinguished Visiting Artist)
Production Designer: Sofia Lukie (MFA theatre design thesis project)
Cast: Michael Anderson, Melanie Bahniuk, Helen Belay, Griffin Cork, Sarah Emslie, Lauren Hughes, Marguerite Lawler, Chris Pereira, Leila Raye-Crofton, Diego Stredel (graduating BFA acting class)
---
John Dryden's All For Love may initially seem old-fashioned and irrelevant, written in Middle English verse, but Studio Theatre's production of this Restoration drama is bold and unapologetic, appealing to even the most skeptical modern audiences.
The play chronicles the love affair of Mark Antony and Cleopatra, which brought both their political ruin. The production, directed by Canadian theatre veteran Peter Hinton, is aesthetically show-stopping. But despite its beauty, poetic language, and intricate set pieces, the show is characterized by a current of foreboding which culminates in the violent, tragic fifth act.
Diego Stredel and Helen Belay shine as Antony and Cleopatra, respectively: they seem made to play these roles, embodying each character's internal conflict between passion and duty. These actors aren't burdened by Dryden's dense language, which could easily sound archaic and awkward to modern ears. Rather, they pull the audience into the drama as both Antony and Cleopatra descend into the madness of doomed love.
Even the secondary roles in this show are filled boldly; actors are not burdened by the script's relentless, weightly melodrama, but rather rise to the occasion to present an authentic emotional portrayal. Marguerite Lawler contrasts Cleopatra as Antony's spurned wife Octavia; Griffin Cork is compelling as the general Ventidius, who loves Antony more, perhaps, than even Cleopatra does; Lauren Hughes is both sympathetic and bone-chilling as deceptive eunuch Alexas. With each performer given a moment to showcase their talent, this cast also makes for a strong ensemble. Indeed, the tensest, most dramatic moments of the play occur when they all gather onstage together.
The only flaw in the actors' performances comes in the play's many musical interludes. Although the cast uses songs in the play to create a haunting atmosphere, the singing is more often out-of-tune than not. When singing as a group, the cast performs passably, but soloists often fail to rise to the occasion.
Set, costume, and lighting designer Sofia Lukie delivers a production which is at once haunting and beautiful. All For Love opens on a nearly empty stage. Various set pieces bring the audience from one scene to another. Rich costumes lend a much-needed sense of grandeur to this political drama, but the stage is far from cluttered. Stark lighting outlines each set piece dramatically and casts the performers' faces in deep shadows, highlighting the play's many tragic contrasts: love versus duty, honesty versus betrayal, passion versus reason, and, finally, life versus death.
That said, persistent backdrops of historical paintings and photographs accompanying each scene continually draw the eye away from the otherwise masterful design. Despite the actors' talents, I found my eye continually drawn to a blank stare at various backdrops which, at best, added little to the story, and at worst, were actively distracting and awkward.
Hinton resists presenting All For Love as a museum piece. Though the script tells the story of the Roman Empire, and the production design echoes the Restoration aesthetic of Dryden's era, the design immediately draws the audience into the story, rather than presenting the narrative at a historical distance. Further, the cast, made up of fourth-year BFA Acting students from the university, resists merely reciting the play's abundant monologues as dull speeches. Instead, they imbue each scene with tension and emotion that's accessible to contemporary audiences.
At almost three hours, All For Love feels long, but with each moment comes a new artistic delight. I never tired of watching these talented young performers, who manage to make a script written centuries ago feel brand-new.