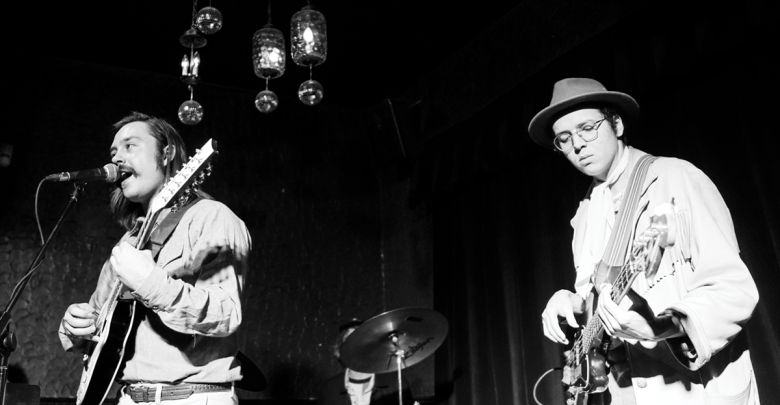 Sparks flew for Baby Jey when the band sold out its very first show in May 2017. The Edmontonian duo made it a cozy one, complete with a rug and recliner chair onstage for a laid-back, living-room feel, which was not unusual for a group who likes to perform in cowboy costumes with beers in hand. The brainchild of musicians Jeremy Witten (lead vocals, guitar, and keyboard) and Dean Kheroufi (bass and backing vocals), Baby Jey enjoyed positive reception for its debut album, Best Wishes, before touring Canada and the United States.

I called Witten at the pair's new home in New York City, where he's working on a master's in history at The New School. Against muffled chatter in the background, Witten welcomed me into his musical world for a chat about sounds, passions, and sewer rats.

Under the moniker Jey Witten, the U of A music grad had released two solo albums since 2013, while Kheroufi was playing bass for several local Edmonton bands, including The Velveteins and Jesse and the Dandelions. When they found their way to each other, a few jam sessions burgeoned into something more: the birth of Baby Jey.

After months of leafing through Witten's extensive song collection — he wrote over 80 in one year — the band unveiled its adventurous sophomore album Someday Cowboy on October 4, 2018. Its distinct style came from Baby Jey's love for old country music and a desire to take it somewhere new. Clean acoustic guitar and piano are layered between diverse instrumental textures and complex chord progressions, while a lap steel guitar weaves through each song to accent the album with flecks of country sound.

"It has a country flavour," Witten explains, "but we couldn't get on country radio if we tried."

Witten and Kheroufi play alongside a rotating cast of musicians, but the heart of Baby Jey lies in the duo's bond.

"We both have really similar tastes in music," Witten says. "We also like to nerd out about music theory and cool melodies and chord changes."

Both avid listeners of instrumental jazz and folk, Witten and Kheroufi experiment with unlikely combinations of influences. However, as much as they value learned musicianship, making art accessible still matters.

"[Kheroufi] is really into interesting music… but can also appreciate the value of a simple, straightforward folk song," Witten says. "It's cool to find someone who has both sides."

In concerts, Witten croons at centre stage and jokes around with the crowd, but he admits he's too "all over the place" to lead the band. It's Kheroufi's diligence that keeps them sounding crisp. He masters and memorizes all the instrumental parts to make sure the whole group is in sync.

I got the impression that behind this harmonious partnership, a solid friendship has formed.

"He's also just a super nice, easy-going guy," Witten says.

Living together in NYC, he and Kheroufi continue to play shows and craft their next record. This change of environment stimulates their work, but perhaps not in the way you would expect.

"Whatever you see in those '90s rom-com movies, they're 100 per cent of the time just showing you Manhattan and Times Square," Witten says. But his experiences in the concrete jungle just aren't that romantic.

"On my way home, I will more often than not see a rat," he adds. "It doesn't always smell good. But you can still kind of romanticize that."

Who can romanticize better than a poet? While writing some of Someday Cowboy's songs, Witten developed an interest in imagist poetry. In this style, concrete imagery written with precise language is key.

"I think that has an influence on the kind of love language in some of the romantic ballads [on the album]," Witten says.

But don't mistake the poetics for elitism. Baby Jey's moody sound and lyrics convey ideas we can all digest. Witten highlights the band's song "Hundred Percent," a romantic confession suffused with sentimentality, as an example of how love songs can rise above clichés.

"'Hundred Percent' was a really simple idea, but I couldn't think of a song that said 'I love you 100 per cent,'" Witten says. "It's a really simple way of framing something in a new light. That's the trick."

He credits Mitch Holtby, who produced Someday Cowboy, for orchestrating a "classic feel" for the more romantic songs. It's crucial work — the slightest adjustments in post-production can turn a jam into a classic, which is how songs like "Bernice Kentner" can give you warm fuzzies like you're reliving Christmas mornings in your childhood home.

Someday Cowboy ends with what Baby Jey calls the "Farewell Suite," made up of three tracks about lovers saying goodbye. This finale tours the stages of grief: denial ("Teach Me 2 Forget"), anger and bargaining ("Every Thing"), and finally, peaceful acceptance ("I Accept").
If there's anything we can learn from Someday Cowboy, it's to stay hopeful. The album leans toward cynicism after a few songs, surely resonating with weary-hearted young adults everywhere; but with the "Farewell Suite," Baby Jey suggests we can move on to find greater love."Those naïve and nostalgic things that you think about love when you're young, they're not completely artificial or incorrect," Witten says. "You don't need to be dismissive of hope."