News
Residences
St. Joseph's College women's residence closed due to water leak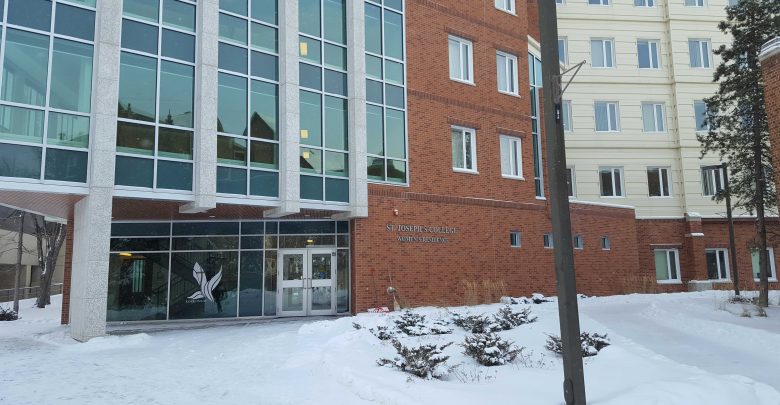 One-third of a University of Alberta residence is closed off from its residents due to a "significant" water leak.

According to an internal email sent to residents and obtained by The Gateway, on February 10, between 2:00 to 3:00 p.m., the U of A proceeded to close the women's residence at St. Joseph's College due to leaking water from a fire sprinkler head. The water had damaged a room and begun to leak to the floors below. Approximately 260 people live in the residence.

Ninety-two bedrooms in the residence have been declared "uninhabitable." According to Father Don McLeod, Dean of Advancement at St. Joseph's College, this constitutes one-third of the entire residence. The two-thirds who were not affected by the flooding were allowed to return on the night of February 10.

"There was fairly substantial damage done to some parts of the building," McLeod said. "Of course the worst thing with water is that it spreads."

The residence was closed off with no access being granted to residents for a few hours on February 10 following the initial incident. Water damage was most significant on the sixth floor of the building but spread to lower levels. Residents living in damaged rooms were accommodated in either Lister Centre or Campus Towers Suites Hotel. Residents with damaged rooms were allowed into the building temporarily to collect essential items like medicine.

McLeod said there was "significant" damage done to the building. All floors except the seventh floor were affected. He added floors in immediate proximity to the sixth one were damaged the most.

McLeod said cleaning and restoration began on February 10 and are ongoing. According to him, the earliest some of the affected people will be able to return to their rooms would be Friday, February 15. He added that other rooms that were more damaged could take four to six weeks to be repaired to allow students to return.

"There is really no huge immediate danger to students," he said. "However, we want to allow restoration crews the room they need to make repairs."

If students have personal items that were damaged from the flooding, McLeod said their personal tenant's insurance should cover costs. He said students are always encouraged to purchase insurance at the beginning of the semester.

For all students displaced by the flood, McLeod said the costs of their new accommodations will be covered by the residence. Further, any students who have a suite with a kitchen in their room and have been relocated will have their meals covered.

McLeod said he was pleased to see the emergency situation resolved quickly and that students were all accommodated.

"We really are appreciative of all the staff and students at Lister who helped accommodate our displaced residents and Campus Towers for their help as well," McLeod said.