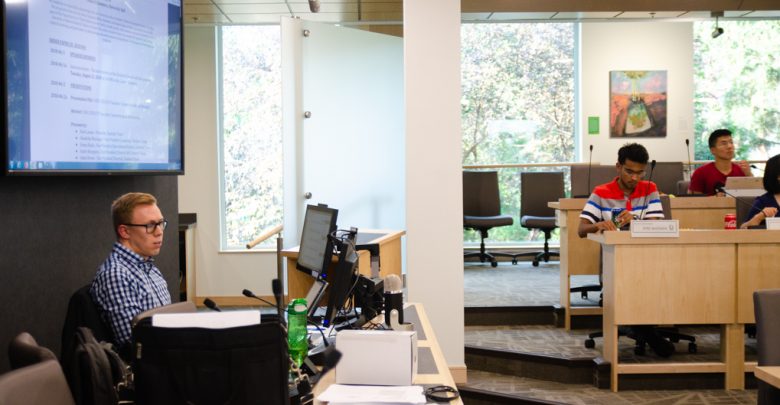 A post-mortem on the unmitigated disaster that was the student spaces levy is necessary, which is why I was thankful when Native Studies councilor Nathan Sunday filed a Discipline, Interpretation, and Enforcement (DIE) Board complaint against the vice-president (operations and finance) Emma Ripka and council Speaker Jonathan Barraclough.
Councillor Sunday's complaint was divided into two questions: firstly, can the Speaker of Students' Council unilaterally suspend council standing orders, specifically to hold the emergency February 2 meeting to discuss and vote on the student spaces levy question? Secondly, was the student spaces levy question itself provided without sufficient information for councilors, and therefore in violation of the council oath of office?
Standing orders are the rules that govern conduct and process in Council. They are meant to ensure meetings are conducted fairly, with equal opportunity for all members to participate in a transparent process. The Speaker, who is hired by Council at the beginning of the new council year chairs every council meeting. Their main role as chair is to enforce standing orders, along with helping councilors navigate council procedures.
This is why it's so alarming that Barraclough was arguing his role is to make council meetings comfortable, and that he should be allowed to choose when to enforce standing orders. He himself said that he has routinely been allowing Council to violate standing orders, from minor infractions such as speaking slightly over time limits, to allowing council to hold the unscheduled meeting with insufficient notice. Barraclough may have good intentions behind bending the rules, but the Speaker should not be allowed to pick and choose when to enforce them. This centralizes too much power in the Speaker, granting them unprecedented control over council proceedings.
While councilors are technically able to challenge decisions of the Speaker at any time, it's unlikely first-time councilors (which make up the majority of council) are confident enough in parliamentary procedure to do so. While it's tempting to simply trust the Speaker to make fair decisions, no one is immune to bias, and spotty enforcement of the rules is much more likely to benefit those with power than anyone else. It's difficult to imagine the Speaker facilitating a blatantly out-of-order emergency meeting like the February 2 event for anyone other than a desperate executive.
It's also easy for council to temporarily suspend or change standing orders at any time. A suspension simply requires a two-thirds majority vote, while changes to standing orders can be made a majority vote of Council Administration Committee. If council is finding certain parts of standing orders unworkable, they should change or temporarily suspend standing orders, not passively allow the Speaker to ignore them. Thankfully, the DIE Board ruled that the Speaker is not allowed to suspend standing orders without a proper vote from council.
However, the board also ruled that the February 2 meeting was permissible because it was justified by the urgency of the situation, a decision I strongly disagree with. 96 hours notice for a meeting is not an unreasonable expectation, and a very low bar to have set. Councillors are volunteers and have jobs and life commitments outside of the SU, and as highlighted by councilor Katherine Belcourt during the hearing, 96 hours is already barely enough notice to prepare for and attend a meeting.
The last-minute meeting only became necessary because because vice-president Ripka fumbled the execution of the levy process. At the hearing, Ripka contended that she had presented the concept for the levy to council on multiple occasions since September, and was under the impression that they were informed and supportive. This was a critical misunderstanding of the decision-making process of council. Presentations to council are meant to be information items, which are not structured to allow for formal debate. By only tabling the motion to approve the levy question at the last possible council meeting before the deadline prescribed in elections bylaw, she didn't allow council any time to amend or send the question back to committee for refinement.
While I'm glad that councilors Sunday and Belcourt, along with councilor Mpoe Mogale, took the time to outline their concerns with the governance process, it seems like the executive hasn't learned their lesson. In her defence at the hearing, Ripka strangely compared the levy question to the 1995 Quebec independence referendum, and openly wondered if she hadn't told council there was an incoming written report on the levy if they would have supported it.

An argument against transparency is not what anyone should have learnt from this dumpster fire of legislative negligence.