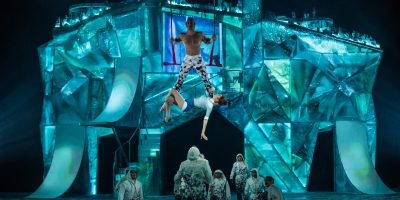 SOCIAL: That's right, Cirque's got skating now.
What: Cirque du Soleil's CRYSTAL
When: Feb 13-17, 2019
Where: Rogers Place
---
With extreme cold warnings becoming the norm, venturing outside is no mean feat. But as Cirque du Soleil's CRYSTAL came through Edmonton, it made the night cool in a whole other way.

CRYSTAL is Cirque du Soleil's first foray into integrating ice into its shows, merging acrobatics and skating in what promises to be a dizzying harmony. Following the otherworldly journey of Crystal, a young woman who falls through an icy pond into the world of her imagination, the show chips through an icy shell to her reflection and creativity.

Professional skater Andy Buchanan hails from Wabamun and trained at Edmonton's Royal Glenora Club. He and his wife Robin Johnstone skate pairs together and are both performing in the show. Buchanan says their work with a variety of companies prepared him for his role in Cirque du Soleil.

"We'll do things like the 'headbanger' where I'm swinging her around by the leg and bouncing her up and down and her head's millimetres from the ice," he says, discussing how their special partnership adds to their art. "It takes a lot of trust in order to do something like that."

What's unique about CRYSTAL, Buchanan says, is how the skating itself gives him and Johnstone the freedom to do major acrobatic lifts and tricks beyond what is competition-legal.

"The combination [of acrobatics and skating] is beautiful," Buchanan says. "It really fills up the whole space, and it creates something that is different from anything I've seen in any other show."

Buchanan says the highlight of the show for his hometown audience is the hockey-inspired number, which combines a skatepark, ice, and acrobatics for "death-defying" moves.

"The emotion of the story, artistry, and technical ability win the show," Buchanan says.