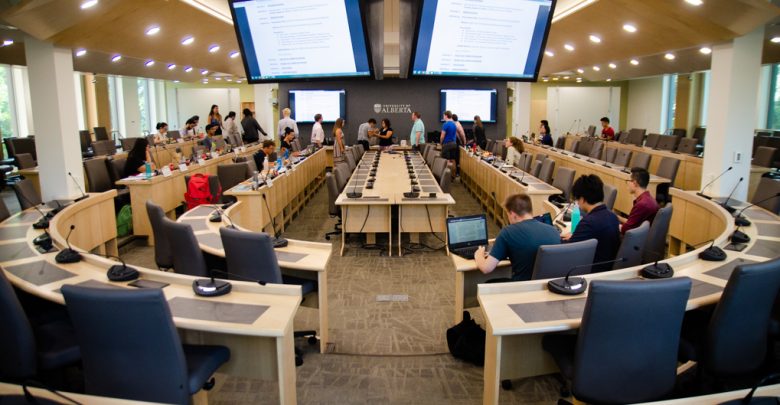 A proposed levy for Students' Union renovations and building maintenance will have students paying $54 more in fees by 2021 — if they vote "yes" to it in March.
If passed, the Student Spaces Levy will cost students $18 in the 2019-20 academic year, doubling annually until it reaches $54 by 2021-22. From there, it will grow with inflation. The fee would be charged indefinitely — so while it would first fund SUB's theatre renovations, students would continue to pay into it while the SU decides on new projects to tackle.
This is a bit of a change-up. In the past, students have voted on individual renovation projects; most recently, the SUB atrium was renovated with new windows and stairs connecting the main floor to the basement, furnished with beanbags and study couches. Students voted "yes" to these upgrades, agreeing to pay about $20 per year until the project debt was paid off.

They also voted "no" to last year's Student Events Initiative, which largely sought to fund the Myer Horowitz Theatre at a cost of $16.50 per year initially, growing to $33 in 2020. No matter which way it goes, the student vote works as an important check on SU funds.
This choice would be taken away with the Student Spaces Levy. At the same time, it would open up a sizable revenue stream to the SU, generating roughly $1.7 million per year to be used on the theatre and much more.

The SU has been trying to find the money to renovate the Myer Horowitz Theatre for a while now. Back in the summer of 2016, the SU declared it was going to refurbish the theatre for $11 million, pledging $1.5 million to the project while saying the remaining $9.5 million would come from fundraising and grants. New features were added to the plan last December, pushing the budget to $14.5 million. The merits of a renovated theatre have been discussed at length, but the trade-offs that come with it in the Student Spaces Levy make it a tough sell.

The SU says it would leave it to Students' Council to decide whether or not to fund a new project, but this is concerning — most of the time, the campus political bubble is out of touch with the average student. Councillors lack formal mechanisms to carry out effective consultations with their own constituents. Without proper reach, responses to questions about new fees can be biased. It's very possible that the student body would be overlooked when it comes time for council to find a new way to spend their new pot of money.
For an example of this disconnect, just look at the consultations for the Student Spaces Levy. The SU claims to have done its homework by drawing from old data and talking to faculty associations, focus groups, and Students' Council itself. As far as the student body goes, one email was sent across campus asking for input last week, but only after council was scheduled to vote on finalizing the amount to be charged.

It seems odd that these consultations would call for a fee even larger than the one that was voted down last year. The SU should note that students generally don't like paying more than they have to, especially the rising cost of living and the elimination of Alberta's tuition cap next year. New political hurdles in higher education may arise in 2019 as well — polls say the United Conservative Party is likely to win, and they're thinking of making student union dues optional if elected.

Though the SU is right to be concerned about deferred maintenance on campus — which is projected to reach more than $1 billion in five years — a student fee is not the way to deal with it. Building upgrades across campus are already covered by the government through direct funding — in the millions of dollars — to our university. The U of A has a dedicated team of professional architects, planners, and analysts that work full-time on upgrading furniture and renovating spaces (and a bigger budget to pay them).

The SU should be working on its lobbying strategy for deferred maintenance. Instead, it looks like the SU is trying to balance deferred maintenance on the backs of students, rather than leave it to the government and the university proper.
If you want to give the Myer Horowitz Theatre a facelift, go for it. Students might just want a nice, new theatre — but not if it means getting double-charged into perpetuity for projects that they didn't get to vote on.