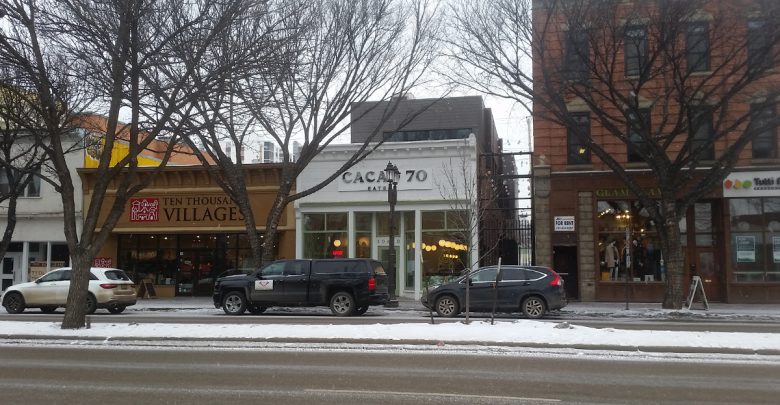 With roots in Montréal, the Cacao 70 franchise has now opened its doors to chocolate-loving patrons in Edmonton.
Entering the café, customers are transported into the setting of many future Instagram posts. The decor consists of black and white wicker chairs, large mirrors, and pink wallpaper with a banana leaf design. A tile mosaic covers the floor, tying the sophisticated café together with a clean, effortless feel.
I went to the Whyte Ave location's grand opening on Saturday, December 1 to get one of its decadent hot chocolates for only a dollar compared to the normal $5.50. The café was still bustling at 6:00 p.m. Behind the dessert bar, baristas were tearing open bags of marshmallows and using hand blenders to mix the chocolate concoctions with steamed milk to create the drinks.
My friend Toshi and I got the American-style hot chocolate, which came in either dark or milk chocolate. When we each took a sip, my friend Toshi said, "Now I understand why it's called 'drinking chocolate.'" It was literally like drinking a chocolate bar: tasty, super rich, and just what we needed after Edmonton's first heavy snowfall of the season.
Cacao 70 started off as a chocolate-drinking bar in Québec and has now expanded its locations to Western Canada. In Edmonton alone, there will be three locations, each having its own concept. The location on Whyte Ave is an eatery, which means besides the decadent chocolate, they'll be serving brunch and lunch items late into the night.
Lin Jiang, a U of A alumna with a degree in sociology and psychology, decided to open the café after visiting one of the company's locations in Montreal.
"We really liked the concept, the decorations, and the food," Jiang says. "It seemed like we [didn't] have such a place like this in Edmonton at the time. So when they gave us the opportunity to join the franchise, we thought, 'Why not?'"
The café can be found in various places around Edmonton. The one set to open in West Edmonton Mall will be an eatery and dip shop, which means they'll be serving up their brunch menu along with artisanal ice cream. Cacao 70 Sweet House is open in the Ice District; their menu focuses on extravagant chocolate desserts and brunch items.
Hannah Maxwell, a server at the Whyte Ave location, is new to the serving scene but enjoys the experience she is gaining.
"The variety of stuff is very cool," she says. "I've been able to meet new people."
Maxwell recommends the Outlaw Chicken and Waffle, which is a grilled chicken sandwich made with waffles instead of bread. With a variety of sweet and savoury dishes, Cacao 70 is set to make an impression on the Strathcona brunch scene.
"I've never had a bad shift here," Maxwell says.