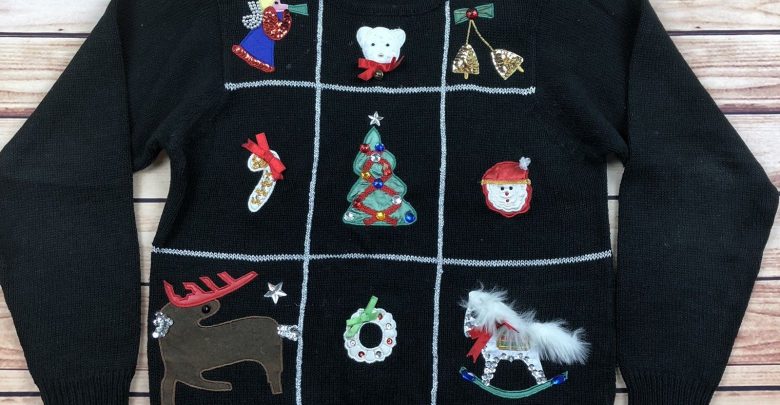 'Tis the season to be ugly. As a big fan of commercial holidays and active consumer of commodified nostalgia, I recently decided I needed a Christmas sweater to properly wrap myself up in the cheer.
So, I shopped the newest collection at uglychristmassweaters.com. To my chagrin, the store's closet is saturated with blatantly money-grabbing pop culture designs, such as a Christmas "Wakanda Forever" print, Fortnite ninjas, and Pickle Rick in a Santa hat — enjoyable items, but items with an approaching expiry date on relevance.
Where have all the wholesome, grandma-made sweaters gone? Remember the days when Christmas sweaters were things forced upon you, that you actively avoided?
I want to feel that again.
I did some serious internet excavation to find out what fine relics of Christmas past are still available, whether you need to wow at a party or just want to wear one for the love of Christmas. Here are the best and/or worst of them, rated for originality, Christmas spirit, and ugliness.
---
5."And A Partridge"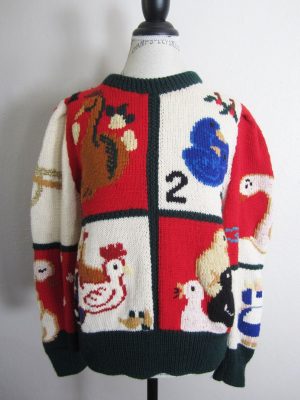 At first glance, the numbers and birds on this sweater don't scream "Christmas." It takes an intellectual to decipher the holiday spirit hidden between the thick black lines and cartoon animals. This sweater interprets the classic song "12 Days of Christmas," dedicating a square to each day. Its ugliness lies in the noisy design, but if you removed the content in the squares, it would actually pass as a cool statement piece. The downside to wearing it would be having to explain it to everyone you meet, which may get tedious with all of the 360-degree showcasing you'd have to do. Despite this oblique reference to Christmas, the "12 days" concept is an admirable nod to a holiday classic.
Originality: 4.8/5
Christmas Spirit: 4/5
Ugliness: 2.5/5
---
4. "Peeping Frosty"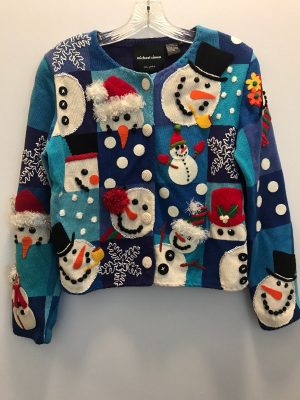 This sweater's emphasis on diverse textures and colours makes it a quintessential "ugly" piece, but it looks good in its own way. It balances a purposefully tacky aesthetic with clear craftsmanship, colour coordination, and thematic cohesion. The embroidery in the snowflakes is impressive, and each snowman has its own spunk. It took me a moment to notice this is, in fact, a cardigan with buttons stealthily disguised as snowballs. This thing reinvented ugly. It's just plain stunning. Selling for a whopping $189 CAD, this sweater knows exactly what it's worth.
Originality: 4/5
Christmas Spirit: 4.5/5
Ugliness: 1.9/5
---
3. "Hairy Dogmas"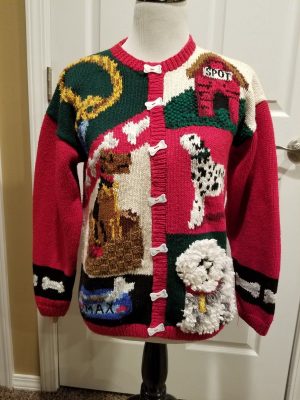 This one is kind of a stretch. Really, the only Christmas-y thing about it is the colour scheme and the gold circle on the right shoulder that might be tinsel. Who knows? But it's on the list for its fun texture (see fluffy puppy in the bottom corner), the hodge-podge mosaic look, and the way it accomplishes a holiday vibe without any traditional Christmas symbols. The dog-obsessed grandma who made this probably considered Christmas as good a time as any to rock your canine love without shame.
Originality: 3.5/5
Christmas Spirit: 0.7/5
Ugliness: 4/5
---
2. "Tic-Tac-No"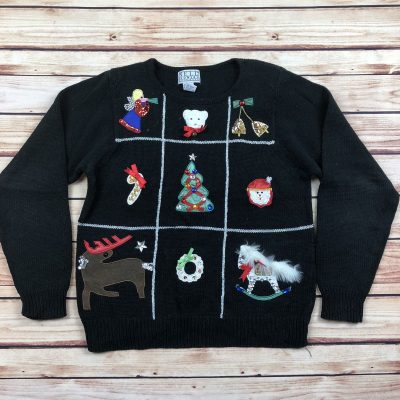 Please tell me what the hell this is. I have seen earnest DIY attempts gone wrong, but nothing so egregious I'd wear it just to prove the depths of human failure. This sweater reads like a game of tic-tac-toe, but instead of Xs and Os, you get a blonde pig with a vuvuzela, a snowball dressed as Santa, and an abstract, rabid mammal balancing a red comb on its head. Who won the game? It definitely wasn't the owner of this sweater, who may never get the $20 for which they're selling it. Keeping the fabric monochromatic was a wise choice, because it would actually be offensive otherwise. This is, without question, ugly, but it looks like it was crafted over hours of blood, sweat, and holiday cheer. And that's why I love it.
Originality: 4.5/5
Christmas Spirit: 4.2/5
Ugliness: good lord/5
---
1. "Honk If You Believe In Angels"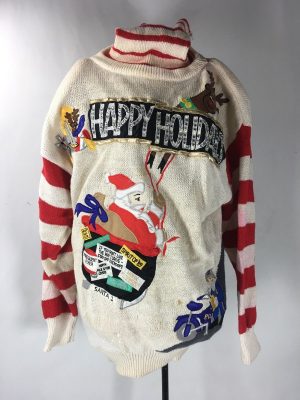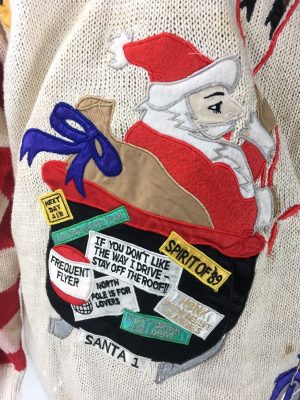 From Santa's boisterous bumper stickers to rowdy reindeer, this piece has mad personality. And this baby is battery-powered — the "Happy Holidays" sign lights up, ensuring the wearer's destiny as the life of the Christmas party. I give bonus points for functionality, thanks to the built-in turtleneck that adds a touch of "Where's Waldo." There's a guy in the corner with a motorcycle (maybe a cop?) whose presence seems totally unnecessary to the design — but who cares? I could look at it for days. High-end designers wish they could make stuff like this. This sweater took risks, and they all paid off.
Originality: 5/5
Christmas Spirit: 5/5
Ugliness: 3.7/5
---
"Ugly" is not simply an evaluative adjective. Its meaning is as fluid as time and space, and humankind's enduring appreciation for ugly things proves there's hope for what lies outside of the normative. These sweaters prove the ugly comes in many textures, shapes, and colours. They may not be for everybody, but neither are the finest pieces of Renaissance art.