Arts & Culture
Campus & City
Theatre Review: "What a Young Wife Ought to Know"
Canadian drama distills women's stories of contraception in the 1920s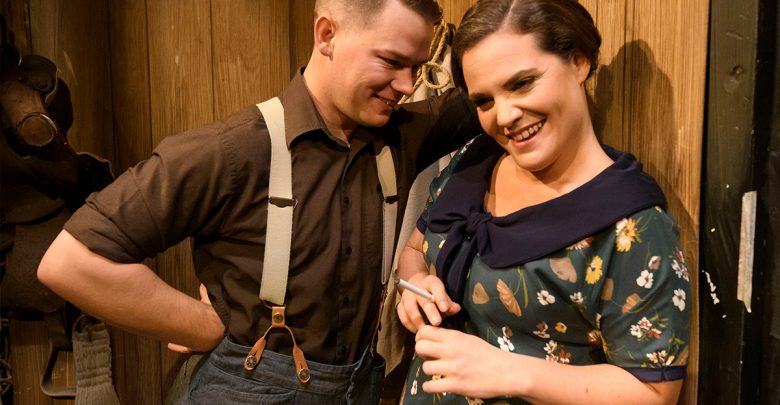 Sometimes, it takes a trip to the past to see flaws in the present.
Theatre Network's production of Hannah Moscovitch's play What a Young Wife Ought to Know highlights the heart and hardships of three characters as they reckon with love, sex, poverty, and family. With humour and distressing realism, the play captures countless women's untold stories in one perfect hour of drama.
Loosely inspired by real letters that Canadian women sent to Dr. Marie Stopes, a legendary birth control advocate in the 1920s, the play is a sorrowful echo from a darker time in women's lives.
As young, impressionable Sophie (Merran Carr-Wiggin) falls in love with Johnny, a handsome stable boy (Cole Humeny), she faces the wrath of her jealous sister, Alma (Bobbi Goddard).
Director Marianne Copithorne sets the scene with music that brings alive a humble Ottawa neighbourhood with Irish roots. Set and lighting design (Scott Peters and Tessa Stamp, respectively) captures all the depth and detail of domestic life, colouring the family drama with realism that can be just as comforting as it is upsetting.
Exquisite acting also brings Sophie's world to life. While Carr-Wiggin plays the protagonist's coming-of-age to perfection — developing Sophie's youthful optimism into mature resilience —  Goddard is a star in her own right. She seizes her short time onstage to portray Sophie's foil with a magnetic, mean-girl ferocity. Although Alma claims Sophie has a "hard heart," Carr-Wiggin and Goddard (both of whom are U of A BFA Acting alumni) never fail to show the sisters' unflinching love for each other.
This sibling chemistry is almost matched by Johnny and Sophie's budding romance. Humeny stays true to Johnny's soft nature through temper-fueled moments and brings well-needed comic relief.
In the play's sombre turning point, the sisters realize the consequences of acting upon physical impulses at a time when safe contraception and abortion are not available.
It's easy to feel like this is a distant reality. But as the story unfolds, the fiction appears more and more familiar.
In confrontational moments interspersed throughout the short play, Sophie directly addresses the audience for advice. How do we manage our desire, if we even have to? Do we all have access to safe abortion?
These questions are by no means rhetorical. I felt the theatre buzz with discomfort, mouths hanging open and wanting badly to respond. For the first time in my life, I felt like I could speak with a character onstage.
But Moscovitch's script says there are truths too private to reveal in the company of our loved ones. When speaking to the audience, Sophie compels us to reflect on the present. Perhaps we're oblivious to the ways women's desire is still restrained. Have we really gotten that far?
What a Young Wife Ought to Know presents us with a complicated web of priorities — motherhood, intimacy, freedom, and good health — and what we ought to know about the women burdened with managing them all. These are women worth listening to, and they are all around us.
As Sophie and Johnny undress themselves for pleasure, this play undresses a culture of abstinence that conceals a truth most of us should know by this century.
The truth is, women must make decisions in the dark.