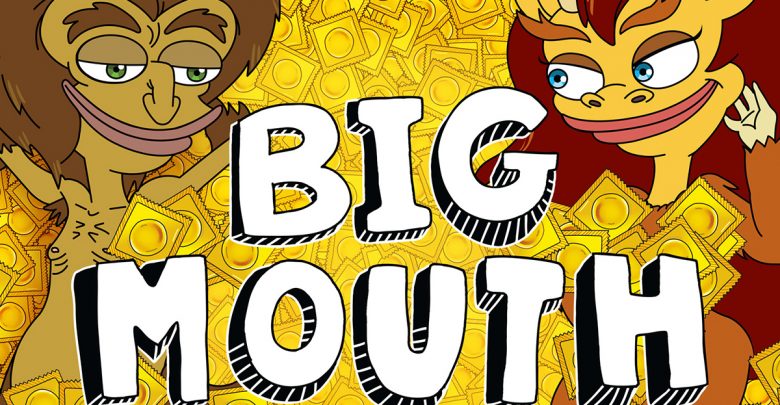 With a metacritic score of 90 and a Rotten Tomatoes score of 100%, the second season (2018) of the Netflix original series Big Mouth has definitely climaxed, splurging on a thicker plot and bigger range of subjects than its first season (2017).
But innuendos aside, the show's lewd content isn't all it's good for. Focused on the ups and downs of puberty through the lens of several animated teenage friends, it covers various adolescent experiences, including drugs, STDs, bodyshaming, slut shaming, relationships, depression, and sexuality. It serves as an enjoyable introduction for adolescents who are curious, naïve, and unfamiliar with the realities of adulthood. Big Mouth does a good job of informing viewers about those topics without removing the entertainment factor, and that's what makes the show binge-worthy and amusing.
My favourite moment is the parody of The Bachelorette in "The Planned Parenthood Show" (Episode 5), which just goes hard. It brilliantly examines how complicated but helpful contraceptives are. Different personified contraceptives try to convince Leah (Kat Dennings) they're the best one to use. Eventually, she chooses the pull-out method guy (a.k.a. the method that was invented two days after sex was discovered). A moment like this is why I am happy to pay for Netflix, because a crossover between a dating reality show and a series with talking genitals is something no one expected to happen in a million years.
Another highlight for me is the Shame Wizard's opening monologue in Episode Nine, "Smooch or Share." He talks about the importance of shame and goes on to explain that it's a coping mechanism for people — adolescents especially — to protect themselves from "humiliating inadequacies, self-destructive proclivities, and fundamental otherness." This part of the show is pretty profound. It almost doesn't cohere with the show's lascivious content, but the Wizard's rationale for shame is compelling.
However, I had some reservations about the second season. One thing I found to be an outlier from Big Mouth's theme is its involvement of political figures such as Obama and Clinton. While this didn't interrupt the plot, it would have been perfectly fine without it.
Additionally, the show's frequent usage of offensive words sometimes crosses the line. In multiple instances, "gay" and "lesbian" are used as insults. Moreover, in "Dark Side of the Boob" (Episode Eight), Coach Steve makes a joke about "transformers" (i.e. transgender youth) choosing which side of the gym they want to sleep in, either the male or female side. Referring to transgender youth through an offensive word in a platform as big as Netflix is the reason why this scene is problematic. The term "transformer" in this context implies that transgender identity is a choice, more than it is an intrinsic personal feature. Some may argue this is just a moment to show how stupid Coach Steve is, or that since Big Mouth is a cartoon, it has the satirical license to make such jokes. But it shouldn't be the case because it furthers not only the lack of representation, but also the misrepresentation of the transgender community in the media.
These factors excluded, Big Mouth is a great show to binge-watch and is definitely more substantial than the introductory season in terms of plot. As for the third season, fans are speculating that it will pop and blast next fall. Waiting another year for the next season is very hard. So hard.