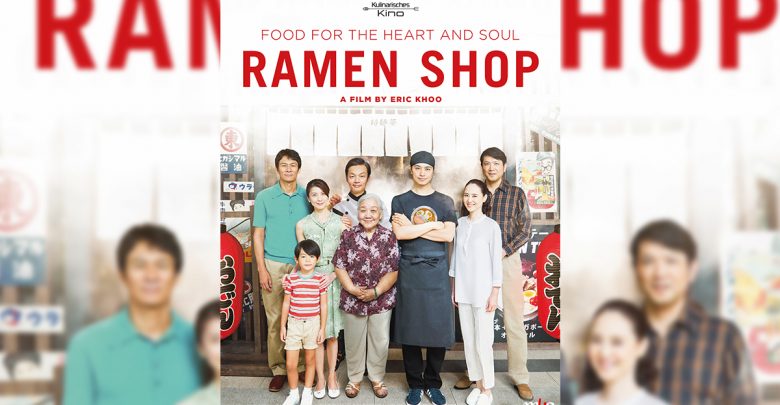 What: Ramen Shop
Where: Edmonton International Film Festival
Director: Eric Khoo
Starring: Tsuyoshi Ihara, Takumi Saitoh, Seiko Matsuda
---
Eric Khoo's Ramen Shop is an elegant and engaging love letter to multiculturalism, reconciliation, and good food.
The story centres around a family split between two countries, Singapore and Japan, and follows Masato Yamamoto (Takumi Saitoh) as he crosses that divide. Masato is the son of the emotionally hardened Kazuo Yamamoto (Tsuyoshi Ihara), who runs a successful ramen shop in Takasaki, Japan. Masato, in order to learn more about his family history, takes a trip to Singapore to find his uncle and discover his roots by way of his Singaporean mother Mei Lian's (Jeanette Aw) cooking. Through this food, we are served a delicious and heartwarming tale of family and intercultural connectedness.
The film itself is fairly minimalist in all respects except for when it comes to scenes of cooking, eating, or flashbacks of eating, which the film foregrounds. The sounds of people eating are crisp and uninterrupted by the film's sparse and delicate soundtrack, and the interplay between silence, restaurant and eating sounds, dialogue, and delicate piano provides a minimalist yet effective sonic landscape. The film's bigger musical moments, including a march-like recurring string theme, happen later in its runtime. The slightly militaristic nature of this musical theme serves to highlight the thematic undertones of reconciliation for Japan's imperial past, particularly the occupation of Singapore.
The film's visual palette consists primarily of neutral tones. In big, zoomed-in scenes of soups and sauces, the bright oranges and reds stick in one's mind as the remnants of a good meal stick to one's plate. These close-ups of food as it's being prepared and eaten are mouthwateringly entertaining, especially because of the excellent contrast these scenes have with cozy mid-range shots framed by doors and arches, and street-level scenes which provide a sense of place. Japan and Singapore have distinct cultures, and the generally stationary camera lets them — and their cuisines — speak for themselves as integral story elements.
The film confronts its heavy themes with great tact. Nothing in Ramen Shop is overdone, and while it's easy to wade into "sappy" territory with a story about reconnecting with family, deeper themes of political reconciliation and immigrant struggles provide emotional balance. The flashbacks don't bog the story down in nostalgia, but instead, help create emotional impact. The overall effect is a story in which we care about the characters, their relationships, and the different worlds from which they come.
While it's tied to the specific mix of cultures it portrays, Ramen Shop is grounded in powerful ideas to which audiences worldwide can relate, like food, family, and the desire for human connection. It's a film that will leave you feeling full of warmth and hungry for a good bowl of hearty soup.