Campus Life
News
Students can now use Bear Tracks to withdraw from classes
Changes to the withdrawal process will reduce the environmental impact, registrar says.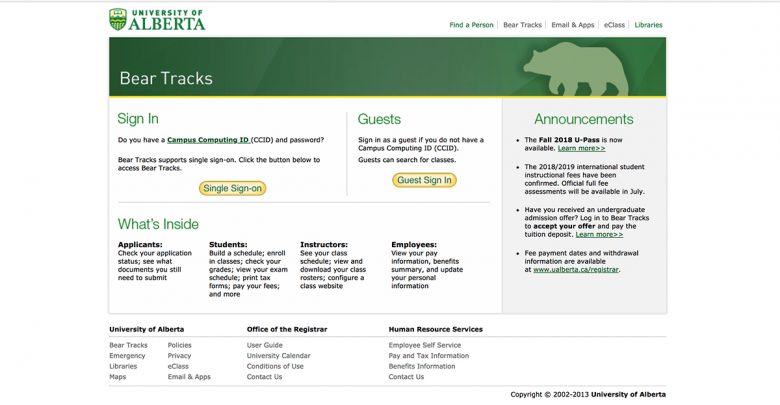 Instead of having to fill out a form, undergraduate students at the University of Alberta can now withdraw from classes through Bear Tracks.
The change to the online system was made at the beginning of this semester. Before, students had to fill out a paper form, and hand it in at their respective faculty office. Norma Rodenburg, associate registrar, said that the system has been completely overhauled.
"We have taken all those steps out so that now you can just go online," Rodenburg said. "We wanted to… make the system as easy for students as possible."
Withdrawing from a course means dropping a course after the add/drop deadline. Withdrawals are recorded on a student's transcript, but it does not affect a student's GPA.
According to Rodenburg, the two main reasons why the university made the change include environmental sustainability and efficiency. She said the withdrawal process uses up to 11,000 sheets of paper, which are ultimately shredded after being documented.
Rodenburg said she is "excited" to be reducing that environmental impact.
"This is simply just a better way of withdrawing," she said.
Rodenberg added that the majority of withdrawals will take effect immediately, eliminating the processing time it took for the paperwork. Some students will receive instant confirmation of their request. The requests which are not instant will require students to visit with a faculty advisor before it's approved.
Online withdrawal has been in the works for two years, involving the Office of the Registrar, Information Services and Technology, and faculties. Rodenburg said the past six months included stress-testing the new system.
While the entire withdrawal process is online now, Rodenburg said students are still encouraged to contact their faculty advisor for a consultation prior to any withdrawal. This way all implications of withdrawing from a course are understood and any questions could be answered.
"Those services are still being continued," Rodenburg said. "Withdrawing is a big decision. While moving it online makes it easier, we still want to make sure students explore all their options."