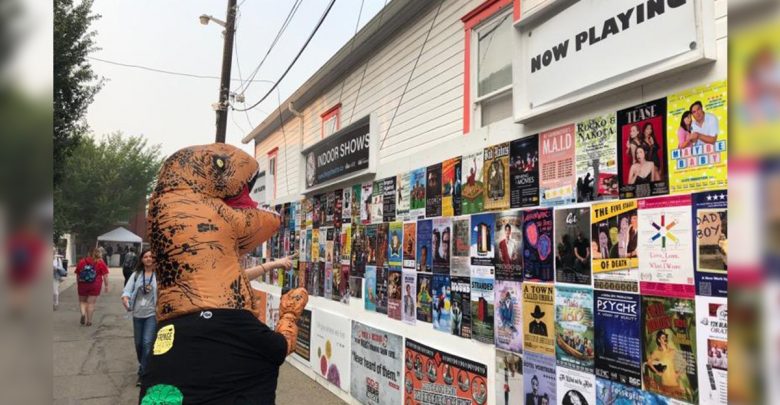 There's something about an improviser saying "Let's go on an adventure!" at the end of the first scene of a long-form improv show that I deeply loath. It's such a tepid and trite line of dialogue. Although Thunderprov started out on this note, it quickly dug itself out of that hole to become an enjoyable show.
Thunderprov is described as "a fast-paced, story-driven improv show crackling with energy and wit." It features a long-form story interspersed with shorter scenes that draw inspiration from one another. It's a superb show to bring total improv virgins to (I brought my best friend and her husband this Monday night). They get to see the full gamut of improv theatre packed into one chuckle-inducing and digestible show.
The cast is a cute little crew of rotating members. Michael Johnson sets the mood with his quirky introduction to the format, always eschewing the reality onstage to the viewers' enjoyment. Matt Ness whips out wild characters that raise the stakes through the roof. Jared Leeder's physical comedy is bar none, sucking the audience into every look, shuffle, or grunt he makes. Glenna Schowalter orchestrates strong plot points for a big payoff. Joshua Coss somehow makes saying "bow-wow" fifteen different ways a treat to watch.
Situated at Venue 31 (the Sewing Machine Factory), Thunderprov is more intimate than many improvised shows. The cozy venue brings you closer to the improvisors, making for an authentic show. With limited seating, I'd encourage you to buy tickets in advance. With two sold out nights over the weekend as well as the Monday night show I watched almost reaching capacity, it's clear that Thunderprov has caught many Fringers' attention. Get there early too, because the sightlines from some seats are not always the best.
This Fringe season, make time for Thunderprov so you can bring your total improv virgin of a parent, partner, friend, cousin, or co-worker to a delightful little show.