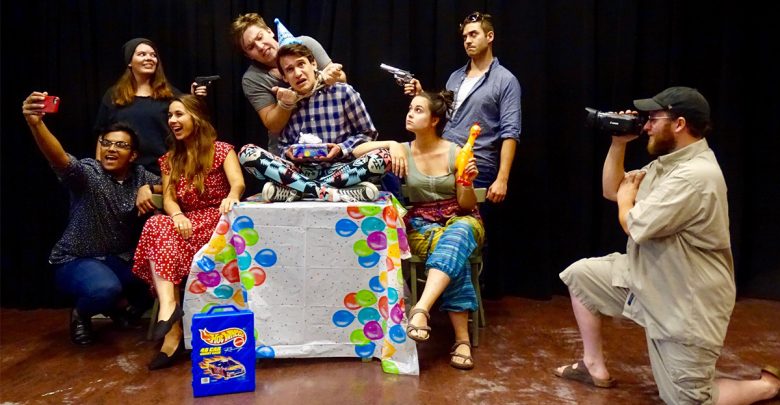 What: Edmonton Fringe Theatre Festival
When: August 16 – 26, 2018
Where: Old Strathcona
Tickets: Available at the box office in the Arts Barns at several satellite box offices during the festival, at Tix on the Square, over the phone at 780-409-1910, and online at fringetheatre.ca (prices vary). Program books and daily discount tickets are featured at onsite locations.
---
Last week, The Gateway spoke with the Edmonton Fringe's Artistic Director, Murray Utas, about what this year's Fringe has to offer, including its prehistoric theme and the wide variety of productions. In a follow-up interview, Utas detailed the behind-the-scenes efforts to keep the Fringe fresh: from choosing a theme to marketing it in a much more crowded festival scene than the 1980s. 
Utas explains that the annual theme is selected from 500 options submitted by Edmontonians. The Fringe whittles it down to a longlist of 100 options; then Fringe staff vote the winner from a shortlist of five. While Utas acknowledges social media's prominent place in event marketing, he says word of mouth is still king.
"It all helps, but what really gets people engaged year after year is the conversation," Utas says. "When a dinosaur is walking down the street, heads turn!"
Utas hopes returning attendees will notice the 2018 festival's focus on the show line-up's diversity, especially following the Chinook Series in February, which featured sub-festivals focused on professional black, Latinx, and deaf artists. Utas says themes of "consent and inclusion" are front and center this year.
"With acts from folks like [local actor] Hunter Cardinal and input from the Indigenous Youth Council, the first voice in our land is being heard," Utas says.
First-time Fringer Jackson Card is just starting to explore this wilder side of the Edmonton theatre community.
"I had never been to the Fringe at all before this," Card confesses. "It's practically a cardinal sin!"
Card, a third-year U of A BFA Acting student, portrays Declan McDonald, a movie star in crisis, in Cubic Centipede's original production Titanna Bowa: How to Succeed in Hollywood.
Titanna Bowa, which Card describes as a "darkly funny" 14+ comedy, depicts a troupe of slightly deranged filmmakers who kidnap Hollywood celebrities for their picture, only for the whole thing to go decidedly sideways. Yet Card claims he's in no danger of such stardom going to his head.
"I'm obviously going to be famous very soon," Card jokes. "The practice helps!"
Aside from noting the "enthusiastic audience response" Titanna Bowa has been enjoying, Card has plenty of praise for the Fringe experience.
"This place just fosters passion and ideas," he says. "You get to explore an open environment, where all sorts of identities and messages are accepted, and it's all presented in a very welcoming way."
With over 200 plays and different genres across venues, Card says the Fringe has something for everyone, echoing similar sentiments from Utas, who urges Fringers to check out attractions like the wine tent, late night cabaret, buskers, and musical acts.
"As a visitor, this is great, but as an actor, I couldn't be happier here," Card says. "[Festival] scenes like this are why I got into acting."