Arts & Culture
Campus & City
Jon and Roy brings west coast sound to Edmonton Folk Music Festival
Duo adds trombone to classic folk sound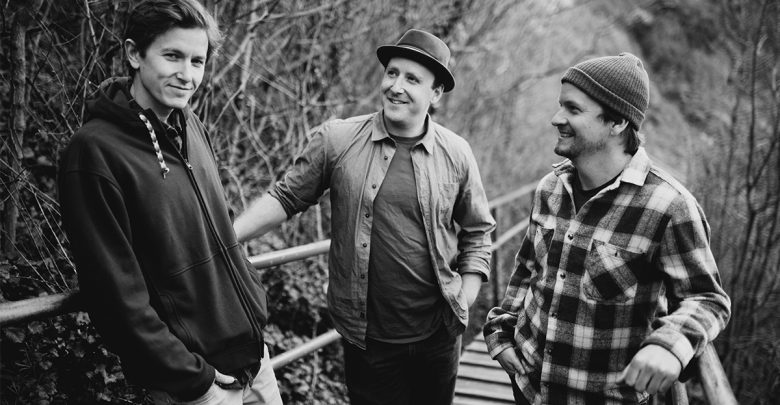 On the last day of Folk Fest, it rained non-stop. I'm from Vancouver, and between the endless downpour and folk band Jon and Roy's chill, west coast stylings, I felt like I had been transported home.
Jon and Roy, who I caught at Stage 1, started as a guitarist/vocalist (Jon Middleton) and drummer (Roy Vizer) duo at the University of Victoria back in 2003, with classic acoustic guitar, singer-songwriter vibes. At Folk Fest, they shared the stage with bass player Esme John and trombonist Dave St. Jean, rounding out their sound.
The duo came together when Middleton was in his first year of university. His roommate in residence knew Vizer from Vancouver and said the two needed to jam together. So Vizer came out to the island with his drums, and after clicking with Middleton, decided to move out to Victoria.
The pair started playing open mics together to get their name out there, which they advise university bands to do.
"Take any gigs," Middleton said. "Play open mics, play bar gigs, just play as much as possible."
"And don't worry about money at the start," Vizer added.
From there, the band put out their first album, Sittin Back, in 2005. With the release of more albums over the years, they started touring Europe, which is where St. Jean started joining the group consistently. While the trombonist used to take the stage with Jon and Roy roughly once a year, he's now featured on almost every track.
When I asked why they made the decision to feature so much trombone, Jon joked that it was because "Dave is so sweet." But St. Jean quickly jumped in to explain that he heard the band was touring Europe and wanted in on that opportunity, so they sat down together and wrote more songs featuring trombone.
As I looked around at the crowd of Edmontonians in rain ponchos, their umbrellas moving with them as they danced to songs off the band's newest album, The Road Ahead is Golden, it was obvious that the trombone, layered over upbeat acoustic guitar, was a hit. It added a unique touch to an otherwise classic folk act, and kept spirits high on the cold, drizzly festival grounds.