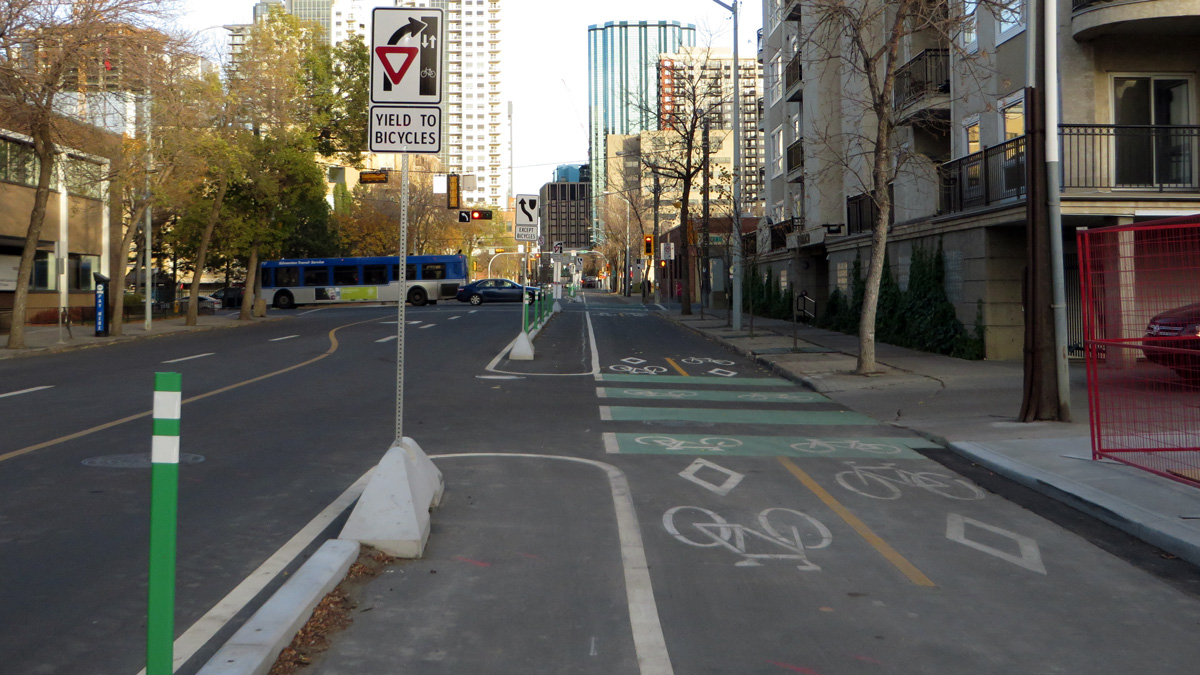 It's a rare achievement to create a strong sequel. There's Jaws: The Revenge or Exorcist II: The Heretic, (ie. really bad sequels), a never-ending list of "okay" sequels, and only a few films like Aliens or Shrek 2 (ie. really good sequels). Most of the time the sequel is, well meh. It's just hard to burn as bright as a strong first installment. Does this time-tested sentiment apply to cycling infrastructure in Edmonton? Sadly, yes.
On August 9, the City of Edmonton unveiled its designs for the Southside Bike Grid. The successor to the successful Downtown Bike Grid was lauded as an exciting expansion of cycling infrastructure into Strathcona and the University area, but reactions to the new plans have certainly been ranged.
Some who hate cycling infrastructure dislike the idea of having more bike lanes but appreciate them being placed in areas where they impact drivers the least. Some who love cycling infrastructure are happy to have a route to use that alleviates concerns of getting hit by a car, but also lust for more options. But most importantly, the people who have little interest in cycling infrastructure have been given no reason to feel like they should. The plan is just not as revolutionary as the Downtown Bike Grid was.
The new bike lanes in Strathcona on 100 Street and 87 Avenue are decent, meeting the community's interests in traffic-calming and providing transportation options for their community. The plan also does a good job of tying into new infrastructure in Queen Alexandra and McKernan/Belgravia.
I'm glad to see more, but I wish that some on-street routes were being upgraded to separated lanes. For fledgling cyclists or families with young children who don't feel comfortable cycling with traffic, no separated lanes means less new riders. No new infrastructure along 109 St means it's still an unfriendly place for cyclists and pedestrians and not the multi-modal street that city planners and the community envisioned it to be. The University either remains a big question mark with regards to connections between 114 St and campus, or the same, as with 112 St continuing to be an on-street route.
But hey, even though I didn't direct the sequel or cast the infrastructure choices, I'm still gonna use it when it comes to the Southside (tentatively in 2019-2022) because I'm a fan of cycling.
I just wish more people could get excited about it all and that the design was more invigorating for Edmonton. Imagine a premiere of the fully-built out, spectacular Southside Bike Grid. A red carpet is rolled out on all the routes, including separate lanes on 109 Street, 112 Street and 114 Street Shirtless-Rollerblade-Guitar Man gets to christen the grid by rollerblading over the whole network with a pack of cyclists following him drinking champagne. Lining the sidewalks people are cheering everybody on with Tour de France vigour.
Yes, that's the kind of sequel I think we deserve. If we'll ever get it though, remains a question. With Urban Planning decisions, you're sort of perpetually in pre-production mode of making the sequel.