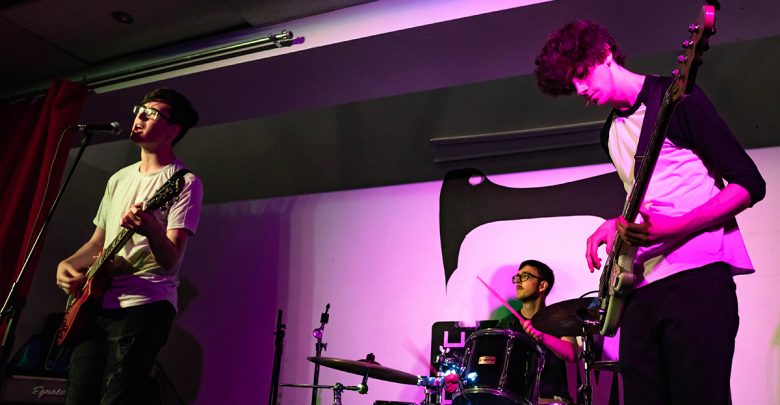 I've been listening to Laundry Week's EP on repeat since I stumbled into a show they were playing at the Sewing Machine Factory on July 14.
I'd gone to see The Slight Brains, who closed out the night, but I — and I think practically everyone else in the room — felt energized after Laundry Week's set. The trio of MacEwan music students played a mix of original songs off of their new, self-titled EP, alongside upbeat covers from The White Stripes and Talking Heads.
I caught up with the band as they practiced in a studio in Allard Hall. Ever the gentlemen, they brought me ear plugs and chatted with me excitedly between songs.
Laundry Week formed in winter 2018 when Sean Newton, a fellow music student and co-founder of Grade School Records, asked Charles Pickard if he was interested in recording an EP. Pickard happily agreed, but he didn't want to do it alone, so he asked Dan Blade and Shea Iles if they wanted in.
"I was friends with these guys and I just like hanging out with them and playing with them, and I was like, 'Hey, want to do something?'" Pickard explained. "And then from there it turned into a really fun, collaborative project that I'm super thankful for."
So Laundry Week formed, with Pickard on guitar and vocals, Blade on bass, and Iles on drums. As we talked, the studio brimmed with laughter. Iles got called a "Babushka" for not knowing who Metric is, and later, after an intense run-through, Pickard played the Mii Channel theme while the other guys groaned. They undoubtedly had camaraderie (they told me to put that in italics).
"We've got that electricity a little bit," Blade said, laughing.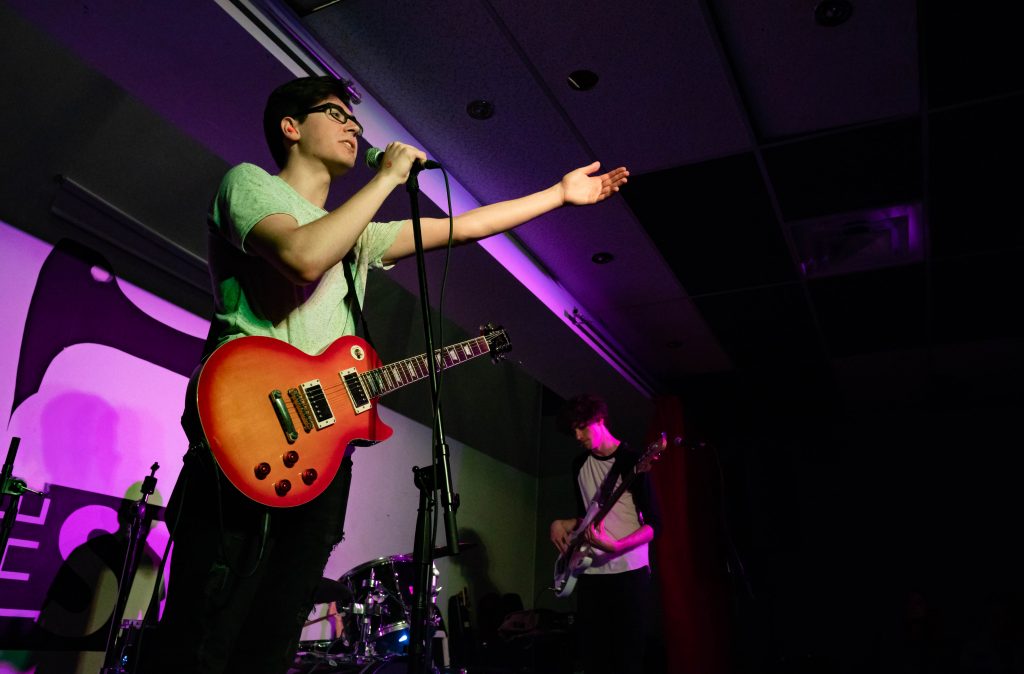 The EP, released on July 13, has four songs (plus a bonus cover if you buy it on Bandcamp). Pickard wrote "Temptation" and "Daze" in high school, and "Blocked" and "Lost Lover" in his songwriting class this year.
When people listen to the EP, the band hopes they feel amped up, like a train that just keeps going. But more than that, Pickard said he hopes the listener feels a connection.
"That's kind of why I make music in the first place," he said. "To have that personal connection without actually needing to know somebody."
The guys, all still charismatic and funny off-stage, come alive up there. Pickard has a stutter, something I didn't realize until we started the interview because it vanishes when he's performing.
"[Music] helps me say what I want to say a lot of the time," he said. "There's something about being on stage. I kind of black out and I do something, I don't know what it is but it's fun."
All three band members are involved in multiple projects both inside and outside of school, reflecting their commitment to their craft.
"I just don't know what else I'd be doing if it wasn't music," Iles said, sharing a sentiment that Pickard and Blade echoed.
While being in a music program brings a level of professionality to their work, the bandmates stressed that they try to keep things light too.
"If you take it too seriously, it's not fun anymore," Blade said, getting ready to dive into the next song. "We do that — we try to keep it pretty focused on what we do — but we mess around."