Institutional
News
Upcoming closure of campus food vendor Filistix sparks community backlash
An online petition launched to rescue Filistix has over 300 signatures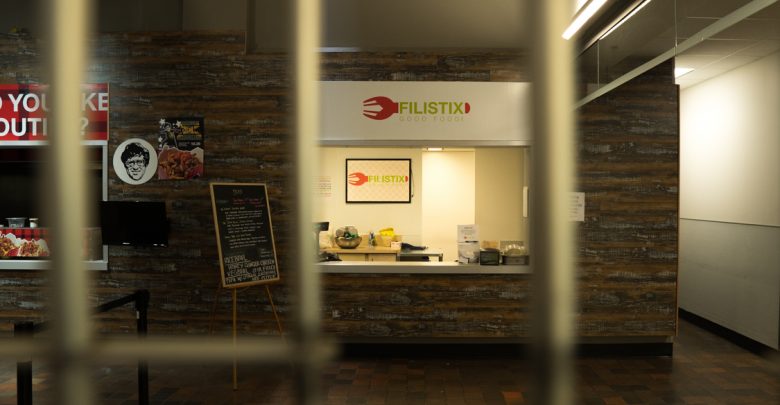 The announcement that Filistix will close in August has led to an online petition to rescue to the locally-owned Filipino food venue.
Filistix locations in the Central Academic Building (CAB) and Edmonton Clinical Health Academy (ECHA) will close August 10 after University of Alberta's food service contractor Aramark gave the owners notice that their contract was being terminated. Filistix co-owners Ariel del Rosario and Roel Canafranca said Aramark's decision was based on the company's desire to "go in a different direction." Aramark's plans for the two locations remain unclear, however the company told Global news in a statement that they "are committed to offering a variety of high-quality, healthy and convenient dining options on campus."
The impending closure of Filistix has resulted in an uproar from the campus community. Angela Kong, a third-year cell biology student who eats at Filistix at least once a week said she is angered by the news.
"We can tell their business is good, [why] are you closing it?" Kong asked. "It's the only healthy option on campus where they serve actual food."
In a statement to Global News, the university said that "Filistix's contract to provide food services is with Aramark, not the University of Alberta. Aramark is permitted to make decisions about how it manages its contracts. The university was made aware of Aramark's decision to terminate their agreement with Filistix."
Petition started to save Filistix
In an attempt to rescue the venue, an online petition has been organized by Modern Languages and Cultural Studies associate professor Russell Cobb. The petition is currently open to the public and contains over 300 signatures to save Filistix from closure by "its corporate overlords at Aramark."
Cobb said he started the petition after hearing from Filistix co-owner Canafranca of the venue's impending closure. Cobb said it was Filistix's dedication to sustainable business practices, fresh ingredients, and vegetarian options that drew his loyalty. He hopes his petition can encourage Aramark to reconsider terminating Filistix's contract.
"I just think it's outrageous that Aramark makes a decision that clearly goes against the wishes of the U of A community," Cobb said. "The U of A is here to serve the students, staff, and faculty. It's not here to serve the corporate bottom line."
Cobb said if Aramark ultimately chooses to close Filistix, he would personally boycott all Aramark-operated food venues on campus.
"If Aramark thinks they can just swap out [Filistix] with another chain that can bring in this much or more money, they're sorely mistaken," Cobb said. "I feel this decision has so undercut my faith in dining services and Aramark that I am not going to eat, out of principle, anything from Aramark institutions."
Filistix owners "grateful" for time on campus
While the news was at first upsetting, del Rosario and Canafranca said the push has encouraged them to re-evaluate their long-term goals.
"At first it was kind of like the rug was pulled from under us," del Rosario said. "But now it's like a positive thing, it lets us be more introspective about where we want our business to go."
Del Rosario said many staff and students have voiced their disappointment in the venue's impending closure and are now wondering where else they can find Filistix's brand of locally-sourced, healthy, and home cooked style food on campus.
"A lot of them go exclusively to us rather than some of the other outlets," del Rosario said.
Filistix began as a mobile food truck before Aramark offered the team a location in the CAB cafeteria in 2011. While it feels bittersweet to be cutting ties with Aramark, del Rosario said Filistix's success could not have happened without their support.
"We just want to show our gratitude to Aramark and the university for giving us the opportunity to do what we've done. If it wasn't for them we could still be hustling on Jasper avenue with our food truck," del Rosario said. "It's been a great run, we've developed a lot of good friends and customers, and it's not the last you'll see of us."
Staff and students will still be able to find Filistix at its MacEwan University location. Del Rosario and Canafranca said the team will also be exploring new potential projects elsewhere in Edmonton.
"We're really humbled that we've made an impact in students' lives," del Rosario said. "[Many graduates] still remember us and how we got them through their degree."