Arts & Culture
Campus & City
Theatre Review: Freewill Shakespeare Festival's 'Hamlet'
Marianne Copithorne's production of Shakespeare's famous tragedy is unmemorable but successful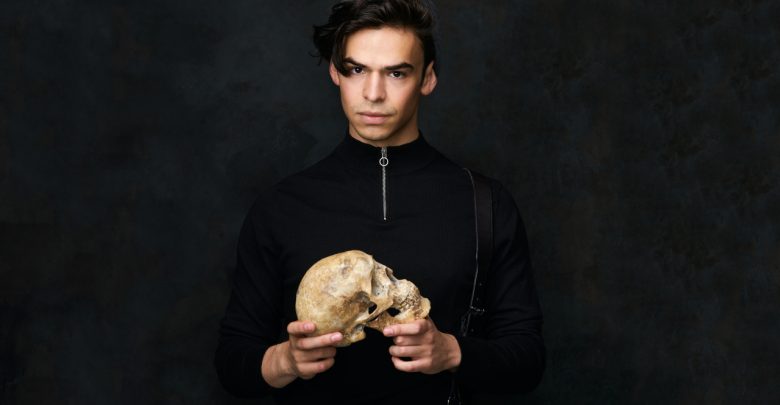 What: Hamlet
Where: Heritage Amphitheatre, Hawrelak Park
When: June 19–July 15 (even dates)
Playwright: William Shakespeare
Director: Marianne Copithorne
Set Designer: Jim Guedo
Prop and Costume Designer: Megan Koshka
Sound Designer: Matthew Skopyk
Lighting Designer: Scott Peters
Featuring: Hunter Cardinal, Robert Benz, Nadien Chu, Gianna Vacirca, Ashley Wright
How much: $32.63 Adult, $22.63 Student, Sunday shows free for students with valid ID
---
Now in its 30th season, the Freewill Shakespeare Festival is producing Shakespeare's most famous tragedy: Hamlet. The question here becomes: to see or not to see?
The Freewill Shakespeare Festival is a fully professional non-for-profit theatre company that started 30 years ago on the initiative of several University of Alberta BFA Acting graduates, who believed that Edmonton needed an outdoor Shakespeare festival. This year, alongside Hamlet, the Festival presents Comedy of Errors, one of Shakespeare's shortest plays (in contrast to Hamlet, which is the longest); But Hark, A Voice, a roving show; and 15-minute puppet shows that introduce the play's plot and characters.
Compared to other notable productions of Hamlet (see the National Theatre's live London broadcast production starring Benedict Cumberbatch who, as Hamlet wearing a David Bowie t-shirt, blew the audience away with spectacular acting), Freewill's production, directed by Artistic Director Marianne Copithorne, is decidedly unmemorable — yet with its timeless story, music, and incredible acting, it earned a well-deserved standing ovation.
Jim Guedo's simplistic stage design fails to complement the plot's dramatic intensity — with its grey castle walls and sparse, multicoloured lights, it prompts the question of whether Freewill transplanted the stage from a laser tag arena. However, Scott Peters' lighting adds to the affective experience, in both its impeccable timing and its intensity.
U of A BFA Theatre Design alumna Megan Koshka's costume design is somewhat inconsistent, such that some characters are dressed very casually (Horatio in jeans), while others are dressed very formally (Polonius wearing a suit). Hamlet's fashionable dress complements his angsty moodiness, while the rest of the cast rocks a business casual style. Koshka's props are also anachronistic; Rosencrantz carries a suitcase, while later Hamlet and Laertes duel with old fashioned swords. It seems as if Copithorne and Koshka couldn't decide on the production's setting – the costume and prop design balances on the edge between a period setting and a contemporary adaptation.
On the other hand, Matthew Skopyk's sound design manages to combine intense beats and atmospheric instrumental music to bring out the audience's strongest affective reactions. Underscoring Hamlet's soliloquies, Skopyk's music creates a chilling sensation, which highlights the play's tragic atmosphere and pulls on the audience's heart strings.
The production's acting — particularly Hunter Cardinal's portrayal of Hamlet — stands out among the show's theatrical elements. The titular role is not easy to execute, but Cardinal shows emotional range in his soliloquies, proving himself to be fit for the role. Indeed, the U of A BFA Acting alumnus manages to captivate the audience, giving everyone goosebumps. Robert Benz as Polonius aptly executes the play's pockets of humour, as does the troupe of players, who make the entire audience laugh with their silly facial expressions and animated gestures. Interestingly, Copithorne chose to cast Bobbi Goddard, a woman, as Horatio, and Goddard's excellent portrayal effectively shows that gender normative rules in theatre are outdated and arbitrary. Gianna Vacirca, who joined the Freewill Shakespeare Festival only this year, gives an impressive performance as Ophelia. As the story follows her transformation from a naive lovestruck girl to a mad young woman, Vacirca showcases the wide emotional range needed for such a challenging role.
Besides a few theatrical elements, Freewill Shakespeare Festival's production of Hamlet is a success. Where the stage design and costumes are somewhat unconvincing, the acting, lighting, and music create an enjoyable theatrical experience. However, because Hamlet is one of Shakespeare's most produced plays, Freewill's rendition of the famous tragedy does not stand out.