Arts & Culture
Campus & City
Theatre Review: Freewill Shakespeare Festival's 'Comedy of Errors'
Dave Horak's production of Shakespeare's endearing comedy is feast for the senses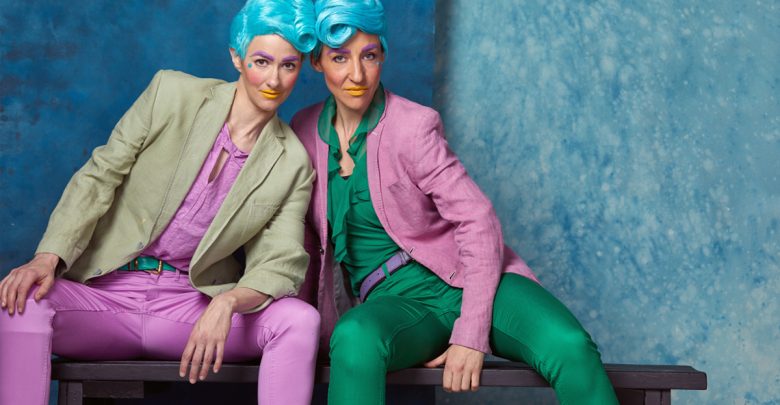 What: Comedy of Errors
Where: Heritage Amphitheatre, Hawrelak Park
When: June 19 to July 15 (odd dates and matinées)
Playwright: William Shakespeare
Director: Dave Horak
Set Designer: Jim Guedo
Prop and Costume Designer: Megan Koshka
Sound Designer: Dave Clarkes
Lighting Designer: Scott Peters
Featuring: Troy O'donnell, Kevin Sutley, Kristi Hansen, Ashley Wright, Belinda Cornish
How much: $32.63 Adult, $22.63 Student, Sunday shows are free for students with a valid ID
---
The Freewill Shakespeare Festival's production of Comedy of Errors is a magical journey filled with humour, dancing, singing, and bright colourful costumes that will stay with the audience long after the play is over.
Alongside Comedy of Errors, the Freewill Shakespeare Festival — which several U of A BFA Acting graduates started 30 years ago — is presenting Hamlet, roving show But Hark, A Voice, and 15-minute puppet shows to introduce both shows.
Comedy of Errors is one of Shakespeare's lesser known plays. Director Dave Horak and his crew do a fantastic job of bringing forward this simple but endearing comedy centered on a twin swap. In short, twins of the same name, Antipholus, as well as their two twin servants named Dromio, are separated at sea as children. Upon arrival in Ephesus as adults, the twins' and the servants' identities are confused, leading to many comic situations.
In prop and costume designer Megan Koshka's costumes, the characters look like a mix between Willy Wonka's Oompa Loompas and characters from Dr. Seuss' stories. Each character wears at least two bright colours which the lights on stage mirror and this combination creates a visual treat for the eyes. Two women play the twins Antipholus of Syracuse and Antipholus of Ephesus. Their sleek figures — dressed in green and pink suits, along with pencil-drawn moustaches — make them look like androgynous Peter Pan-like figures.
The set, comprised of a stage level and an upper level with a few balconies, tunnels and stairs, gives the characters plenty of space to run around, which allows the audience to imagine Ephesus' vast size. Though Guedo's multipurpose set design did not work as well for Hamlet, it was perfect for Comedy of Errors, with grey walls serving as a neutral backdrop for colourful lights and costumes.
Dave Clarke's music adds to the story's absurdity, silliness, and cheer. Sometimes it sounds like the background piano music from Charlie Chaplin movies and other times like music from Super Mario games. Either way, it helps the actors animate and exaggerate their comic movements. The play is filled with notable musical performances, particularly Bobbi Godard's performance as the lead courtesan, and the ending song performed by the entire cast.
Kristi Hansen and Belinda Cornish shine as Antipholus of Syracuse and as Antipholus of Ephesus, respectively. They execute their roles as men very convincingly and comically, particularly in the courting scenes. Ashley Wright and Robert Benz provide comic relief as twins Dromio of Syracuse and Dromio of Ephesus, entertaining the audience as the pitied yet hilarious sidekicks in pink pants. Vanessa Sabourin evokes bouts of laughter as Adriana, the wife of Antipholus of Ephesus, epitomizing a distraught spouse.
Through spectacular costumes, acting, and directing, this production brings forth a delightful play full of light comedy, playfulness, and creativity that leaves the audience energized, amused, and giddy. Freewill's Comedy of Errors is a visual explosion of colours that you won't want to miss.