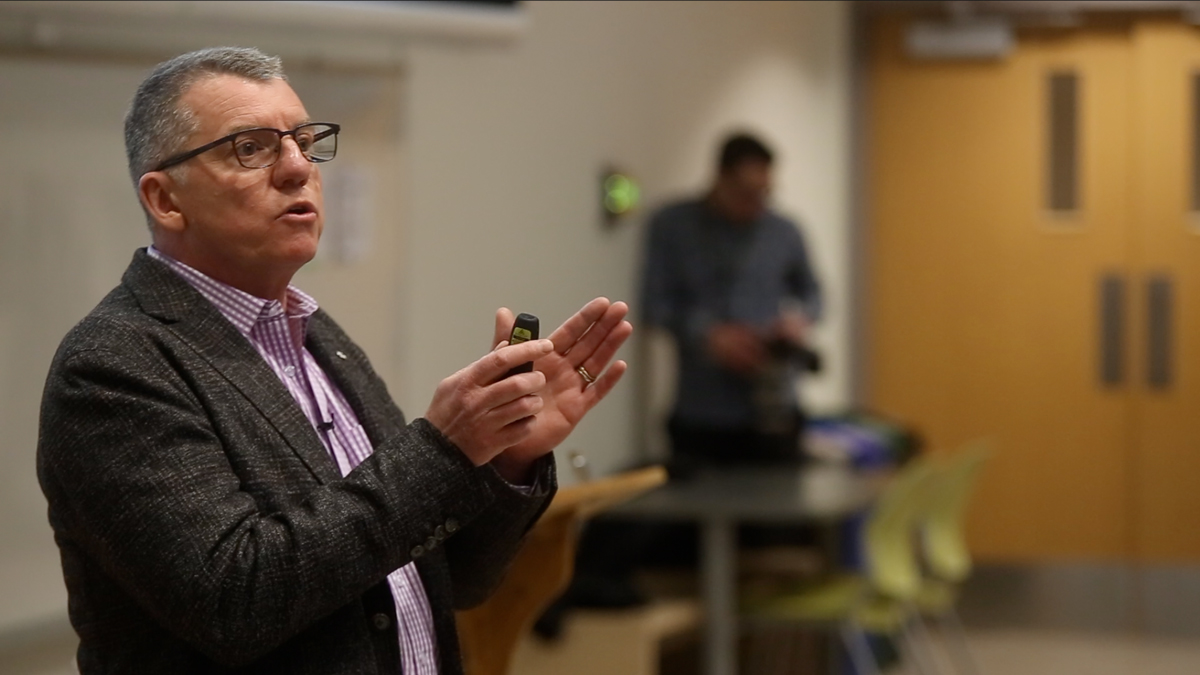 Fuelled by posters plastered around campus, U of A President David Turpin's town hall forum started off loud and full of anticipation. Turpin was walking into a difficult situation — students across campus have been voicing their dissent surrounding international tuition hikes, mandatory meal plans for residence students, and residence price raises beyond student affordability. While these points tend to ignite discussion on any university campus, the University of Alberta president's base pay of $500,000 with "additional compensation for performance" creates a yearly $824,000 salary, making this an especially tender topic for students.
However, these situations would put pressure on any university president, and concern any university student across Canada. Tuition is high, the economy is low, students are suffering, and this will continue to be true in the foreseeable future. However, past presidents of the U of A and other university presidents across Canada are all tackling inflation, deficits, and the student's best interests in stride — why is David Turpin acting any differently, and to his student's mass displeasure? The answers became clearer at his forum, where multiple cringe-worthy statements brought to light the real problem within his leadership.
The real issue with Turpin is his lack of interest in his own students. Throughout the forum, Turpin spoke of the past, and almost always the future, but constantly negated the needs of students here and now. By focusing his entire speech on the students of the future, he essentially told the students in the room, and across campus, that his priorities were not on them, but on attracting those who will be future U of A learners. In essence, the students filling that room were invisible in his future plans, and therefore the consequences put on them appear non-consequential.
In a particularly grating series of events, Turpin started off by saying, "I don't know the decisions that were made in the past… my job is to look to the future." When students called out that they, the students sitting in that very room, were the U of A's future, Turpin seemed unable to grasp the point, responding that "[his] job is to look for the future, and future students." While students shouted and laughed at the ignorance in his statement, Turpin was still unable to see and speak to those in front of him, instead choosing to promise relief to students not yet in enrolled at the U of A.
This is the root of it all, the fundamental problem Turpin can not overcome. Democracy was overruled on the meal plan decision because he is blind to the students in front of him, and wants to please the next generation. Stories shared of poverty and desperate measures with rising residence fees will fall under the radar because this decision is what Turpin wants for his next group of learners. His salary will be a non-issue because he believes that he deserves it, for planning the future of the University of Alberta. All other issues that have and will come to light will be justified as action for the future, and the consequences in the present will be brushed under the rug.
Realistically, without dissent, discussion, and action, this will become the future. We must react in times of change because once these changes are in place, they will become the norm for future generations, just as David Turpin is so hoping to do. Once first-year students come to campus under these new policies, they will become concrete, as new students will know nothing better, and there will be no reason to change. Turpin really is appealing to the next generation — because they have no means to defy him, and no reason to fight what they have always known. As a leader with a plan, this is the ideal scenario, and therefore it is our job, as students who know what is going on, to enact change to prevent policies before they come into place. Turpin doesn't want to appease us, so we certainly have no reason to appease him. We must keep pushing to make our president see his students standing in front of him, and if we need to take additional measures to do so, so be it.