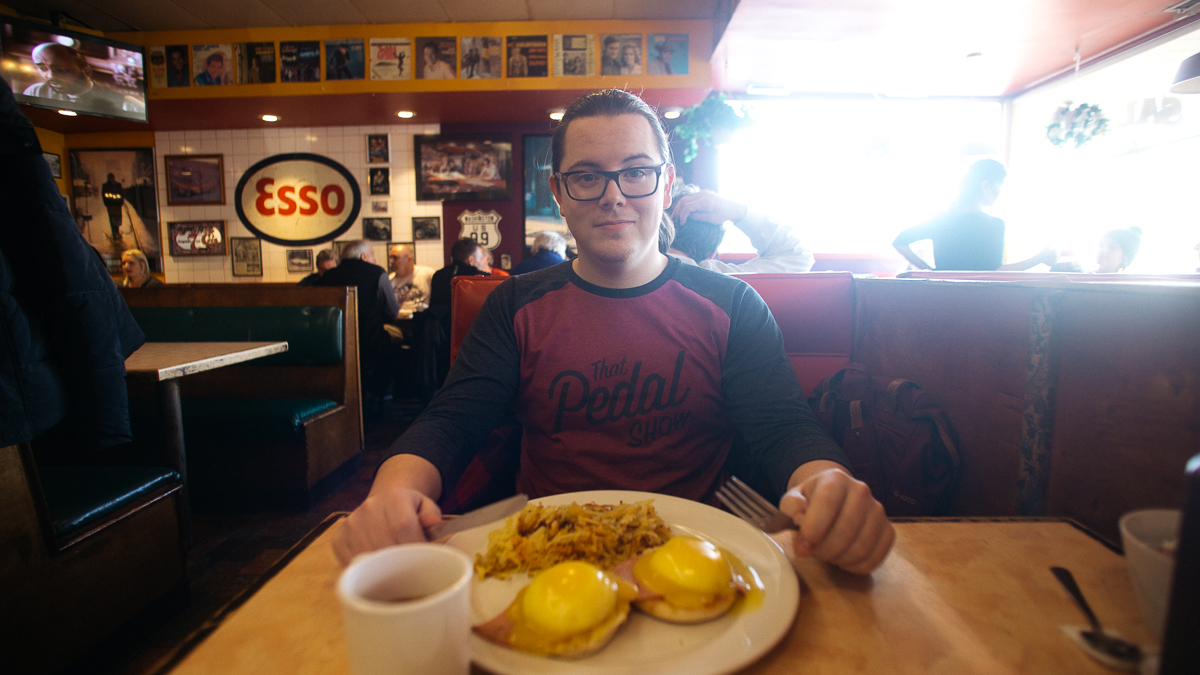 What: Route 99 Diner
Where: 8820 99 Street NW
Hours: Monday to Wednesday 7 a.m. to 10 p.m.; Thursday and Friday 7 a.m. to 11 p.m.; Saturday 7 a.m. to 10 p.m.; Sunday 8 a.m. to 10 p.m.
https://www.facebook.com/Route-99-Diner-164764386878025/
---
Brunch is bliss, plain and simple. For those of us who aren't reliable enough to craft a delightful breakfast of bacon and eggs every morning or even get up early enough to enjoy a restaurant's morning meal, brunch is a saving grace. This is especially true if, like me, you find breakfast to not only be the most important meal of the day, but the finest. My insatiable desire for brunch has led me to skip countless classes, far too many shifts at work, and even a midterm or two. This undoubtedly makes a disappointing brunch experience all the more damaging.
Unfortunately in my day I have experienced many an unfortunate brunch at an establishment that has been nothing but lauded by my peers and reviews alike. So I and my dining companion have set out to eat brunch, take photos, and review our experiences at these restaurants that we've heard such good things about, which brings us to Route 99 Diner.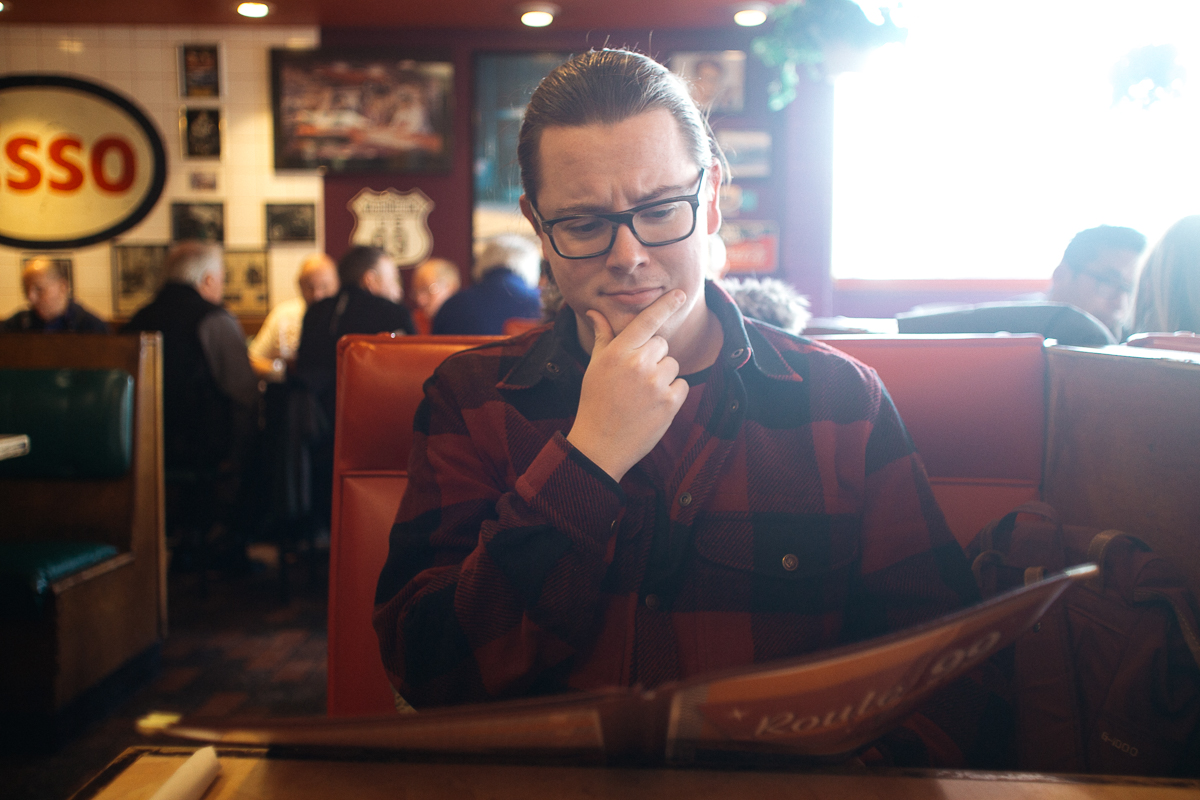 The place was dripping with that oh-so-classic worn-in diner vibe, something Denny's strives for but can never achieve. The walls and ceiling were littered with artifacts, road signs, album covers, and even airplane parts. This was not the cheesy memorabilia you would find at some nostalgia shop — this was the real deal. The clientele was just as diverse: a mix of students, labourers, business people, and seniors. The diner truly brought in all kinds.
The menu was exactly what you'd hope for: a wide selection of breakfast staples, a hearty variety of sandwich and lunch options, drip coffee and malt milkshakes. For my brunch, I opted to order "from the skillet" and selected their classic Eggs Benny with a side of hashbrowns ($11.50). The Eggs Benedict is (in my humble opinion) the quintessential tool with which to judge a quality breakfast — if an establishment can craft a quality hollandaise, properly poach their eggs, and provide an English muffin that does not suffer from being too hard or soggy, they can make any breakfast great.
To my surprise, Route 99 Diner did manage to pull most of this off. The Benny had hollandaise for days, with a rich flavour and just enough of a hint of mustard to give it substance while maintaining the necessary creaminess. The ham was lovely; the taste of an ancient and perfectly seasoned cast iron skillet truly made it something special. Where the Benny suffered, however, was where so many do: the English muffin. Like so many breakfast establishments, Route 99 Diner appears to store-buy their English muffins, which leads to them ending up fairly hard and unimpressive in the final product. The eggs were also fairly underwhelming.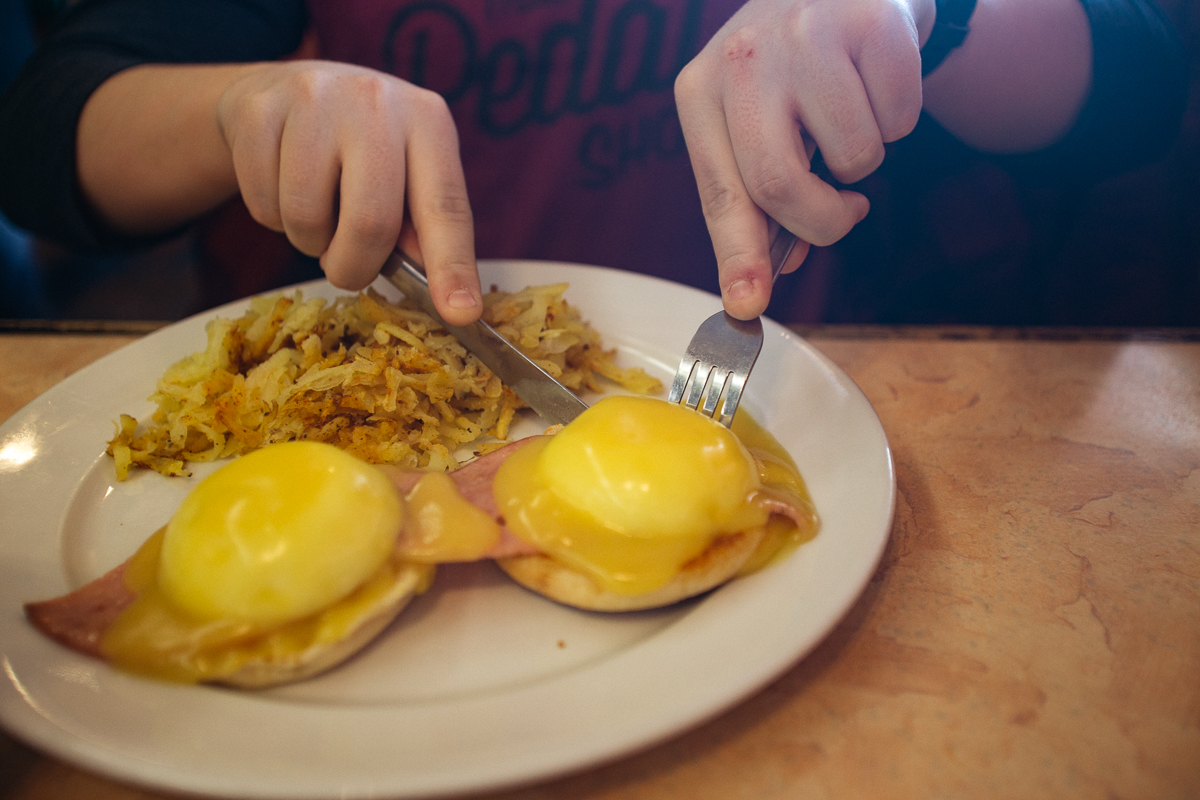 The hash browns were also quite solid and featured more of the lovely skillet flavour found in the ham. Unlike many shredded hash browns (looking at you, Denny's) they did not suffer from being too soggy or too rigid, they were just right.
Finally, the coffee. When you eat at a diner, you need to order drip coffee. There is a magic and charm found in shitty diner coffee that just simply doesn't exist when you venture to Transcend or your cafe of choice. I can sit and drink four or five cups of diner coffee without hesitation: it's a bit watery, it's dirt cheap, it goes down like nothing, and it is truly limitless. Where you might go to a more prestigious coffee place and pay $4 for coffee with your breakfast, for $2.25 at Route 99 Diner you can sip to your heart's content without any of the jitters you'd have after a few more potent cups elsewhere.
All in all, Route 99 Diner was a fairly solid and very affordable meal. The price and portions certainly saved this brunch and made it a more worthwhile outing. Although not as mediocre as we had hoped when setting out to write this article, it did have its shortcomings. May our next excursion be a real exposé on a truly mediocre brunch.