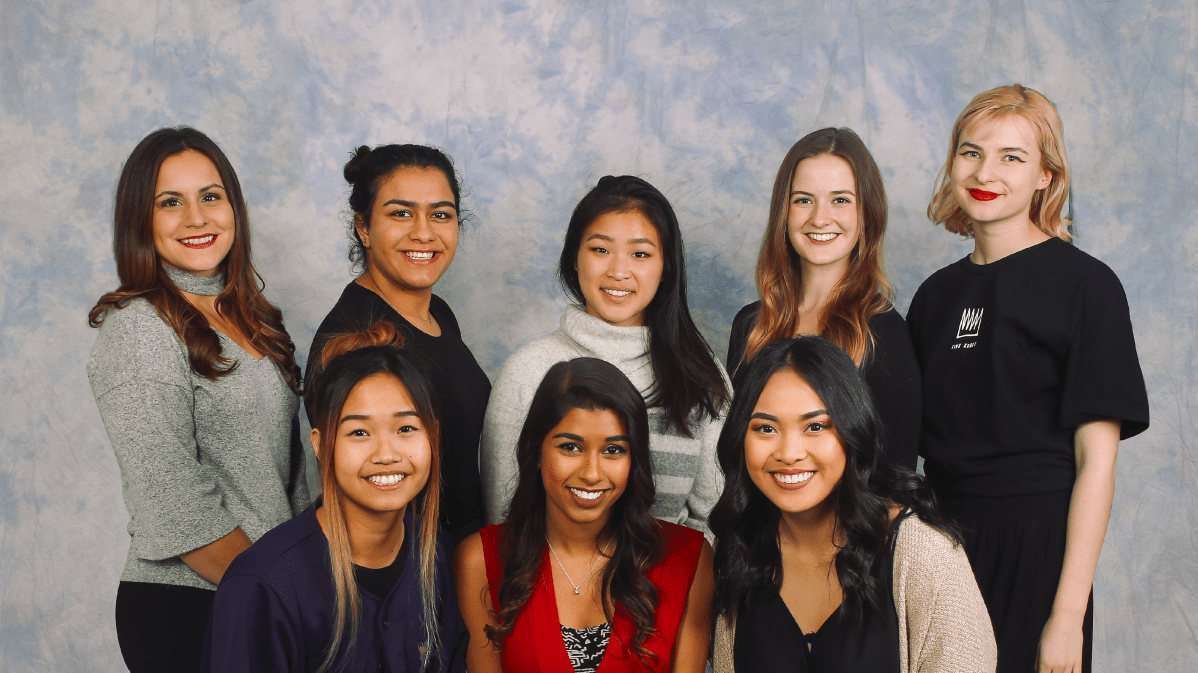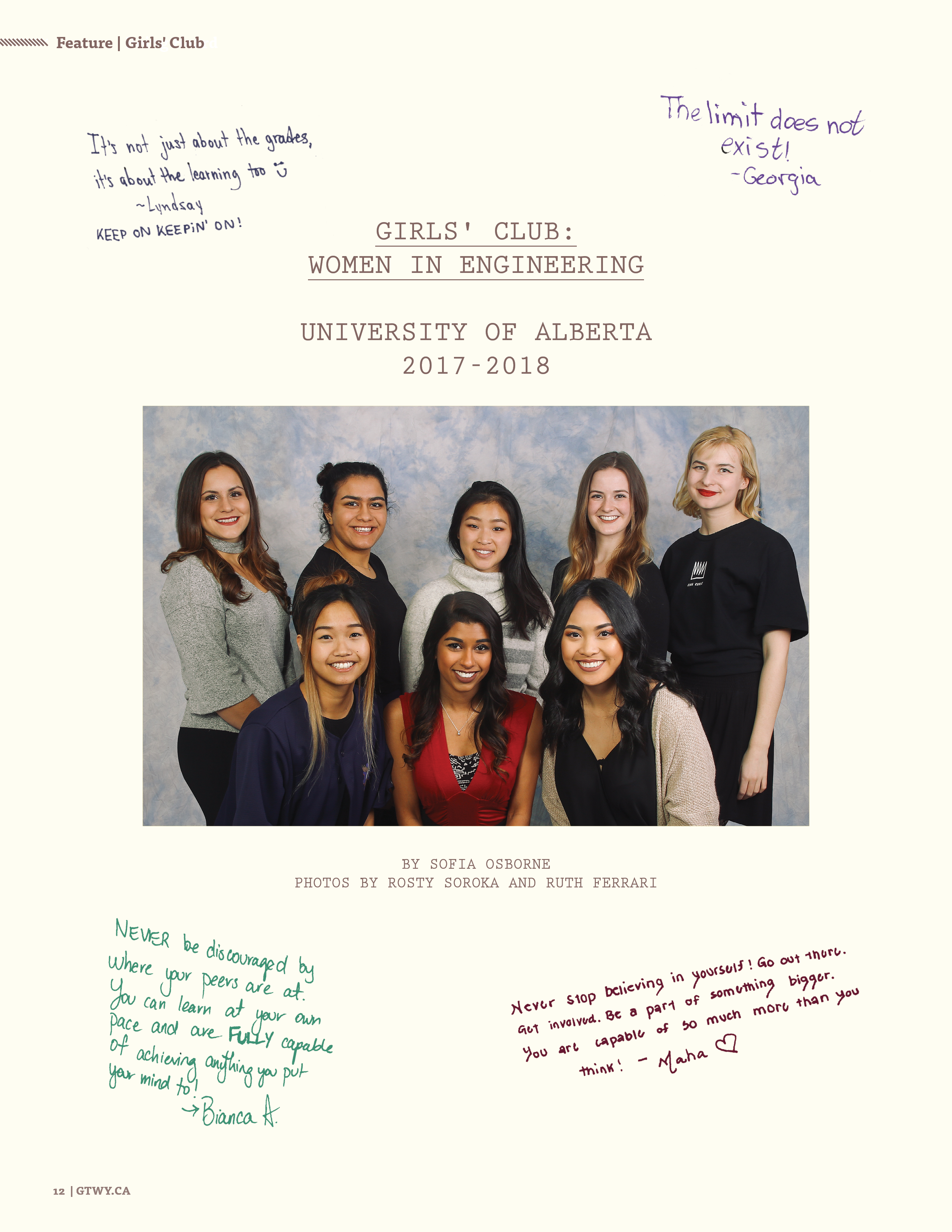 For her co-op in computer software engineering, Bianca Angotti researched robotics at the École Polytechnique in Montreal, the school where 14 women were shot in 1989.
On December 6, a 25-year-old man entered an engineering classroom, separated the women from the men and shot all the women. He said he was "fighting feminism" and that feminists had ruined his life. He went on to walk through the building, deliberately targeting females. He shot 28 people and killed 14 women, most of them engineering students.
The Place du 6-Décembre-1989 in Montreal is a memorial to the victims of the massacre, and the anniversary of the attack is now called the National Day of Remembrance and Action on Violence Against Women.
"I'm really glad that I saw the memorial because it put things into perspective," Angotti says. "It wasn't that long ago that that sort of injustice happened, so it is still very real."
Margaret-Anne Armour, a University of Alberta chemistry professor and the associate dean of science for diversity, says she will never forget the massacre. Armour started the Women in Scholarship, Engineering, Scholarship, and Technology (WISEST) program.
"That for me was something that really pointed out how far we had to move," she says. "That yes, it was one person and yes, they were completely out of their mind, but it said that somebody believed that women in engineering were taking away his possibilities, they were taking away jobs from him and they shouldn't be there. And that, at that time, was not an unusual response."
When Armour started WISEST in 1982, only about 10 per cent of engineering students were women (we've now reached 20 per cent) and there was only one female professor who worked there part-time.
A year earlier, Gordon Kaplan, the U of A's first vice president (research) went to a seminar on microprocessors and noticed there was only one woman present. He gathered 20 women at the U of A to take action to change the male-dominated culture. Armour was one of them.
WISEST developed the six-week summer research program at the U of A for Grade 11 students, which, among other things, places young women in research positions under female engineering professors. Armour says many students have no idea what engineers actually do, and once they get hands-on experience they get hooked. They have been able to follow the students after they finish the program, and have found that many young women decide to stick with engineering when they enter university.
This year, the U of A hired two new female professors who are WISEST alumni, one in physics and one in computing science. Angotti, a fourth-year computing software engineer, did the WISEST summer research program in Grade 11. Working under a female civil engineering professor and hearing from other women in the field, she says she felt more comfortable going into engineering. "(WISEST) showed me that there are women that are already in the field doing great work and they're fully capable of doing it," she says.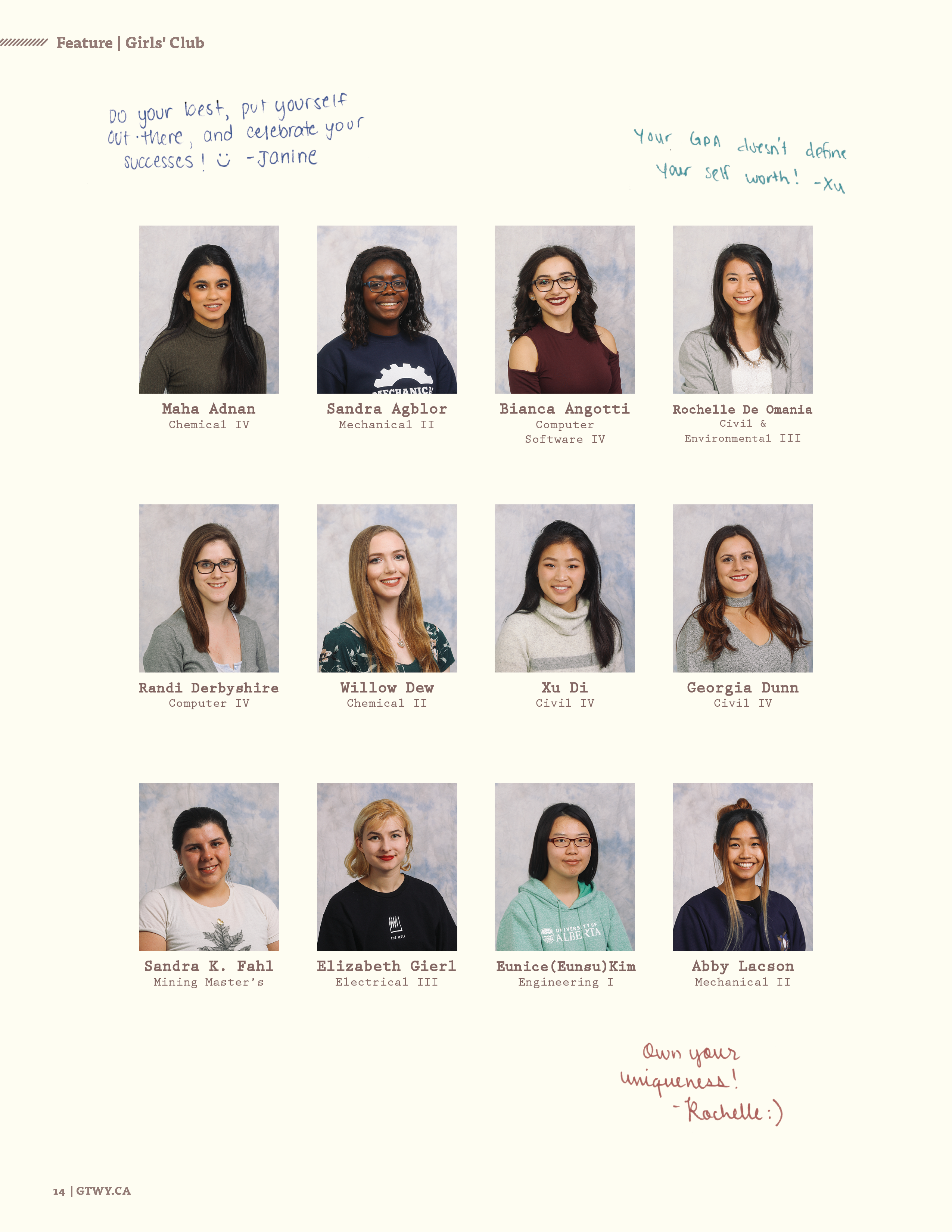 In her first year, Meghana Valupadas, whose leadership experience ranges from student governance to the Edmonton Youth Council, ran for first-year club president in engineering. When the students running the election put her picture up on the screen, a lot of students wolf-whistled. That didn't happen for any of the male candidates.
"Looking back, I realized that the whistling undermined all my credentials, all my leadership experience, everything that I've done," she says.
Valupadas didn't win the presidency, and she's always wondered what would have happened if she was male with the same qualifications.
"Instead of focusing on the what-ifs, I just want to make things better so that in the future a young girl who looks like me doesn't have to wonder if things would be different for them in their job or their academics or their career if they were someone else," she says.
At first, Valupadas didn't want to complain about what she was experiencing but she started talking to other female engineering students and they realized they all had similar experiences: they were talked over in job interviews, they were told they were too pretty to be engineers, and they went into their co-op jobs and saw no other women.
"When I started noticing things like that, a lot of people that I talked to said, 'Well that's the way engineering is,'" she says. "I didn't like that phrase because it implies that we as engineers who are supposed masters of change and innovation on the technological side are incapable of change on the social side."
Valupadas is now a fourth-year civil engineering co-op student. In November 2016, she and Salma Elmallah, an engineering graduate student, had the idea to start Diversity in Engineering, a student group with the goal of making engineering more inclusive. They began meeting informally in January and received official student group status this summer.
The group itself is inclusive, and anyone can join even if they aren't a minority or an engineering student. Valupadas wants to create a supportive network for underrepresented engineering students and host lectures on information that isn't taught in engineering classes, like how to deal with conflict, identify harassment, or dress as a female engineer in the workplace.
Valupadas also wants to share students' stories to make it clear why this group is necessary. Women from the group will talk about their experiences, and they are also conducting a survey this semester where students can comment anonymously on engineering culture. With these stories out in the open, she hopes students will realize they aren't alone.
"My advice to young people who may feel underrepresented is to be yourself," she says. "Fitting in is so important, and it's hard when you're a young person and you want to fit in but you are never alone, other people are sharing your experiences and if you're able to talk about what you see that's the first step to making change."
While Angotti has done volunteer work with WISEST as an undergrad, she was drawn to the Diversity in Engineering group because instead of focusing on recruiting women to engineering, the group wants to change women's experiences as undergraduates.
"It's nice to know that there's this network, and talking to Meghana especially, she's very passionate about the issues that there are and wanting to shed light on them and fix them," she says. "I'm so happy to be in a group where there are these girls."
Not all women, or visible minorities in engineering in general, are struggling with sexism.
"You could be a student who is underrepresented in engineering but you might have an amazing undergraduate experience with a lot of support," Valupadas says.
Angotti doesn't feel she's experienced discrimination in the workplace, but she has heard inappropriate comments around campus. She remembers when one male student posted on Facebook, questioning why women should be allowed into engineering, since they're "too dumb to succeed."
"I know there's also girls in engineering who don't think there's a problem," she says. "(The Diversity in Engineering group) is trying to show that there is but it's so systematically hidden that you may not notice that you're facing something that's unfair to you."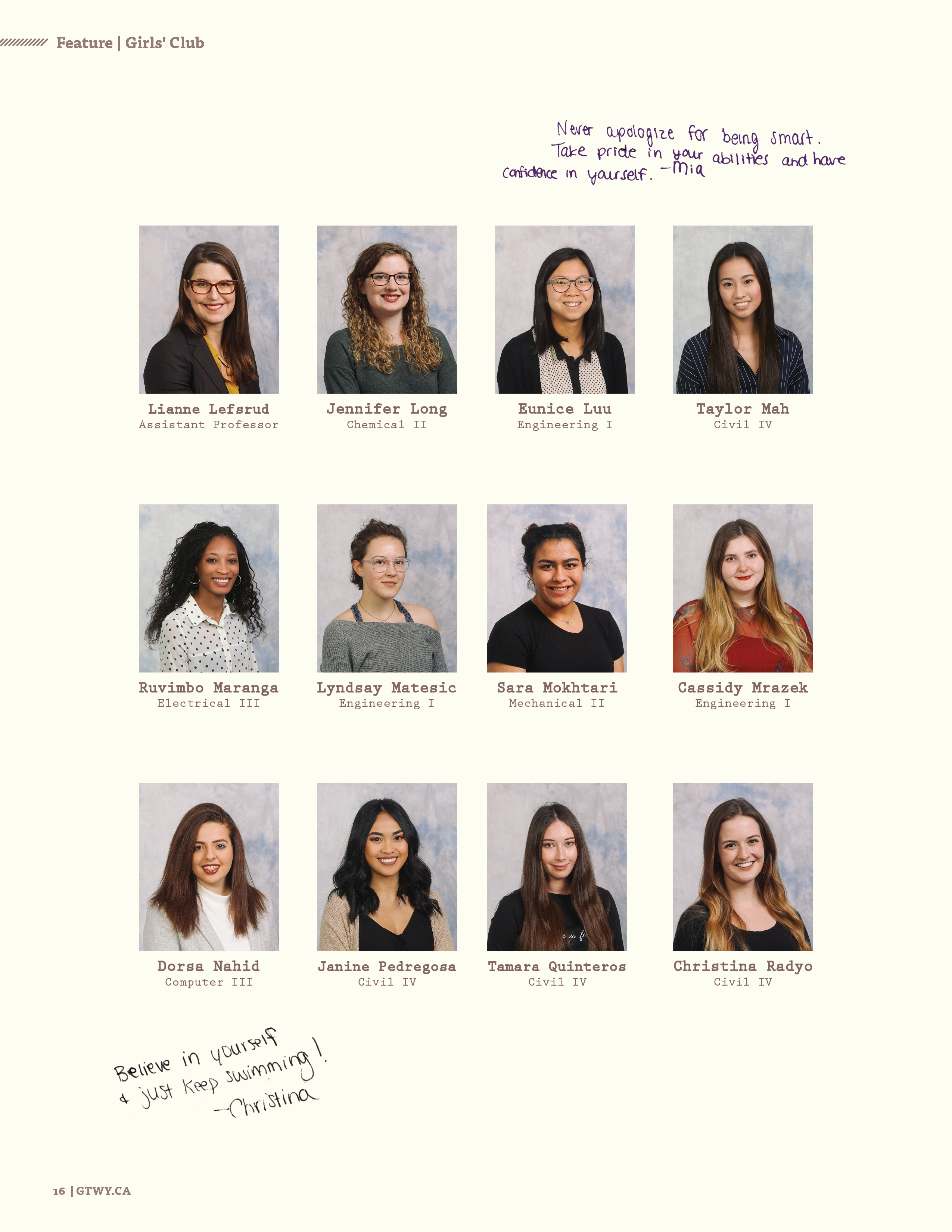 Ania Ulrich is the first engineer in her family. She had no idea what engineering was until her dad introduced her to an environmental engineer. Now, as the first associate dean (outreach) of the Faculty of Engineering, a position that started this summer, she's determined to dispel myths about engineering. She says that if a student doesn't have a close relationship with an engineer, they'll be influenced by the field's stereotypes: that you need to be introverted, or that you need to be male. In reality, she says, engineers do more than build bridges and roads — they can help people, the environment, and society.
Ulrich started out as an undergraduate student in chemical engineering at the U of A in the 90s. She didn't have a female professor until three years into her degree when two female professors were hired in her program.
"All of a sudden you see somebody who's like you who's up there," she says. "That role model effect is huge."
Ulrich went on to follow their example and, after completing her PhD at the University of Toronto, was hired to teach at the U of A. The hardest part of her career was moving up the ranks to become a tenured professor. She heard sexist comments and she was talked over in meetings, but she wasn't allowed to speak up for herself.
"I felt like I had to stay quiet because to get tenure there is a process where you don't want to be seen as a troublemaker," she recalls. "What was I going to say? I was worried it would jeopardize my chances."
When she did become a full professor, even that decision was questioned.
"To be frank, I did have colleagues say to me that the only reason I got the job was because I'm a woman," she says. "Then you feel this need to overdo it, to excel so much that there's no doubt in anybody's mind that you deserve to be here because of your credentials as opposed to your gender, and that's exhausting."
Ulrich thinks this sort of imposter syndrome, a feeling that you don't really deserve to be in a certain position, is permeating all levels of engineering. Even if female high school students are strong in math, they're less likely to enter engineering than men of equal or lesser mathematical ability. She wants women to understand that they can excel in engineering. While only 12 per cent of engineering professors at the U of A are women, they are even less represented in leadership positions. As an associate dean, Ulrich is one of two female academics in the faculty's administrative roles.
"I will always comment when there are other women in the room because quite often I'm in meetings where there are no other women at all," she says. "It's been so part of my life for so long you kind of become used to it."
One of her top initiatives as associate dean is to look at how to get more women into leadership roles. Most women, including Ulrich, have to be asked to apply. Because of her ingrained insecurity, she doubted whether she was cut out to be associate dean. When she got over that fear, it paid off.
"It's so inspiring to be in this position and I feel like I finally have gone through the ranks, I don't need to prove anything to anybody anymore," she says. "I really feel this freedom to make a true difference."
At the undergraduate level, Ulrich is looking to evaluate and improve student culture. She wants to know if students, particularly minorities, feel included in engineering. Working with Valupadas' Diversity in Engineering group has given her the most momentum to do so.
When Valupadas approached her about the group, Ulrich immediately agreed to support them as a professor. Now that she's an associate dean, she has a bigger platform to help. After hearing about the female students' experiences, she says she's excited to work with the group. Initiatives like these are the reason she wanted to work at a university in the first place.
"I get to work with young adults who want to tackle this stuff, aren't afraid of change, and want things to move forward," Ulrich says. "It's so inspiring and I'm honestly here to just move the barriers so they can do it."
Ulrich is helping the group apply for grants and conduct their climate survey, as well as getting feedback from the group on her outreach to prospective students.
"We (in Alberta) employ a ton of engineers and the earning potential here in this province is the highest in Canada," she says. "It's incredibly empowering for our women to have a career where she'll never have to worry about money or rely on anybody else for her future."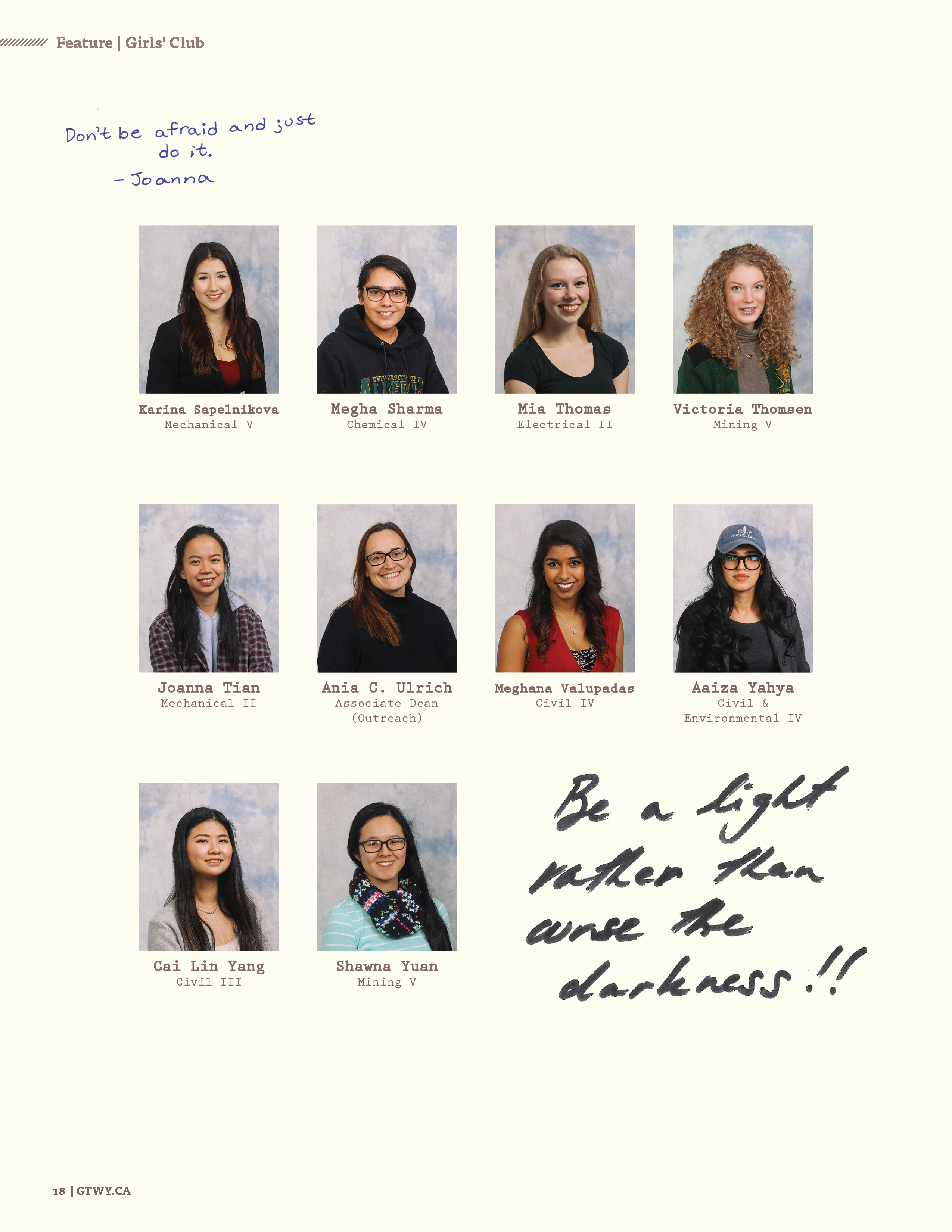 Lianne Lefsrud, an assistant professor in chemical engineering, is also a mentor and supporter of the Diversity in Engineering group. Having done all her degrees at the U of A, she says she faced the same issues back in the early 90s that Valupadas and the other women still experience today.
"There's been no change," she says. "A lot of folks don't think there's a problem, but the fact that 20 years later undergraduate women in engineering are facing these same barriers leads me to believe that these are systemic."
Ulrich approached Lefsrud about helping Valupadas and Elmellah because of her expertise in business strategy and her work on diversity issues for WISEST and the Canadian Coalition of Women in Science, Engineering, Trades, and Technology. Lefsrud is supporting the young women in their climate survey of undergraduate students, and connecting them with other researchers who can help them formulate questions and measure things like implicit bias.
She believes the Diversity in Engineering group is in the best position to make a difference because they're focused on creating change from within. Valupadas and her peers are the ones being affected by the undergraduate engineering culture at the U of A, she says, and are therefore in the best position to make a case to the university administration that something needs to change.
To Lefsrud, Valupadas and Elmellah are examples of how female engineering students should reach out to their professors if they're struggling. She says there is "more support available than they could possibly imagine."
"A lot of people think asking for help is a sign of weakness but in fact it's not. I would suggest it's a sign of strength," she says. "It's a sign of recognizing that we have the ability to do things differently, to remake the world that we find ourselves in."
"I'm continuously inspired by Meghana and Salma and how much sheer determination and energy and focus they have to make a difference."
---
When Angotti told her friends she would be going to the École Polytechnique for her winter co-op, they asked if she was sure she wanted to, given its history towards women in engineering. She told them she needed to go to prove that women can be engineers and that she isn't afraid.
"The moment we are fearful we stop and we let them win and there's going to be fewer women in engineering because they're afraid," she says. "Then they've won."