News
University remembers victims of École Polytechnique massacre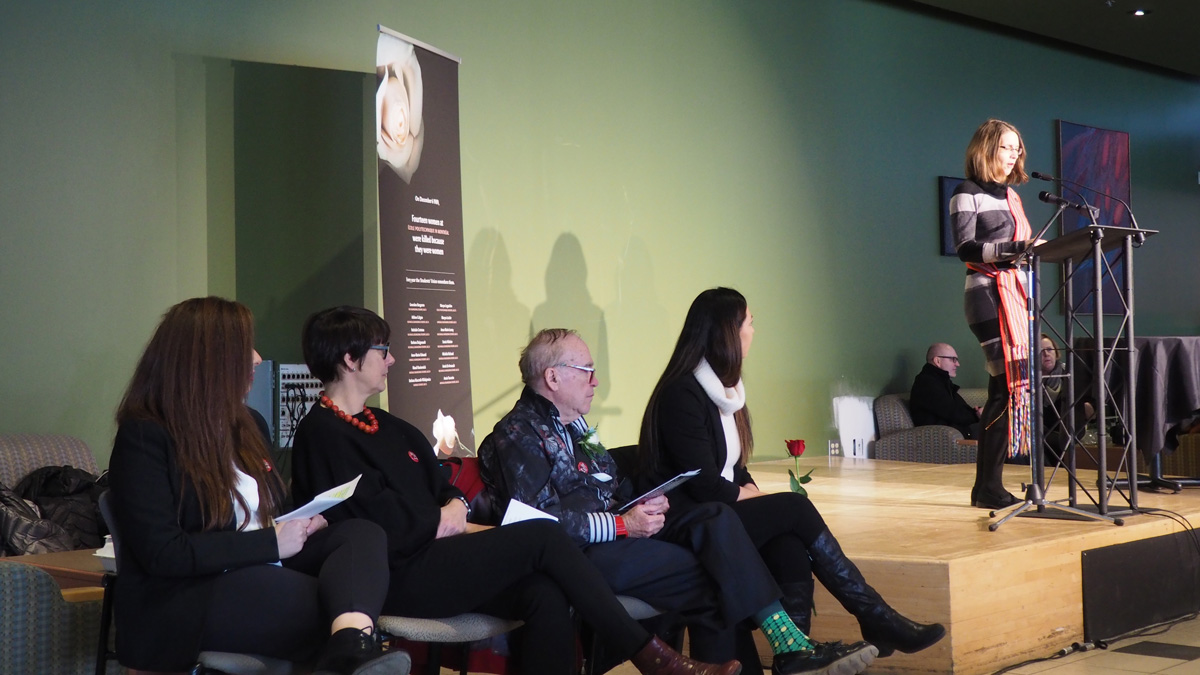 Bells rang in the Students' Union Building as students and staff from the University of Alberta took a moment to remember the victims of the 1989 École Polytechnique massacre.
The event, which began at noon on SUBstage, saw several members from the university community speak about violence against women, touching on current issues like missing and murdered Indigenous women in Canada, and the #MeToo social media campaign. Afterwards, white roses were laid on the stage for the 14 women killed in the massacre as their names were read aloud.
Since 1991, the National Day of Remembrance and Action on Violence Against Women has been held annually on December 6, on the anniversary of the massacre, to commemorate the victims of the tragedy.
Amanda Gould, who works in the U of A's Indigenous Initiatives Office, spoke about the 1,181 missing and murdered Indigenous women between 1980 and 2012. Gould also mentioned Bella Laboucan-McLean, who died in 2013, and Misty Potts, who went missing in 2015. Both were students at the U of A.
"Indigenous women have been second-class citizens, even within the Indigenous population," she said.
Following Gould, Michael Phair, chair of the university's Board of Governors, spoke about the current nation-wide discussion about sexual assault against women, and how most of the victims of the massacre were ordinary students in their twenties.
"To look across this room here today reminds me that many of them would've been sitting in a room like this on that same day," he said. "They were the ages of most of you in this room."
Phair also discussed the need for action. He said he intends on bringing it up in the next Board of Governors meeting.
The next speaker, Susanne Luhmann, chair of the department of women and gender studies, talked about the shooter's anti-feminist motives and that the victims were killed "because they were women." She also discussed how gender-based violence is becoming more visible to the public.
"The many different forms of organizing to end this violence (against women) is the most hopeful evidence that the women who died that day at École Polytechnique did not die in vain," she said.
The last speaker before the rose-laying ceremony was Dorsa Nahid, a third-year engineering student and vice-president (events) of the Engineering Students' Society. She spoke about the oppression of women around the world, and how women in STEM are sometimes treated as lesser.
"I hope that we can come together and build a world where women in technical fields can flourish without fearing physical or emotional abuse," she said.