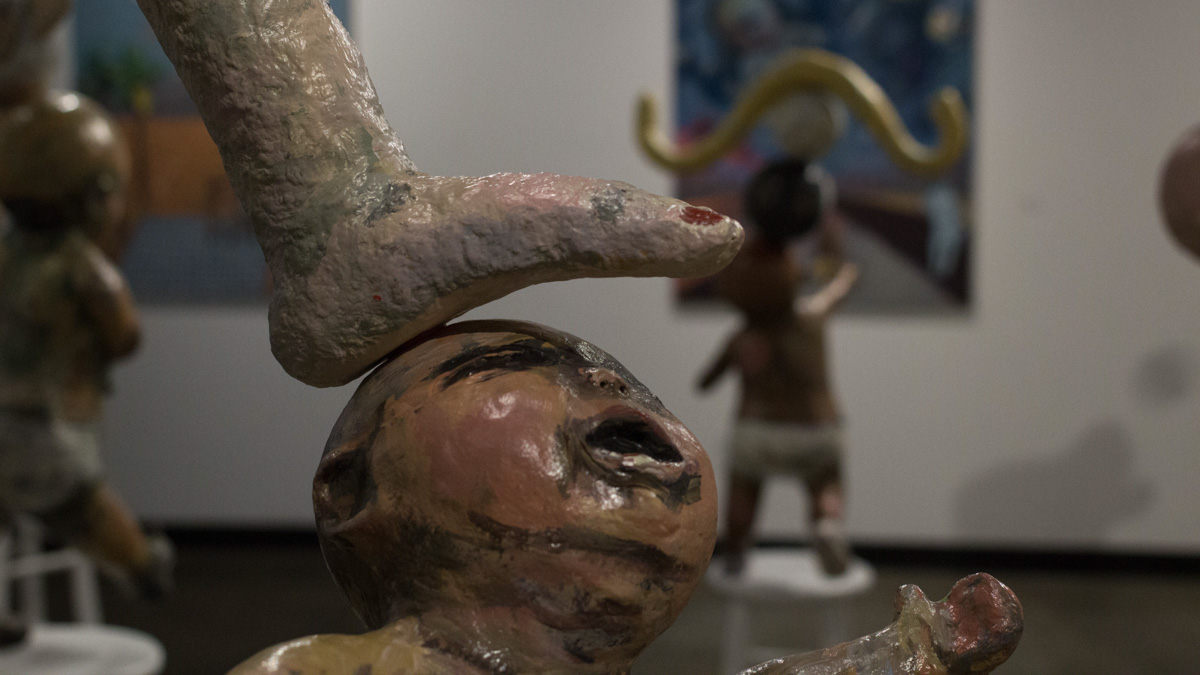 What: Getting Big by Violet Costello
Where: Latitude 53
When: October 6 – November 18, 2017
Admission: Free

---
In Getting Big, Calgary artist Violet Costello renders a phantasmagorical space where imagination and reality blend together as one. Also, Spongebob's in it.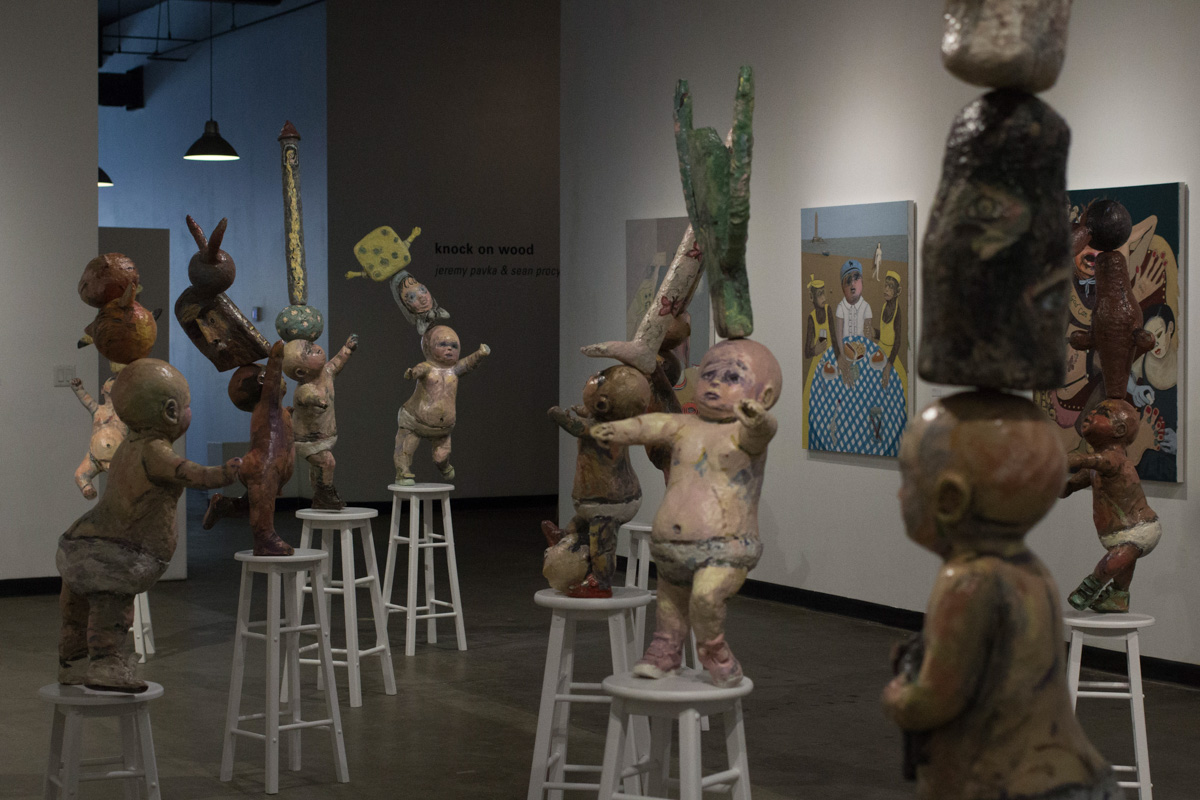 Hosted at Latitude 53, the exhibit consists of life-sized paper-composite toddlers standing atop stools. Perched on the toddlers' heads are a variety of objects that range from warped incarnations of fictional characters — such as Marge Simpson, Gumby, and Spongebob — to everyday furniture.
But that's only half of it: each sculpture, Costello says, has been "re-interpreted" as a painting.
The paintings depict the toddlers in a series of vignettes that expand their stories. Costello's expertly rendered dreamscapes tickle the inner child and baffle the adult intellect. And yet, no matter how flat-out weird, Costello's work maintains an air of whimsical playfulness.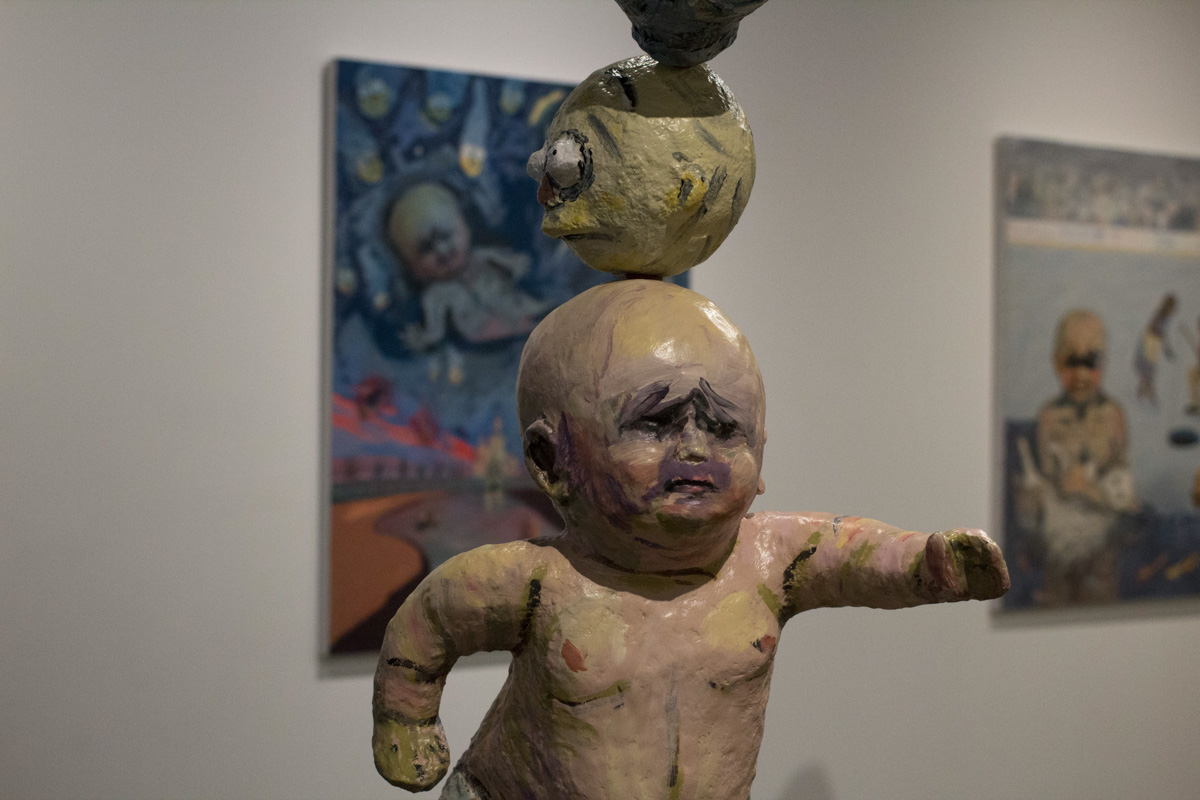 "The subject of children and childhood is just natural, I guess," Costello explains, "because I'm a mom. And like many artists, I'm intrigued with the human form."
On a thematic level, Getting Big portrays a pre-linguistic conceptualization of the world, where imagination is closely tied to conscious experience — blurring the gap between the inner and outer world.
Costello says her work is inspired by her experiences as a mother, raising and interacting with children.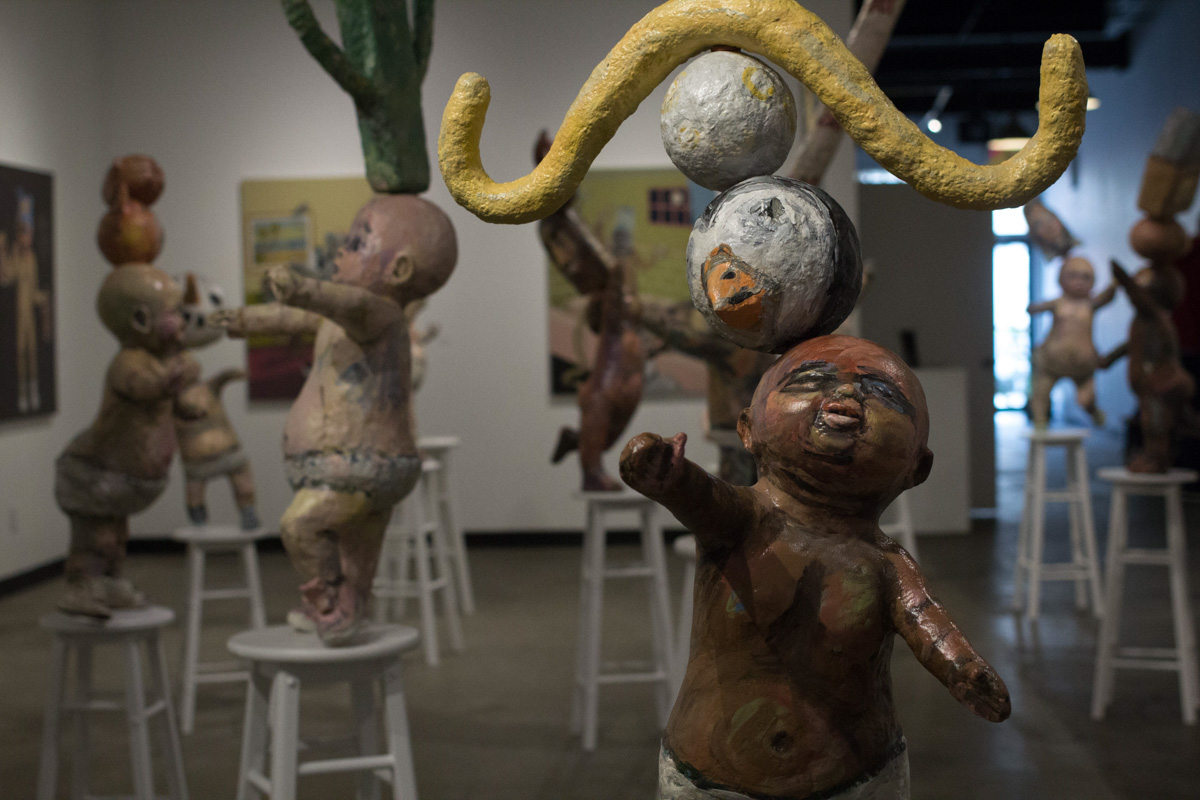 "When I'm around kids — especially when they start talking — what comes out of their mouths and how they see the world can be so fascinating and intriguing," Costello says. "Their sense of play and how their little minds work fascinates me."
This isn't the first time Costello has explored the topic of childhood, in fact: she has been moulding sculptures like these since 2014. Furthermore, her 2016 exhibit Newborns seems to have been a conceptual predecessor to Getting Big.
According to Costello, the paintings should be viewed as completed works on their own, existing in conjunction with the sculptures. It's the viewer's job to navigate the exhibit and piece together each toddler's narrative.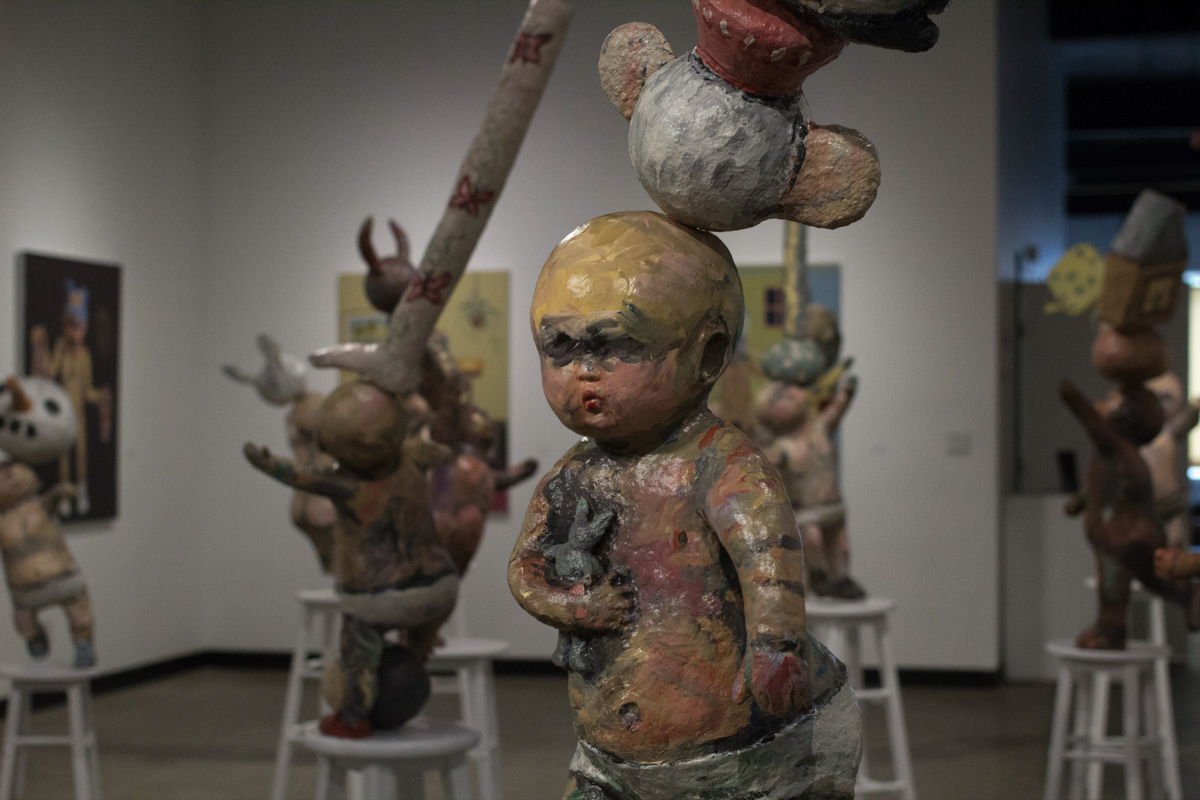 Costello's paintings are expressive and vibrant, featuring images plucked out of 21st-century pop culture. One painting features Homer Simpson's face — substituting for the moon — hovering over Disneyland, amidst the background of a starry night sky reminiscent of a four-year-old Van Gogh.
Another painting depicts the offspring of singer CeeLo Green casually lounging on a swing that also happens to be hanging from Pinocchio's nose.
"I hope that the different imagery makes the art more accessible," Costello says.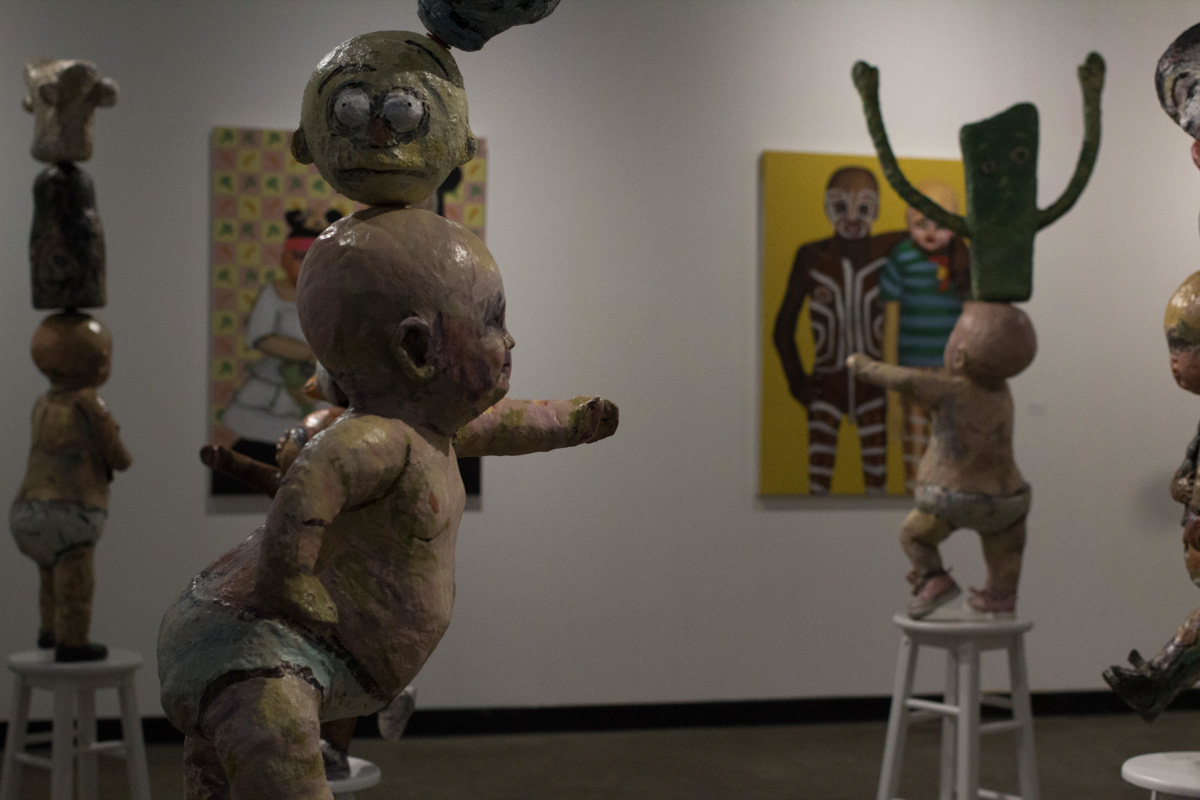 Together, the sculptures and paintings engage in an interpretive dance of sorts, inviting adult viewers to deep-dive into the idyllic wonders and mysteries of childhood once more. Much like the products of childhood imagination, Costello's imagery defies the rationalizing adult mind.
Ultimately, Costello compels viewers to feel rather than think about her work, to reconnect with what all too often becomes neglected in the process of getting big.
"(Imagination) in some ways can be knocked out of you because you're expected to take these paths, go to high school and go to university, and pick something," Costello says. "I feel it works against how we really should be."