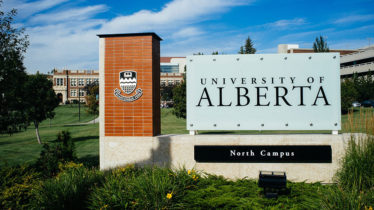 Amid uncertainty about future provincial funding and a $14-million structural deficit, the university announced on Tuesday that its operating budget will be cut by four per cent in 2018-19.
The university is planning to follow this four per cent cut, which amounts to $30 million of its $1 billion budget, with additional two and a half per cent cuts in both 2019-20 and 2020-21. Together, these budget reductions are said to eliminate the university's $14-million structural deficit.
The cuts will need to be approved when the university's highest governing body, the Board of Governors, meets in March. If approved by the board, the cuts will run across the board, with each faculty and administrative unit at the university being told to decrease their budgets by four per cent. University Provost and Vice-President (Academic) Steven Dew said not to panic, but is unable to predict how these cuts will affect students.
"It's hard to give any reassurance that there will be no impact," he said. "We are very much committed to our fundamental mission of providing a great educational experience for students and that will be a central component to all planning on how we respond to this."
In 2013, a similar budget cut resulted in the Faculty of Arts suspending admission to 20 low-enrollment programs, and the Faculty of Science reducing enrollment by 300 students.
Reed Larsen, the Students' Union vice-president (external), said students should be concerned.
"Over three years, if those cuts continue forward they will have an effect on the student experience at the U of A," he said. "They will affect quality and they will affect the affordability of education if the funding frameworks and the tuition review come out in the next couple months."
Future funding
The university's operating budget accounts for costs including faculty salaries, student supports, sessional instructors, and materials for class preparation. Dew said it's never good to be spending more money than one has.
"We're particularly concerned about getting this resolved now because I think we're looking at increasing uncertainty in funding for the future," he said. "We really don't want to have an existing problem on top of new problems should they come down in the future."
The province's funding framework for post-secondary institutions is currently under review, and may or may not result in less funding for U of A, which Larsen said are set to come out "any day now." Furthermore, Alberta's provincial election is also coming up in 2019, which could result in a different government and a different approach to funding post-secondary.
Larsen also said that by publicizing planned budget cuts so early, the university is putting pressure on the government to prove its commitment to post-secondary.
"The U of A is the flagship university in the province, so when they announce there's going to be budget cuts at this time, it basically is a way to say 'Hey, this is really important and university funding is really important,'" he said. "And if we don't hear back from these funding reviews and we don't hear back about backfill funding this is what's going to happen."
Student advocacy
Dew said that university administration will be meeting with each faculty's dean over the next few months to discuss their plans for allocating the cuts. Furthermore, Students' Union vice-president (academic) Shane Scott, said he will be meeting with faculty associations to help them advocate for students during this time. He said he will encourage them to meet with their deans and other administrators to have a say in where the cuts will come from.
"These cuts are going to look different faculty by faculty so it's important that representatives from those faculties have a say in it," he said. "Including faculty associations."
Scott said a lot of the faculty associations have strong relationships with their faculty members and administrators. He said students who are concerned about the budget cuts should help their faculty association, attend town halls, and make their presence known.
"If you are a student who does feel very nervous about some part of (the budget cuts), it's very important to make that known," he said. "It's really hard for myself or even members of faculty associations to know some of those smaller nuances at a very program-specific level."