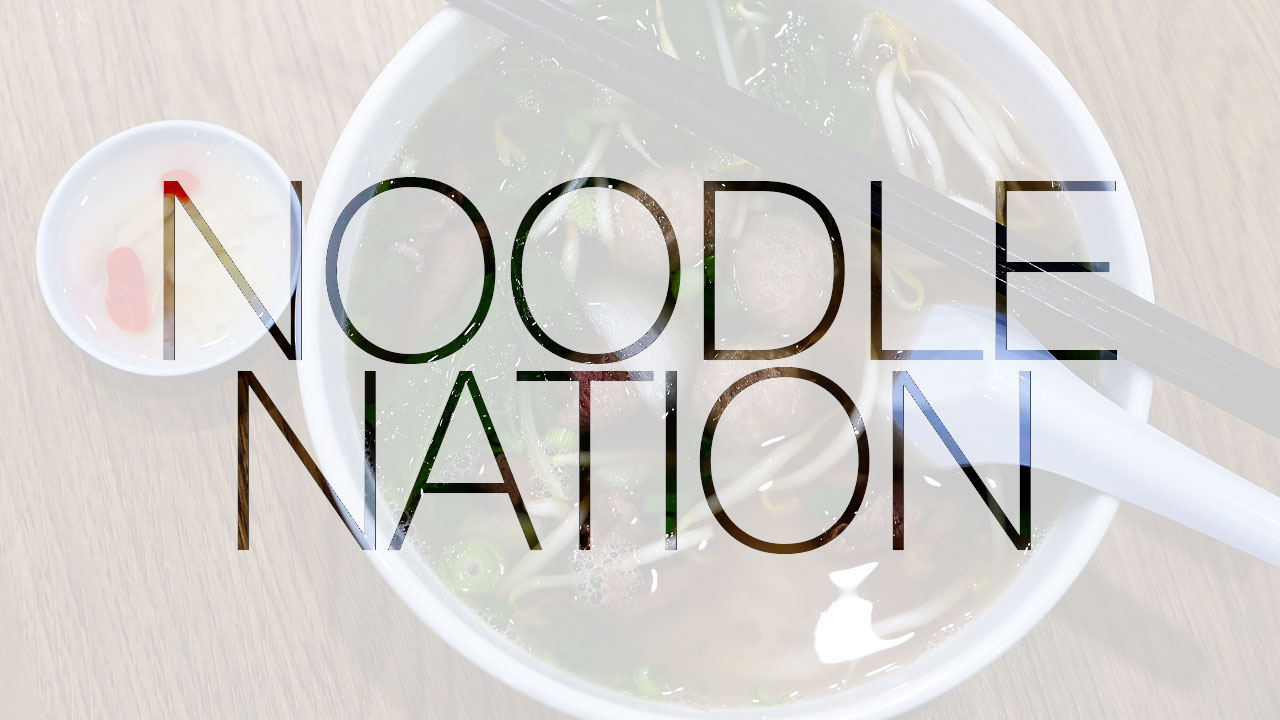 Nudoru Ramen Bar
Location: 10532 82 Ave NW
Hours: Closed on Monday. Open from 11 a.m. to 10 p.m. from Tuesday to Saturday, 12 p.m. to 5 p.m. on Sundays
Price: $ – $$
---
Atmosphere
I have to give credit to the theme of the restaurant. The contemporary Nike-wearing samurai chopping an egg onto a noodle dragon is probably the wittiest mural I have seen on any wall. The lighting is relatively dim, making for a great dining atmosphere. The coziness of the space makes eating at the restaurant easy and lacking in judgement. The waiters are super friendly and are great people to have random conversations with while ordering. At the end of meal, when you pay knowing that your money was well spent, you receive a complimentary lollipop that is probably the cutest and sweetest marketing strategy I have seen from any restaurant.
The Noodles
The menu itself is relatively tiny. Along with the standard fried meat and shallot sides, the menu offers pre-built ramen bowls that I haven't personally tried yet. The menu highlight, however, is the familiar "build-your-own-bowl" system which allows you to pick a soup, a protein, and three add-ons. The spicy miso broth is my go-to choice of soup. When I sip on it, my South Asian taste buds light up and send signals of sheer gastronomic pleasure to my brain. The aroma of the soup always stimulates my salivary glands and finally digging into the bowl gives me great satisfaction. I also heartily recommend some premium Japanese beer like Sapporo or Asahi to go with the spicy miso if you drink alcohol. The other soups are not spicy but taste great all the same. As for protein, my favourite is the chicken.
I like the chicken the most because it's often the best cooked protein at Nudoru. It doesn't really have an impact on the taste of the soup so it doesn't mess with the spice that I love. If you're looking for a different or more tasteful meat I would recommend the pork (if you're vegeyarian, you can skip this process). For the add-ons, I personally love a combination of spring mix, shallots, and a variable option. It should also be said that they charge extra for more than one protein and for more than three add-ons.
Overall
My experience with Nudoru has always been great. I walk into the small, contemporary Japanese ramen shop and always leave with a lollipop in my mouth and a sated tummy. Whenever we go there, my friends often end up packing half the bowl. Point is, the size of the bowl is really big and very filling (or maybe I just have a big appetite). Regardless of what you order or what you build, Nudoru guarantees a great meal that is better priced than most ramen places in Edmonton. If you ever find yourself on starving on Whyte Ave., consider Nudoru to be a great spot to chill and eat a hearty meal.