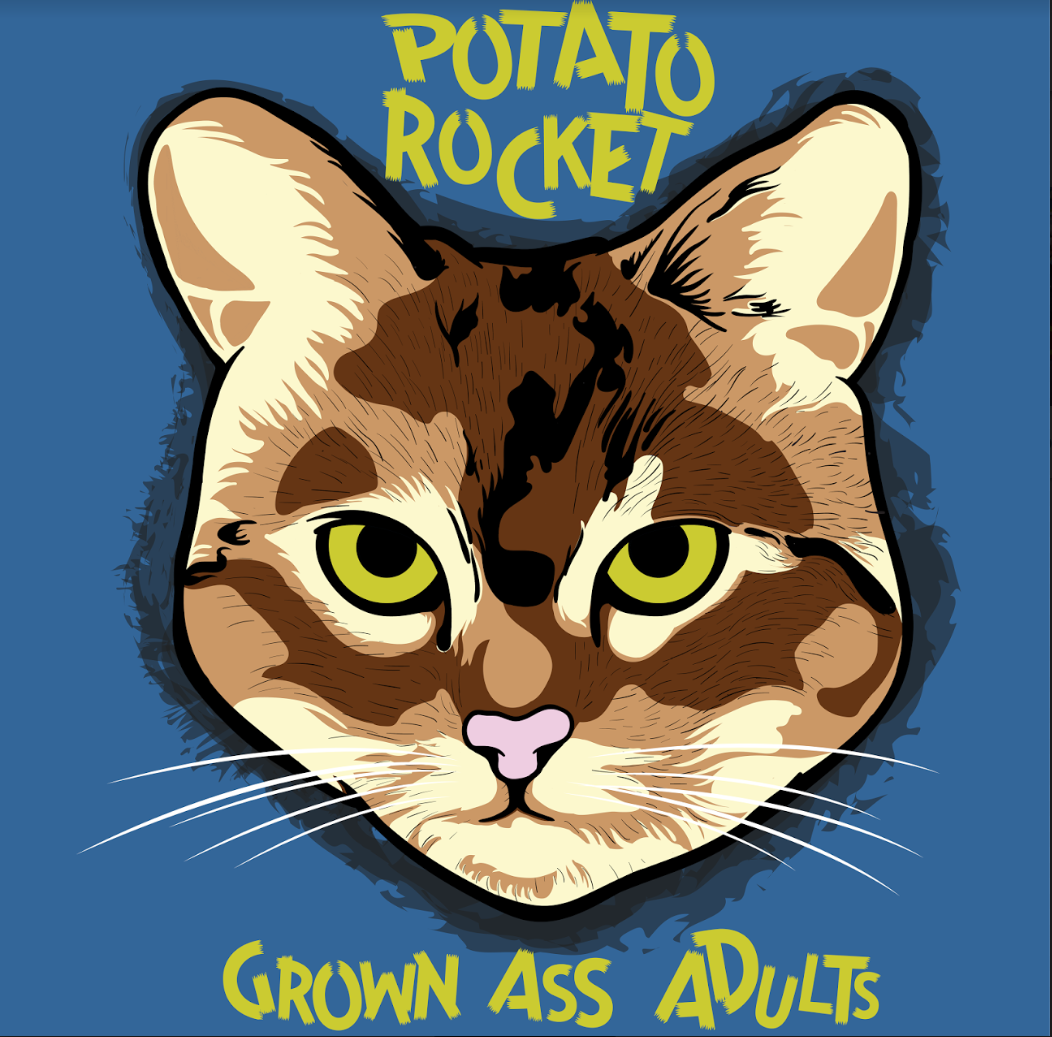 Potato Rocket
Grown Ass Adults
Rhodehouse Records
https://potatorocket.bandcamp.com/
---
Poop-your-pants pop punk band Potato Rocket from Calgary is releasing their first full-length album Grown Ass Adults on August 25. Their album will be out on their website and, for those of us who still like keeping music in jewel cases, CDs will be available, according to band members.

I drank beer with the band in their van and saw them play a show a couple years ago at the Springbrook Multiplex Theater Center. Sharing beers with broke musicians has benefits because, when they finally have an album to call their own, they share a promo copy of that album with their friends with neck tattoos. After I gave Grown Ass Adults a few spins, I felt Potato Rocket wrote 22 minutes and seven seconds of good pop punk music.
Potato Rocket formed a few months before they played their first show in September 2013. The band has endured a few lineup changes since. But now, committed members Jonathan Clayton, Jesse Rhodes, and Tila Lee have written and recorded an original punk album for those of us who are self-acknowledged "grown-up adolescent(s)" and have a "wardrobe still filled with band tees." Potato Rocket's band members were all born sometime in the '80s and the music they've delivered in Grown Ass Adults suits an age demographic full of people who probably have dormant Nexopia accounts.
As someone who was born in the late '80s and can now say with mathematical honesty that I'm halfway to 60, I can appreciate pop punk lyrics about cold coffee and headaches, bars on the side of the highway, and running into your ex outside of a 7-Eleven. Adulthood is tough and weird sometimes all of the time, and Grown Ass Adults is an ample soundtrack for the existential woes felt by those of us who remember what social life was like before social media came into existence.
Potato Rocket's new album will do well on that old MP3 player you keep in your car. Their consistent sound and lyrical themes of adulthood will keep your spirits in check when you pull out of the parking lot of the 7-Eleven and it sinks in that your ex didn't recognize you — at all. While you steer into an aimless adult future, Potato Rocket's music will be a good ally for when you negotiate late payments, deal with an overdrawn chequing account, and realize you have "one too many bad habits." Their lyrics elicit an upbeat melancholy for the epoch of your life when you should figuring something — anything — out.
Since the Springbrook show years ago, Jonathan, Jesse, and Tila have taken grasp of their own sound and provided us a solid pop punk album with Grown Ass Adults.