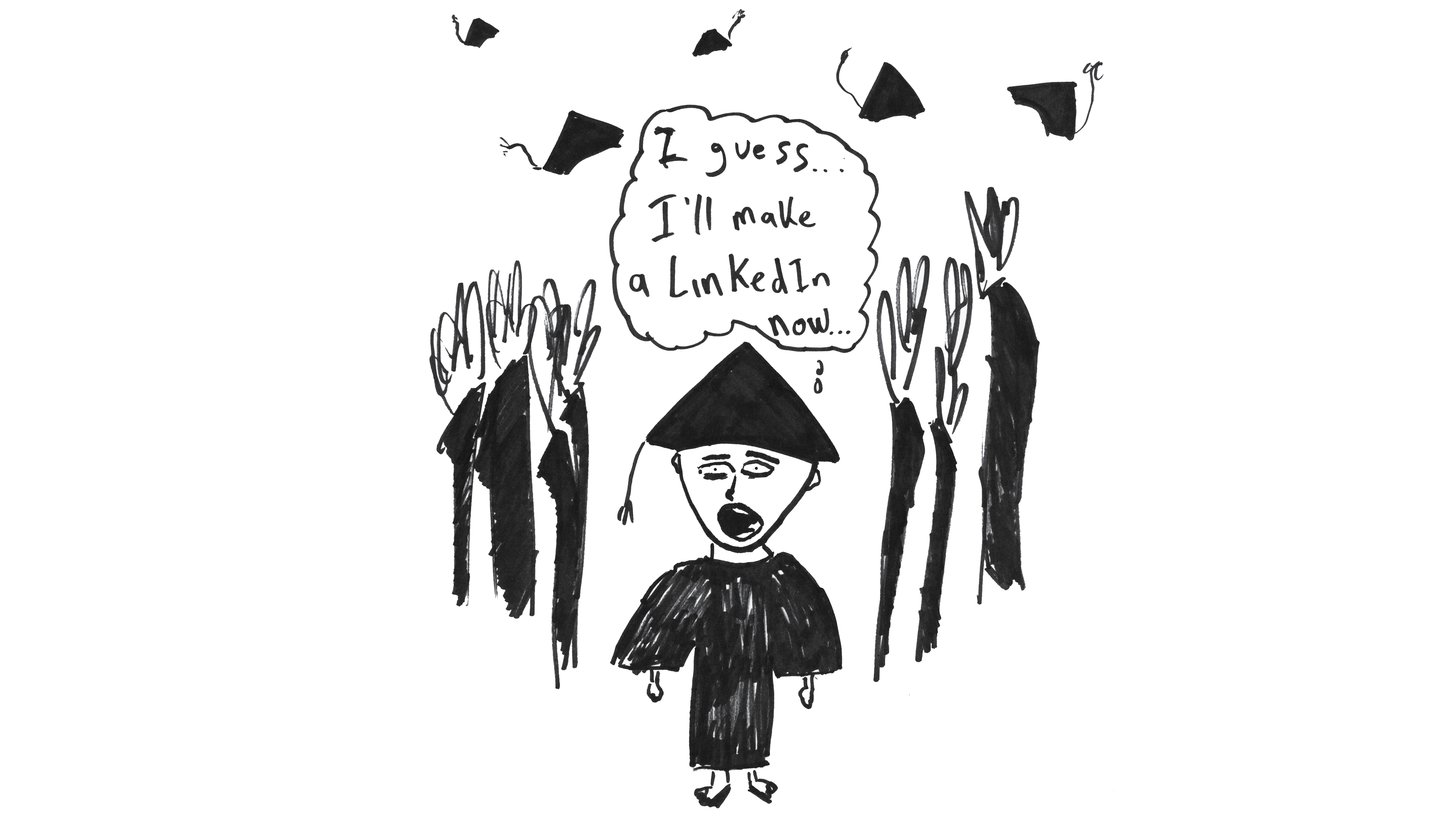 The time of year that undergrads either love or loathe is quickly approaching — not exams, but graduation. A major life chapter is coming to a close, bringing with it both powerful emotions, and the ability to reminisce about the good, bad, and often confusing experiences of your university career. It's also a time to look towards new experiences and the unknown.
As a recent graduate of the University of Alberta, I've felt the excitement, sense of opportunity, and accomplishment, but also faced the feelings of impending doom. Being in school since I was five years old and suddenly seeing my routines and goals change completely, is scary and frustrating but equally exhilarating.
Whether you're pumped to begin a new journey, or begrudgingly counting down the days until you cross the Jubilee stage, no one's experiences after graduation are exactly alike. After speaking with some recent U of A graduates, and one student soon to be graduated, this point could not be clearer.
---
Some stay calm before the storm…
"Having a degree behind me is what I'm looking forward to most," says fourth-year science student Brenna Schuldhaus. "It's cool to look back and see how much you've learned since first year."
Schuldhaus will graduate this spring with a major in neuroscience, and reflects upon university as a time to explore and consume as much information as possible. Although she loves learning in the classroom, there's an undeniable excitement about applying knowledge in the real world.
"When you're an undergrad, you're in this place where you're always told what to learn and you're consuming all these facts," she says. "That's not a bad thing, but now that you have that base, you can apply it to different places and connect the dots and hopefully produce something useful with it."
In Schuldhaus' eyes, the road to graduation can be one of reflection and optimism for the future.
"Be introspective," she says. "Don't get me wrong, it's scary, but you've also been an undergrad for around four years. If you're my age (in your early 20s), that's a fifth of your life. Find excitement in being able to do something different."
---
Others want to hold onto their university days…
"When I was graduating, I had a paralyzing fear of what came next," says Bachelor of Arts graduate Felix Mürrle.
He graduated in 2015 with a philosophy major, with hopes to continue his schooling.
The desire to hold onto the "golden years" is something Mürrle couldn't help but feel, whether that's expressed through more schooling, or getting an interim and flexible job to avoid more dramatic lifestyle changes.
"When graduating, the pressure is on you to go find a job in the real world," he says. "I think by and large people don't like change. It's clearly an opportunity for something, but it's so open."
To graduates who have open-ended ideas as to what they'd like to do next, Mürrle can relate and thinks being proactive is the best way to curb some of those anxieties.
Mürrle advises against succumbing to post-grad burnout and the desire to be apathetic. Even if it's an interim job, furthering your education, or travelling abroad, he believes students should have something lined up after graduation.
"The worst thing you can do is not do anything," he says.
Meghan Rannells, like Mürrle, felt apprehensive after graduating. She graduated in 2016 with a Bachelor of Arts degree, majoring in English and minoring in French literature.
"I wish I could be a student forever," she says laughing. "I don't really want to grow up."
Since leaving the university, Rannells has been prolonging the inevitability of adulthood by travelling. She's moved to Australia on a year-long work Visa and isn't interested in setting a plan beyond her evening's beverage choices.
"I have no idea what I want to do with my life," she says earnestly. "I'm going to travel the world, make some mistakes, and drink a lot of things."
The advice she would give her graduating self, as well as anyone embarking on a similar journey, is to be patient and see what else is out there to explore.
"You're young! Travel and make mistakes," she says. "You learn so much about the world and yourself. Throw yourself into a new environment, that's how you question what you want to do and be successful."
---
Many have to alter their plans…
Sean Perkins graduated in 2016 with a degree in petroleum engineering, ready to begin work. However, a tough job market made his once-certain career choice into one of the most unpredictable fields to graduate in.
"Usually our graduating class had a 90 to 95 per cent job rate out of school, but now it's probably less than 10," he says.
This situation is new for many engineering graduates, as in past years almost anyone could transition directly into a job. Perkins himself had 20 months co-op work experience with the same oil and gas company before graduating. Needless to say, it was a surprise when his work plans didn't pan out.
"I shouldn't have expected this, but I expected to work with (my co-op company) after graduation. As it turned out, there were all of these massive layoffs right as I could've been hired," he says. "There's a mindset in engineering that you're guaranteed a job, but especially now, you have to put in a lot of effort to find a really good one."
Because of the economy, Perkins decided to return to school to pursue a Master's.
"Now I'm back in school, and school is pretty safe compared to working a job… Hopefully I can graduate in slightly better economic times," he says.
Similarly, business alumnus Neil Mah hasn't had luck finding a job related to his degree. He graduated in 2015 with a focus on finance.
"I'm not doing at all what I thought I'd be doing," Mah says. "When I graduated, the market wasn't great for finance, so I've been doing a few odd jobs and am studying for the CFA (Chartered Financial Analyst) exam."
Although he faced a similarly harsh job market as Perkins, Mah may have actually been helped by the lack of work in his field.
"When you're in university, there's the notion that you're supposed to know what you want to do, and that carries through when you graduate," he says. "For some people that's true, but for me, I didn't know what I wanted to do at all… I wasn't in a huge rush to start a career."
While the uncertainty around his chosen career path might seem scary, Mah has tried to take it for what it is.
"When you graduate, you aren't in control as much as you'd like to be," he says. "I embrace that and I think it's exciting. Anything can happen, and you have the opportunity to choose a path. At this point in my life, this is the most control I'll probably ever have."
---
And some are ready to fast-track into adulthood…
Stephanie Bajac, unlike Perkins and Mah, was able to start her career immediately after graduating in 2016. With her Bachelor of Education, she's found steady work with Edmonton Catholic Schools. Bajac learned though, that even those who get exactly what they're looking for aren't always prepared for what's next.
"Originally, I didn't want to graduate because you become responsible for everything," she says. "If you're living at home during university, it's still hard when you're studying, but at least your parents are paying all the bills and cooking you dinner."
Despite facing the challenges of adulthood, Bajac thinks post-grad life has been good to her thus far — mostly thanks to the passion she has for teaching.
"I love my job," she says. "I like the collaborative nature and it's nice to be with the kids. Well, most days."
Even when things work out for the best, Bajac realizes there will always be stress to manage. Graduation is just one big step in a life full of them.
"Stress less. If you start thinking about the future too much, it is just overwhelming. Takes things as they come," she says.
Lisa Szabo found herself faced with uncertainty. For her, it was because she
was unhappy pursuing a degree in conservation biology.
"Sciences wasn't me in any capacity," Szabo says. "So I dropped out and took a couple of years off."
With time and patience, however, her plans changed. She found her academic calling as an English major, and even got married — finally, she was ready to move forward with her life.
"When I came back, it was a whole different experience. Partially because I was in a field I liked, but also because I had this crazy amount of support."
Like many, she wanted to get a job right after receiving her degree. Things looked bleak coming into a recession as an English graduate.
"I partially expected to be unemployed forever and have to switch careers," she says. However, with perseverance and a bit of luck, Szabo landed a job with a beauty company.
"I'm now working pretty much full time in a field I really enjoy and is related to my degree. To be honest, it's kind of a miracle," Szabo says.
For those who are ready to leave university life behind but are still frightened, she feels the best advice is to take things as they come.
"Things are going to be okay," she says. "Trust yourself and trust what you've learned. Sometimes it takes hundreds of rejections before you get one yes, but that's the yes that you needed."