Opinion
The Student Driver: 2017 Ford Escape SE
The all-new 2017 Ford Escape is a *good* choice for a student looking to upgrade or for a young family on the go. I say *good* with asterisks because the model I received was a lemon. At stop lights, when the engine shut off to save gas, the steering would completely lock up and would I lose power steering until the engine restarted. Also, when driving on flat, smooth roads the wheel would sometimes randomly jerk left making the car swerve unintentionally. While I am told these were isolated incidents I could not review this car in good conscience without disclosing these experiences.  
---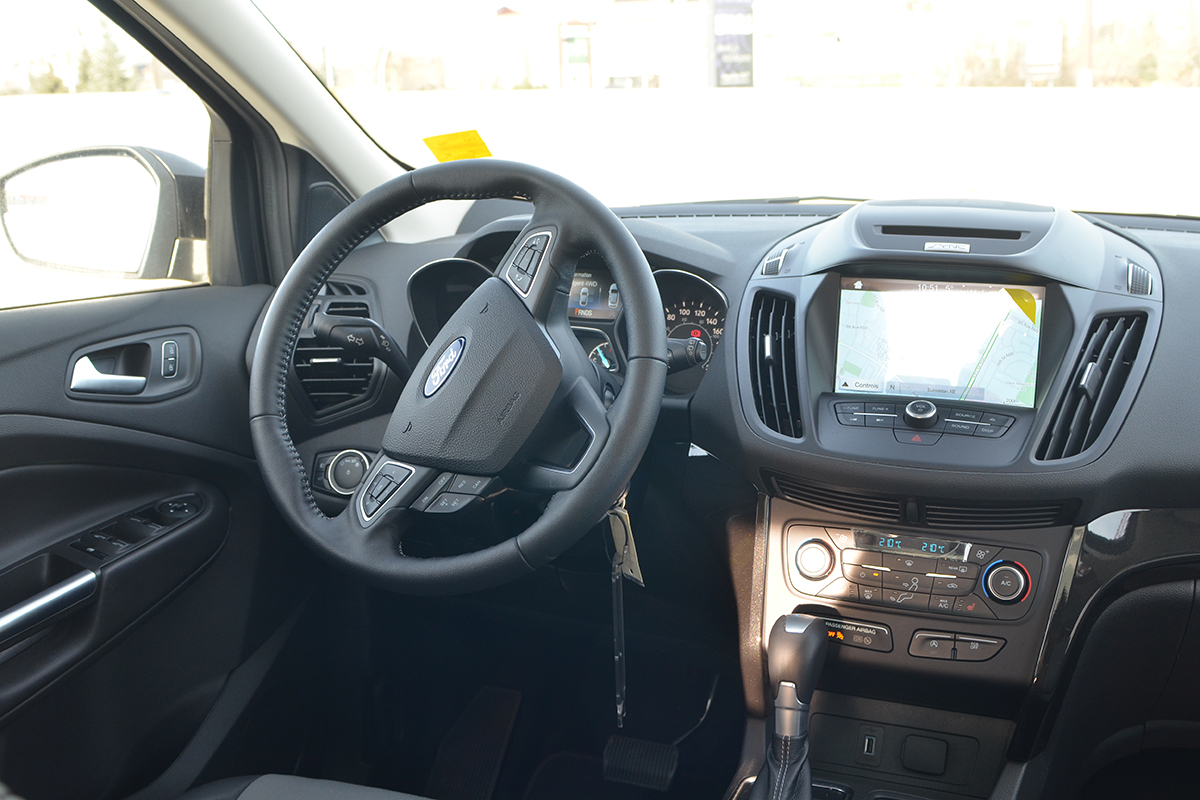 First up, the Ford Escape is a five-passenger compact utility that yields up to 1,926 cubic feet of cargo with rear seats down. The CUV can accommodate bikes, skis, or other goods with little trouble; unfortunately the trunk is just too small to sleep in comfortably even when the seats folded down flat. Rear seats are decently comfortable with satisfactory leg and head room. The car is well suited to people interested in moving things (or people) and when properly equipped, can tow up to 3,500 pounds. It's a natural next step from a compact car, in my case my beloved 1992 VW Jetta.
The Ford Escape is available with three power plants: a 2.5 iVCT four-cylinder engine, a 1.5L EcoBoost four-cylinder engine and a 2.0L EcoBoost four-cylinder engine. The test model had the 1.5L engine which produced a useable but not excessive 179HP and 177 ft/lb of torque when mated with a six-speed automatic transmission. Fuel efficiency numbers are 10.7L/100KM city and 8.3L/100KM highway when used with the available auto start/stop technology. This being said, I am told real-life fuel numbers are closer to 12L/100KM. When I pushed down the electronic parking brake and shifted into sport mode, the vehicle handled as expected for a vehicle of that size with OK road feel and a slight top-heaviness.
There is some feedback to the driver but inputs through the leather wrapped wheel are translated to the road with a bit of vagueness. The brakes are great but the suspension is a bit stiff for a daily driver; harsh bumps take a one-way trip to the spine. The 1.5L EcoBoost engine provided plenty of power from stop but was no rocket ship during daily driving. Turbo-lag was non-existent on the EcoBoost engine which was surprising considering the engine is turbocharged. At stop the engine was raspy and I could feel the vibrations permeate right through the brake pedal. Whether that is normal or because my Escape was defective is yet to be seen. Couple that with significant wind noise at highway speeds and the car is not as refined as I would have like or expected for a car built for the 2017 model year.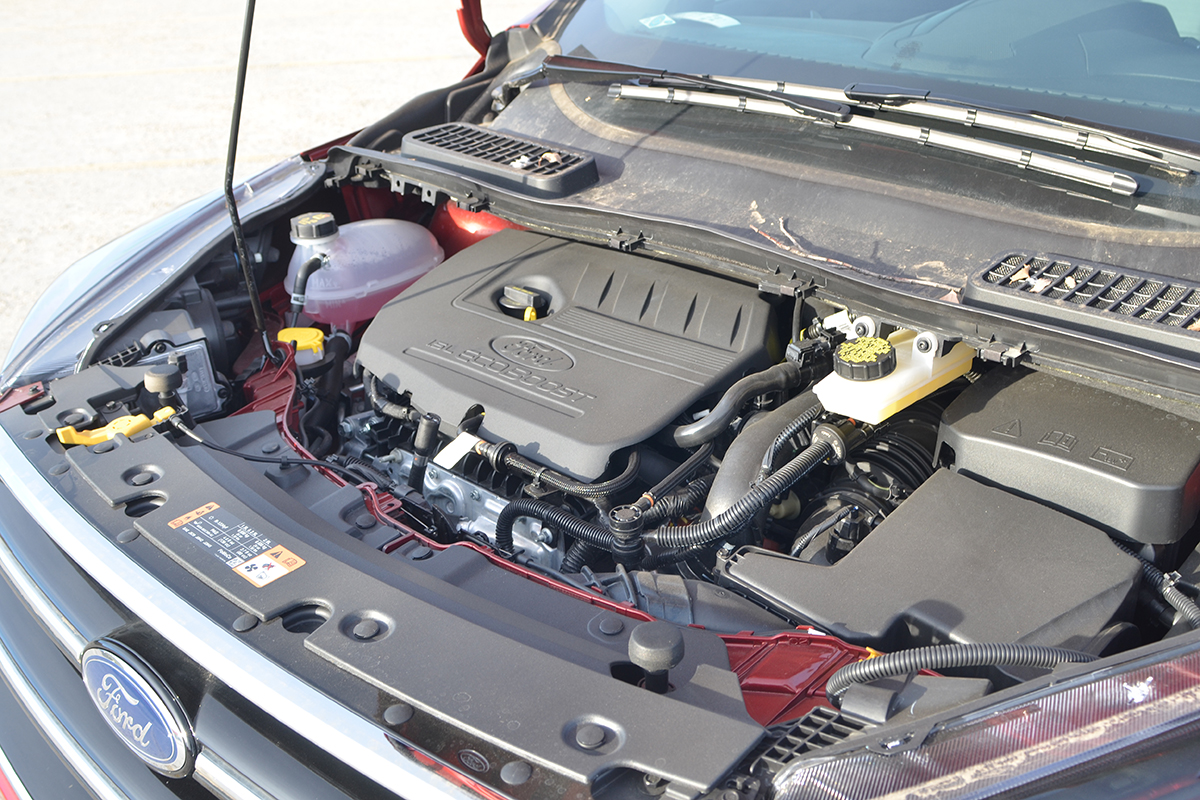 What makes the car nice though is the inclusion of the intelligent four-wheel drive. It lends some confidence on the road in icy conditions, but it lacks active torque vectoring technology. The interior of the car is very functional but not remarkable. Build quality is good with plastic buttons feeling durable and well-placed. Power lift-gate with "kick-opening," rear-view camera with sonar, dual zone climate control and heated seats come standard for the SE trim I tested although keyless entry, push to start and blind spot detection were noticeably absent. An external keypad is available but with the advent of keyless entry its relevance has been put into question. The leather seats are quite comfortable and visibility is better than a car as the driver rides higher up. The inclusion of a panoramic sunroof is also super nice. What is great about the car though is the SYNC 3 infotainment (it can be updated through wi-fi to keep it up to date) which is easy to use and one of the best looking systems I've seen. It's easy to input data and voice commands through the buttons on the wheel and it works better than some of its competitors. The navigation suite is also very intuitive and very good at helping you get to your destination efficiently.
In all the car is a good but not spectacular choice. I say "good" because for the 99 per cent of people who will use this car as a commuter during the weekday and later a weekend warrior mobile to carry their kayaks, bikes or skis to Banff will most likely overlook my criticisms. To be honest if you bought it you probably wouldn't know any better. Right now in Canada, it's the bestselling CUV and has been since it created the category almost 15 years ago. Unfortunately, the car will not make it onto my list in light of the steering continuously locking up at stop lights and the random tugging on my wheel during daily driving. Nevertheless, I still hope you keep the Escape on your list because bar the mechanical glitches I encountered, the car is great.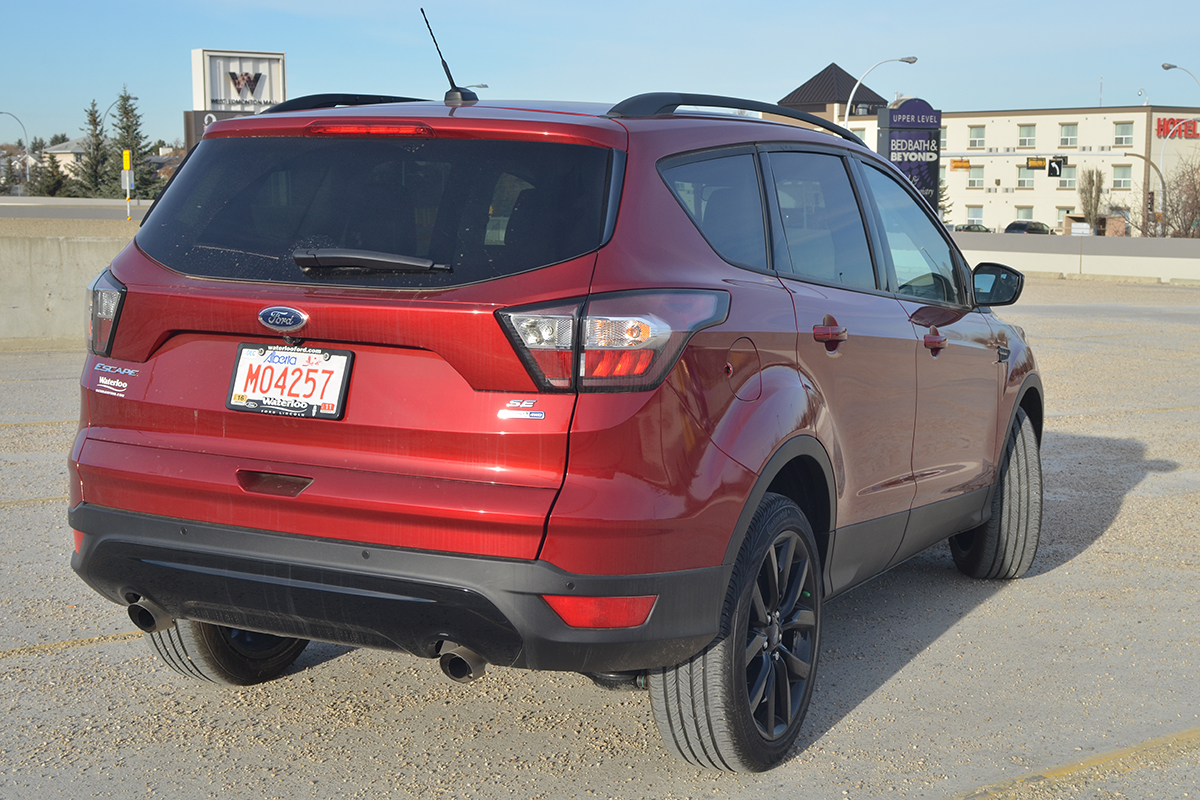 Final Score: A-
Exterior: A
I personally really like the look of the new 2017 Ford Escape. I especially like the lines through the hood and the design in general. While this is subjective, I believe having pride in your car's looks is important.
Interior: B+
It's comfortable and build quality seems good. There is good space for cargo and people and the panoramic sunroof really makes the car feel roomier. The Sync 3 system looks great and works well. Also, the higher ride height of the car is nice as you can see further down the road. Say there's a car crash a dozen cars down. In a car you'd be hooped as you're too low to the ground but with the Escape road visibility is enhanced. No crazy blind spots, the A pillars are small so shoulder checks are not hindered.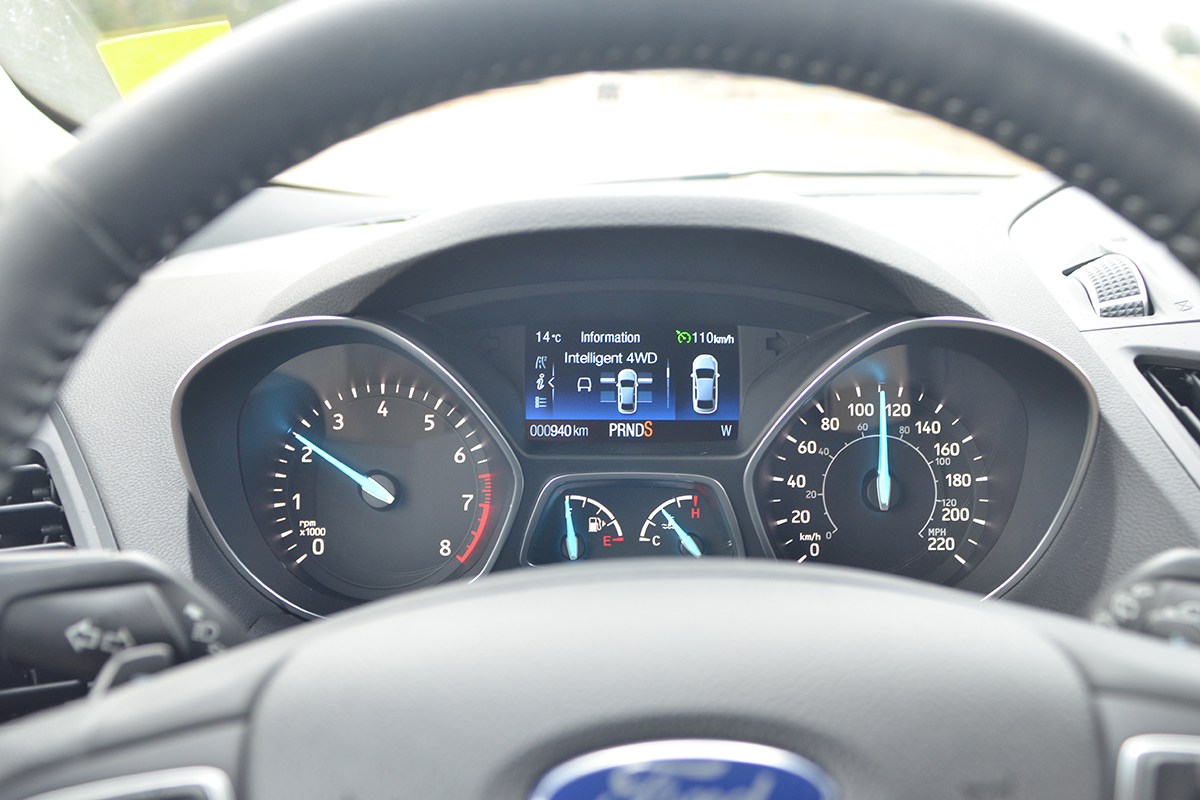 Handling: B+
The car handles OK with a bit of top-heaviness. Granted, it is a larger vehicle so my expectations for handling should be lower. In general, for daily driving it'll work fine even with a stiffer suspension and vaguer steering. What is great though is the intelligent 4wd (AWD) and the lag-free 1.5L EcoBoost 179HP engine which produces plenty of power for daily driving.
Value: N/A
To be honest, I don't know as much about CUVs as other cars so I cannot say with certainty. Instead I will leave this marker blank. Warranty is three-year/60,000KM "Basic Coverage," five-year/100,000KM Powertrain Limited, five-year/unlimited KM corrosion perforation warranty (which means nothing as no cars perforate from rust these days) and a five-year/ 100,000KM Roadside assistance promise.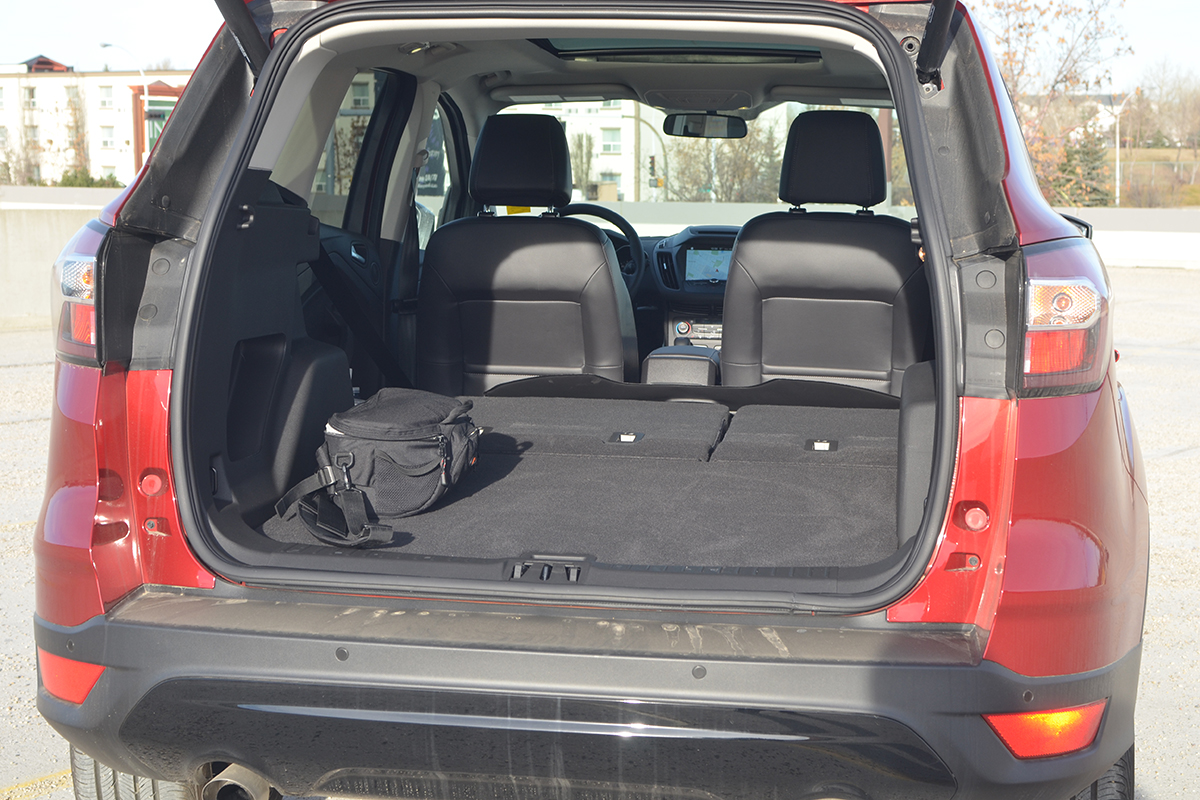 Safety: A
In general the bigger the vehicle the safer. As long as you are aware of the fact that bigger vehicles run the chance of rolling over more easily during aggressive maneuvering and that they need more time to stop, you'll be fine. If you think owning an SUV with AWD makes you a demi-god invulnerable to slick roads, telephone poles, and other cars or people you'll end up deader than fried chicken sooner than later. Six airbags are included and it received a five-star IIHS safety rating for frontal and side collisions. It faltered in the rollover test.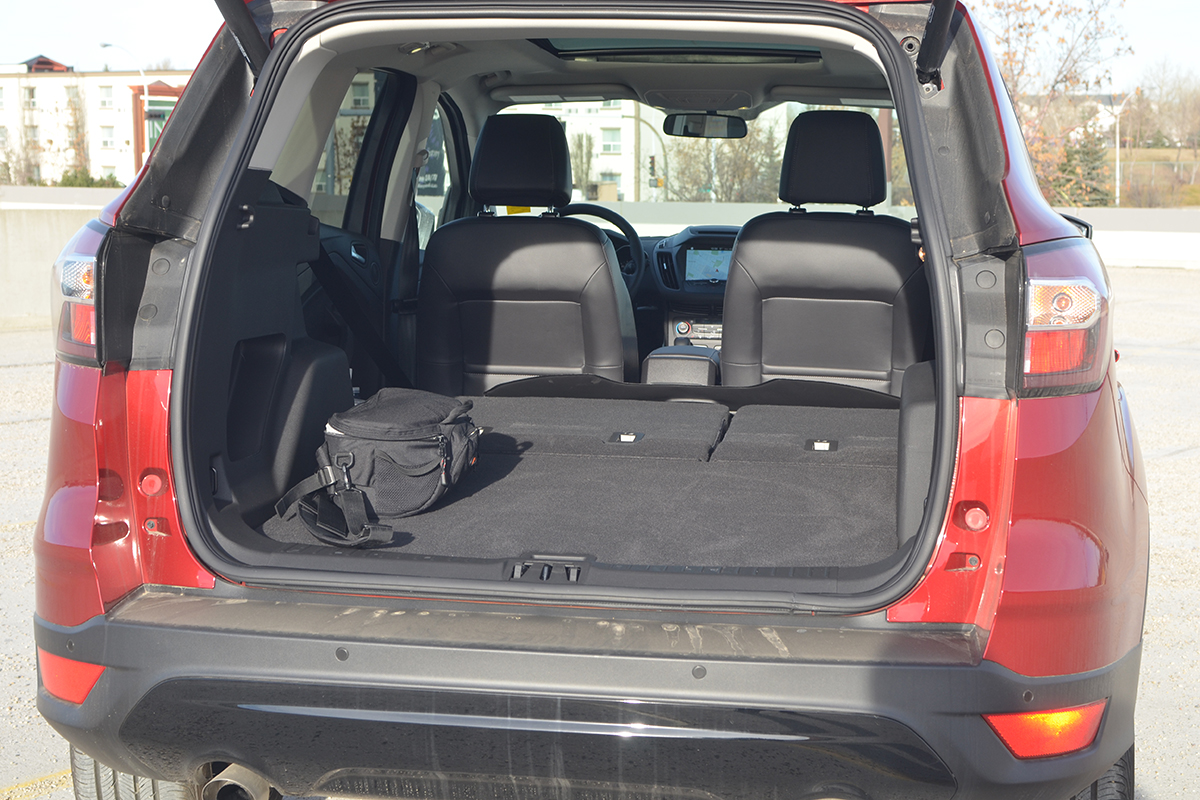 Conclusion:
What singlehandedly pulls up the score of this car despite the mechanical glitches I incurred is its ability to carry cargo well, its higher driving height for better visibility, AWD, lag-free engine and the fact it's still better than a 1992 VW Jetta. Even though it lacks torque vectoring technology and rides a bit harsh I still believe it's a good car for a student wanting to upgrade or for a young family on the go. To be honest even with its shortcomings, I believe it will still impress you when you jump into the driver's seat.