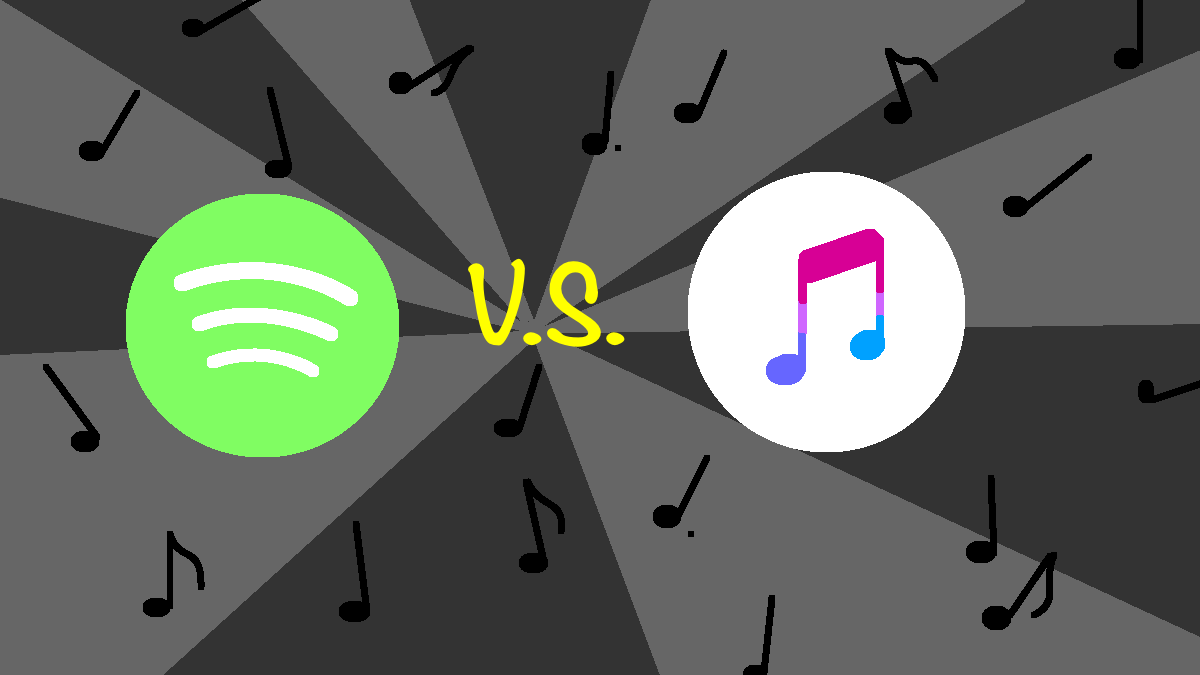 Spotify
Music streaming isn't all about having access to a shit load of songs, it's about changing the way you experience music.
Spotify is undoubtedly the expert when it comes to streaming content in a unique and exciting way. Apple Music is Spotify's next biggest competitor, but it fails to live up to Spotify's allure. While Apple Music boasts around 40 million songs to Spotify's 30 million plus (sadly, only Apple Music has been graced by the T-Swift collection), that number means nothing if the service is not user friendly.
While you scroll through Apple Music's main menu, you'll see the familiar seamless and compact design Apple loves so much. But this is crap when it comes to this app, because Apple sacrifices usability for this sleek look. The main tabs are slides of album art covers and scattered lists of songs and albums that quickly become cumbersome to browse through. Spotify gives you a no-bullshit yet elegant layout, where you can find exactly what you're looking for when you want it.
One of Spotify's biggest strengths is its focus on presenting you with playlists you're going to care about and enjoy. My personal favourite is "Discover Weekly," which is an algorithmically generated 30 song list made using your listening preferences and the preferences of other people with similar music tastes to you. This beautiful collection is handed down from Spotify heaven right to you, newly refreshed every Monday, and I'll guarantee you'll always find something to fall in love with. While Apple Music has genre specific DJ curated playlists, there's a lot of unnecessary clutter when you're looking for music from diverse styles and artists.
Both Spotify and Apple Music charge the industry standard $10 a month for a single subscription, or $15 a month for a family account for all of these neat features. But if you're a casual music listener who just wants to sit back and enjoy a couple albums for free, Spotify's free ad-based mode has you covered. However, Apple Music has no such free service, so you'll have to hand over that hard earned cash for a slightly less usable and limited service.
— Enrique Marroquin
---
Apple Music 
In this constant battle for subscribers' money, the one thing that sets Apple Music apart from Spotify is just how much they want to better Spotify at everything. And if you ask me, they're doing a good job of it, too.
In terms of layout, it's a close battle. Spotify's ugly yet usable layout is fine, I guess. But Apple Music's layout is really just an expanded iTunes, meaning in addition to the sleek aesthetics and easy-to-use layout, it enables you to add old songs from your library or import your own .mp3 files. With Spotify, you won't have the ability to store all your mixtapes from Datpiff.com, so what's the point of listening to music then?
Apple has muscled its way to getting the rights to exclusively stream some of the most-anticipated releases of recent memory. It's cutthroat and capitalist to the core, but Apple Music wants to treat their subscribers right, and if that means fucking-over Spotify subscribers in the process, all the power to them. Sorry you didn't get to listen to Blond or Views until the hype had already died down, but that one is on you.
Taking a different approach to playlist, Apple Music offers musician-curated playlists and even its Beats1 Radio shows, which are collaborations with musicians ranging from Run The Jewels to Elton John. It's this star power that separates these two services — would you rather put on "Generic Toronto Rap" playlist on Spotify, or OVOSOUND Radio courtesy of Drake himself? That said, Apple also has a constantly growing collection of playlists for every occasion.
While both streaming services have similar costs — the $9.99 a month is the industry standard — both services offer a student discount at half price. Syke! Spotify's student discount is not applicable in Canada, while Apple Music offers its service for $4.99 for every Canadian student.
While Apple Music does not have a free version of its service, it generously offers an extended three-month free trial, instead of Spotify's 30-day trial. Besides, nothing is more annoying than handing someone the aux cord and the first thing you hear is "The next 30 minutes are brought to you ad-free."
— Sam Beetham 
---
Loading ...