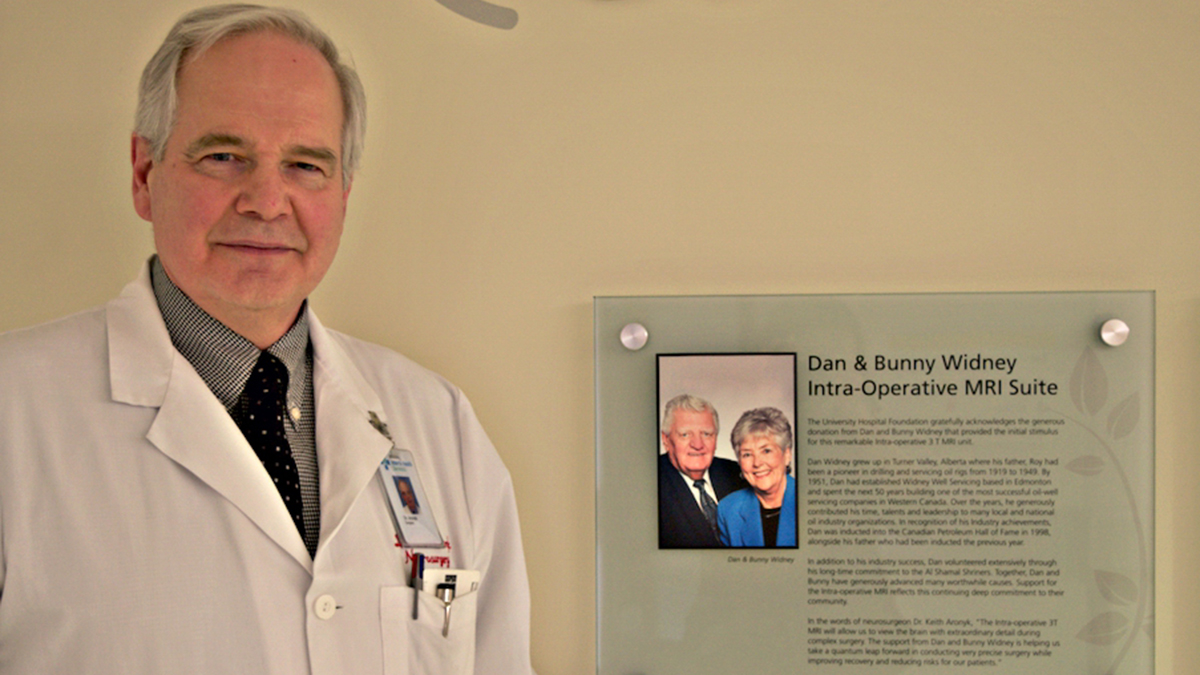 Next November, a new tool at the University of Alberta will enable neurosurgeons to work on brains without cutting into patients' skulls.
Known as the Gamma Knife, the tool will focus rays of gamma radiation onto brain tumours to allow neurosurgery to be performed through an intact scull via.
The $17.5 million project was spearheaded by Dr. Keith Aronyk, a pediatric neurosurgeon and the head of clinical neurosciences at the University of Alberta Hospital. It took 11 years to execute.
"This is not surgical," Dr. Aronyk said. "It's surgical precision."
The Gamma Knife will use Cobalt-60 as its source of gamma radiation. Individual beams of radiation will pass through brain tissue leaving it unharmed. However, when many beams of the radiation converge they will have enough energy to halt proliferating cancerous cells.
Dr. Aronyk said that normally, someone going under the Gamma Knife could expect a daylong procedure. Upon arrival at the hospital, the patient would have a frame pinned to their skull, and a treatment plan would be created using brain scans. After being secured within the machine, the patient would relax for the 40 to 90-minute procedure with their choice of music. The patient would leave the hospital later that day.
The Gamma Knife will be used by a team of neurologists, neurosurgeons, oncologists, radiologists, and medical physicists.
This technology will decrease the chance of tumour recurrence and in many cases will "obviate the need for surgery all together," Dr. Aronyk said.
The Gamma Knife can provide pinpoint accuracy, allowing surgeons to access hard-to-reach portions of the brain and remove entire tumours without having to leave any behind.
"It's so nice to have (a radiosurgical unit) as part of your armamentarium," Aronyk said.
After playing a key role in the establishment of the Stollery Children's Hospital and its surgical division in 2001, Dr. Aronyk wanted to improve neurosurgery at the hospital. He proposed the addition of a Gamma Knife.
"We used to treat all of our aneurysms by opening up the skulls of sick people who'd just had a hemorrhage in the brain," Dr. Aronyk said. "You'd have to sneak in there with a seven-hour operation and try to secure the point of bleeding with a clip."
Dr. Aronyk said he remained driven throughout the project, and is hopeful that this would put the university hospital on par with other facilities in the world. He added that Edmonton would be "put on the map" for its radiosurgery.
Dr. Aronyk credits the province of Alberta for inter-city cooperation to improve the medical system. He is also grateful to the Edmontonians who donated to the project.
"This is what Albertans and Edmontonians do," he said. "They want excellence."