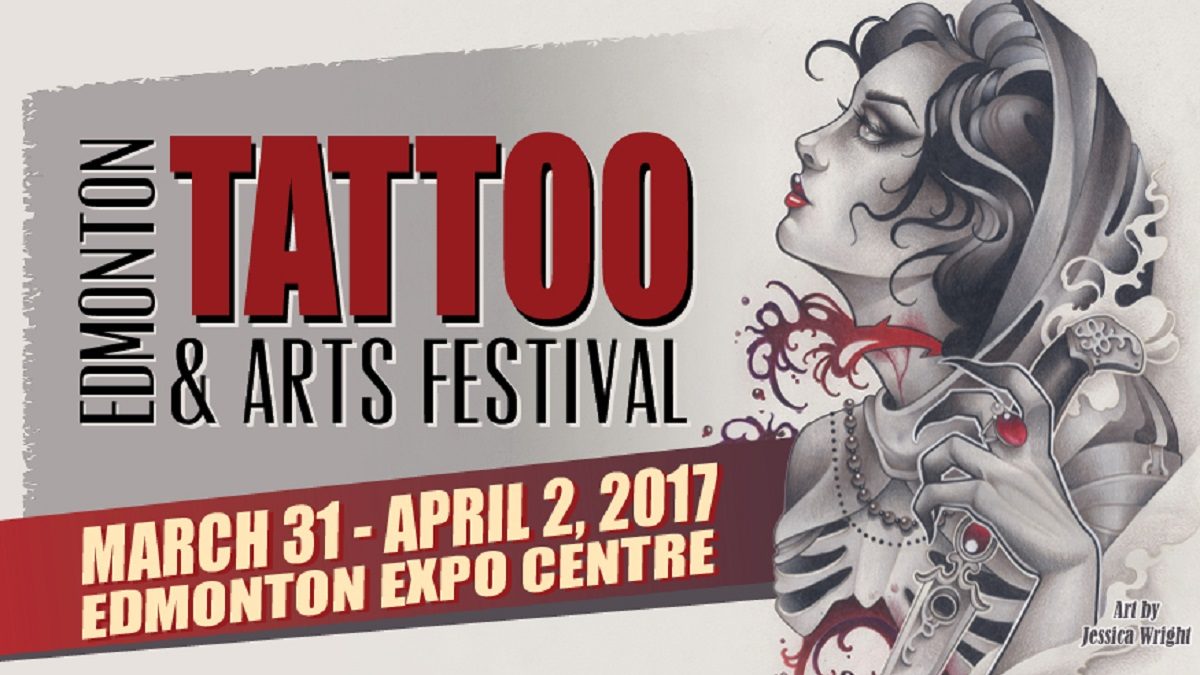 What: Edmonton Tattoo and Arts Festival
Where: Edmonton Expo Centre
When: March 31st – April 2nd (Friday 4pm-midnight adults only)
Tickets: $25 (General Admission); $50 (weekend pass)
https://www.myshowpass.com/edmonton-tattoo-and-arts-festival-2/
---
Love tattoos but have a pathological fear of needles, faint at the sight of blood, or panic at the thought of a long term commitment? Well, there's a show coming to town just for you.  

From this Friday to Sunday, skip the tattoo chair and head to the halls of the Edmonton Expo Centre for a weekend of tattoo-related celebration and entertainment courtesy the Edmonton Tattoo and Arts Festival. Unlike its subject matter, the festival will strive to be more pleasurable than painful, as attendees can take in over 200 tattoo artists from across Edmonton, Canada and the world, as well as celebrities, entertainment acts, and food and drink. Steve Peace, director of the festival, says that he's constantly impressed by the quality of tattoo artistry the show has to offer.
"It's so competitive these days and there are so many great tattoo artists out there," Peace says. "Every good artist from Edmonton is usually at the show, so it's a good place to look at the different portfolios and look for new artists."
But it's not only Edmonton's finest who will set up temporary shop this weekend, as the festival is hosting celebrity guests such as Big Ceeze and Joey Hamilton from the Spike TV show Ink Masters. Additionally, many of the attending artists hail from the U.S. and across the pond in the UK. Despite this, Peace assures that there is still a large focus on local talent, saying that the festival is "more for local artists to get their name out and get exposure."
Beyond simply checking out artists' portfolios, you can even get tattooed on site — if you're feeling gutsy. Depending on the artist, you can chance a walk-up appointment with an already drawn piece, or contact a particular artist in advance. If you're someone who's considering getting a tattoo at the show (or anywhere for that matter), Peace advises that you should look into your artist beforehand, and keep your wallet out of the equation.

"Researching your artist is the biggest thing (about getting a tattoo). I mean, you're carrying it around with you for life," Peace says. "Also, don't price shop. You're paying for (the artist's) expertise, so you know your tattoo will be perfect."

Even once you've done your research, there's an additional hurdle for many people who are wanting to get a tattoo: being nervous about the pain. Peace's expertise has taught him that no two people getting tattooed will feel the exact same, and that "it depends on the person." If you're someone who does not handle pain well, he also suggests considering where the placement of your tattoo will be before jumping into one.
"If you're worried about pain, ask your artist where it's easier to get tattooed," Peace says. "(As a guide), anywhere that someone will try and tickle you is usually a painful spot."

As for Peace himself, the only spots left on his body that aren't tattooed are his ribs and feet. But apparently growing up in a certain decade, with a fondness for a certain mythical creature, ensured he would have some repetition amongst his many pieces.

"My first tattoo was a blue unicorn," Peace says laughing. "My second, third, and fourth tattoos were also blue unicorns. That's what happens when you grow up in the '80s."

Getting tattooed, as well as exploring artists' work, are major elements of the event, but festival goers can also expect to see an assortment of entertainment. This year, Lucky Diamond Rich, the world's most tattooed man, is going to be juggling machetes on a 15-foot unicycle. There are also many contests and competitions, including an art show titled "Death Becomes Me," of which the winning piece will be used as the 2018 tattoo festival poster.

Another incentive to check the festival out is its acknowledgement of diverse groups of people. Friday night is for adults only — boasting the weekend's racier entertainment — whereas Saturday and Sunday are open to all ages, particularly families. No matter what day you choose to attend, Peace believes that once you do check out the event, you're guaranteed to return.
"People always say the show was awesome," he says. "It's tough to get people to come out, but once they do, they always come back."