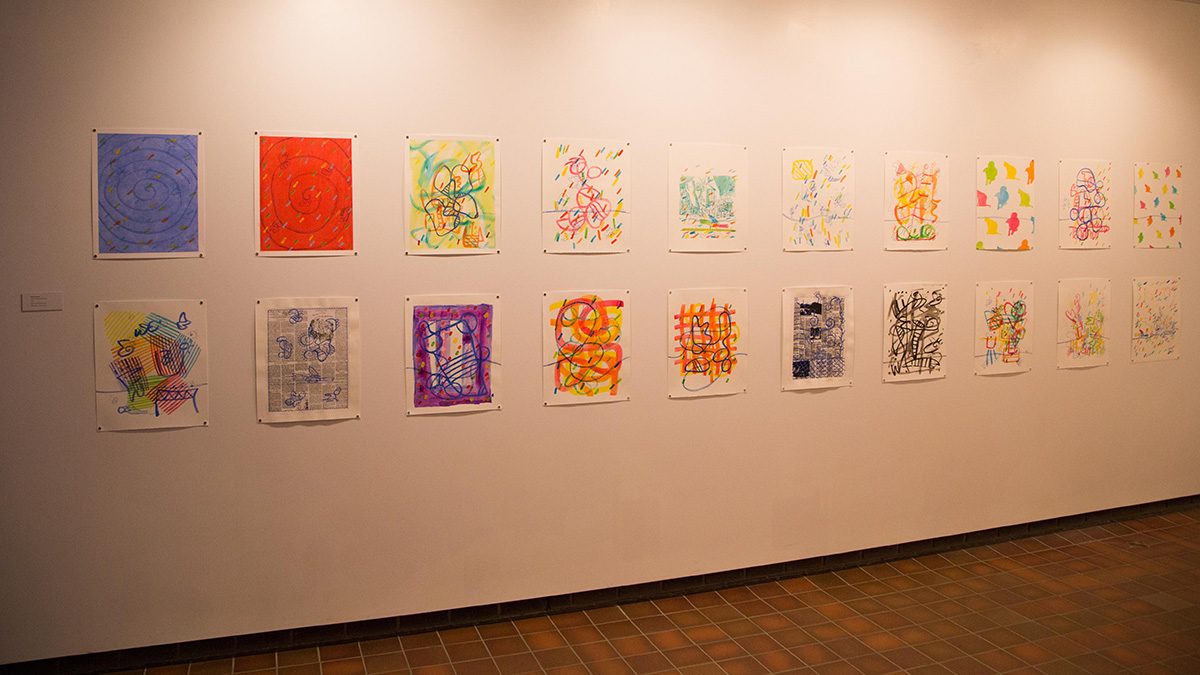 What: Adrian Emberley, #152 'mingled with all kinds of colours
When: Now – Feb 11 (see gallery hours)
Where: FAB Gallery
Admission: Free 
---
Can a modest art exhibition speak to the colossal cultural practice of painting? How do we parse through colour and line to form meaningful impressions?
These are some of the questions proposed by #152 'mingled with all kinds of colours,' Adrian Emberley's final visual presentation for the degree of Master of Fine Arts in Painting. The exhibition, which runs in FAB Gallery until February 11, balances keen attention to the formal elements of colour, line, and scale with an exploratory journey through the medium of painting.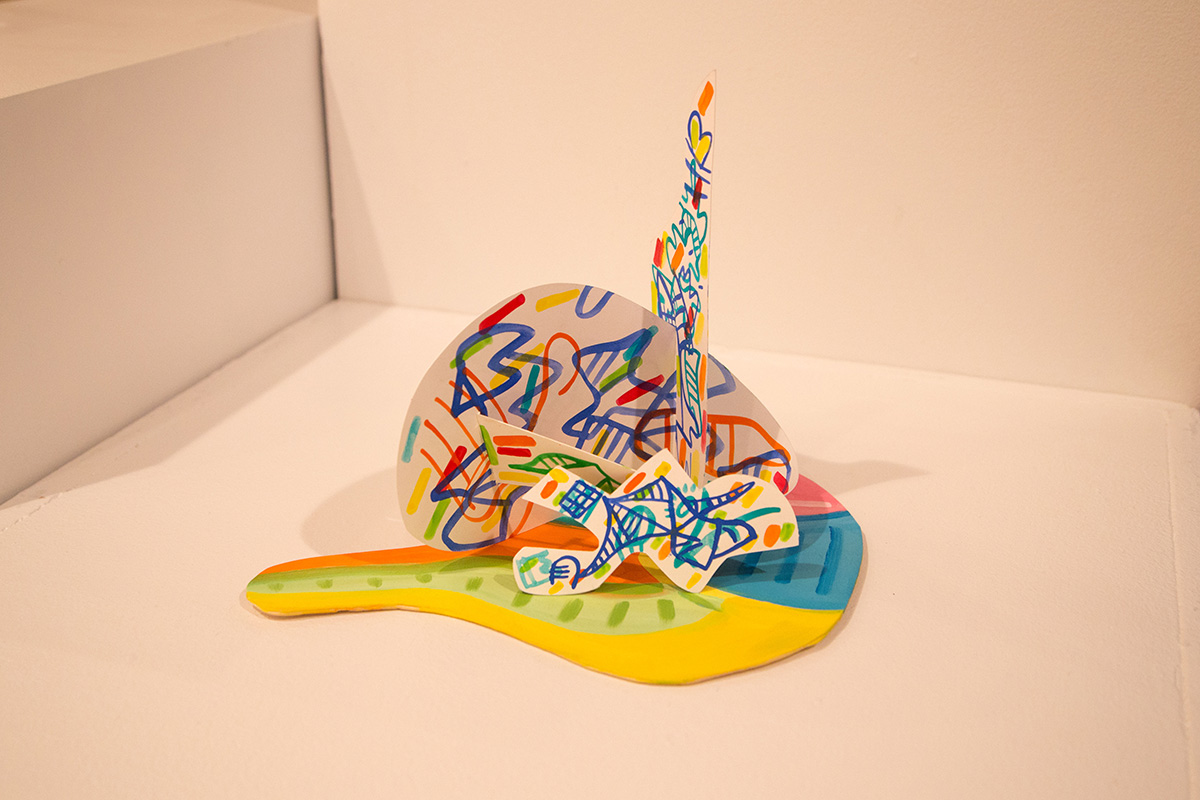 Emberley describes his work as a space of play, believing the intangible nature of colour facilitates more imaginative engagement from viewers.
"I think about a child or even a young person and think: how do you get that feeling and that kind of sensibility going on in yourself? One way I approach that is through color," Emberley says. "I think color can allow us to think a little more freely and to see things in different ways. It can be very abstract in a sense because it's not material. You have building blocks in front of you and you can change them around and do your thing. (Colours) are very visual (and create) more of an eye-to-brain connection."
Highlighting the exhibition is a set of 20 drawings rendered in a mix of acrylic, ink, pencil crayon, and watercolour on paper titled Jenny and Jasper driving along. While Emberley explains the images were are not originally intended to be read sequentially, their placement in the gallery as two rows of 10 suggests otherwise, by invoking the formal conventions of a graphic novel. The series features the eponymous Jenny and Jasper navigating fantastic landscapes of vibrant colour, dizzying shapes, and historic newsprint in a winged car.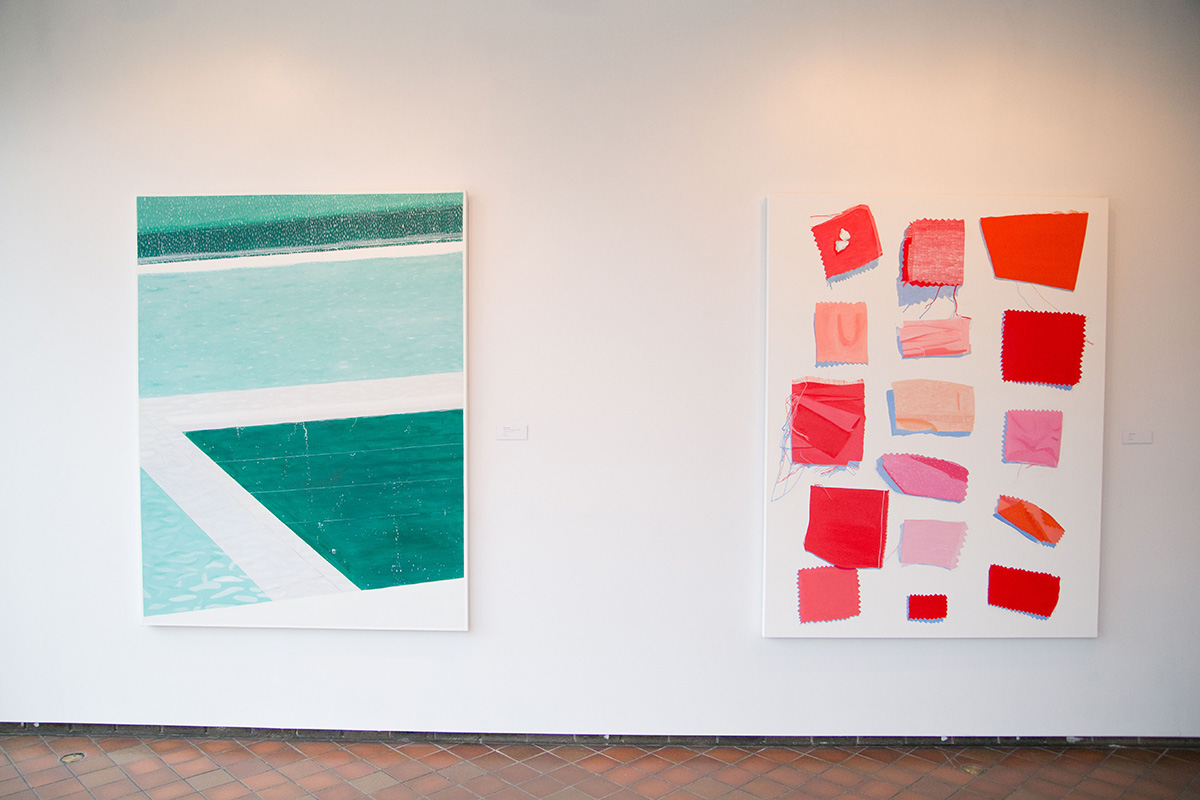 Emberley's early interest in Surrealism and Automatism led him to develop the Jasper character, which serves as a kind of avatar through which to situate viewers within each image. The artist explains that his process for producing this series often consisted of allowing chance to guide his hand.
"It's a very intuitive creative ongoing process," Emberley adds. "Sometimes I might be drawing and do something just by accident and I'll make a mark. I might come into the studio again and think: what if I take that and do something? That's where a lot of this play with form has come."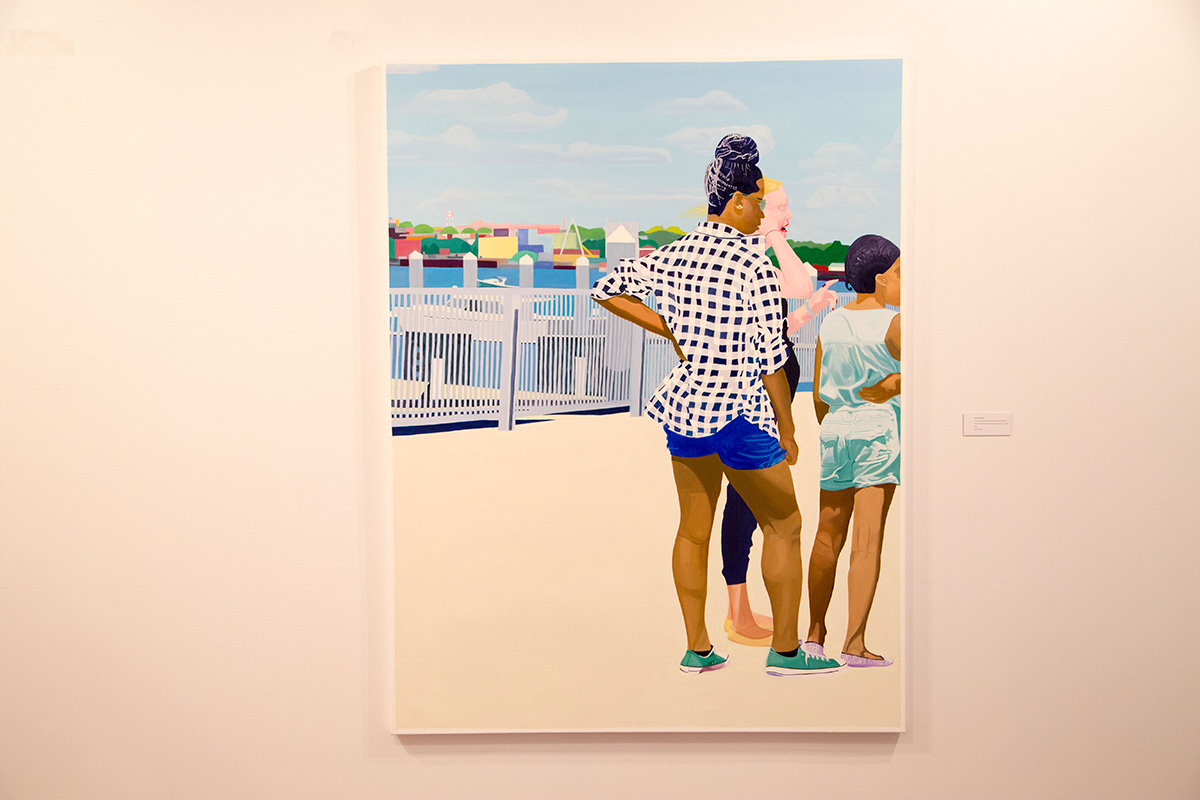 The worlds of Jenny and Jasper are not exclusively abstract. Many consciously make visible the cultural practices surrounding painting and visual arts in general. In a nod to his background in Art History, Emberley visually cites a portion of a scene by Dutch painter Jan van Goyen. Here Jenny and Jasper are both spectators and active participants in the image before them. Two other pieces take as their backdrop pages from 1950s and '60s newspapers featuring cartoons and articles on the Canadian art world. Given its visual exploration of formal elements, history, and discourse in painting, Jenny and Jasper driving along has been rightly described by a fellow artist as "a journey of looking for painting."
Is painting ever found? A quirky house-like structure — perhaps a museum or gallery— on the last drawing imbues the series with a sense of direction: a final destination. Yet upon closer inspection, viewers will note that the journey is not quite over; a subtle stretch of road on the right points to continuity beyond what the image can reveal.
---
Additional gallery photos: