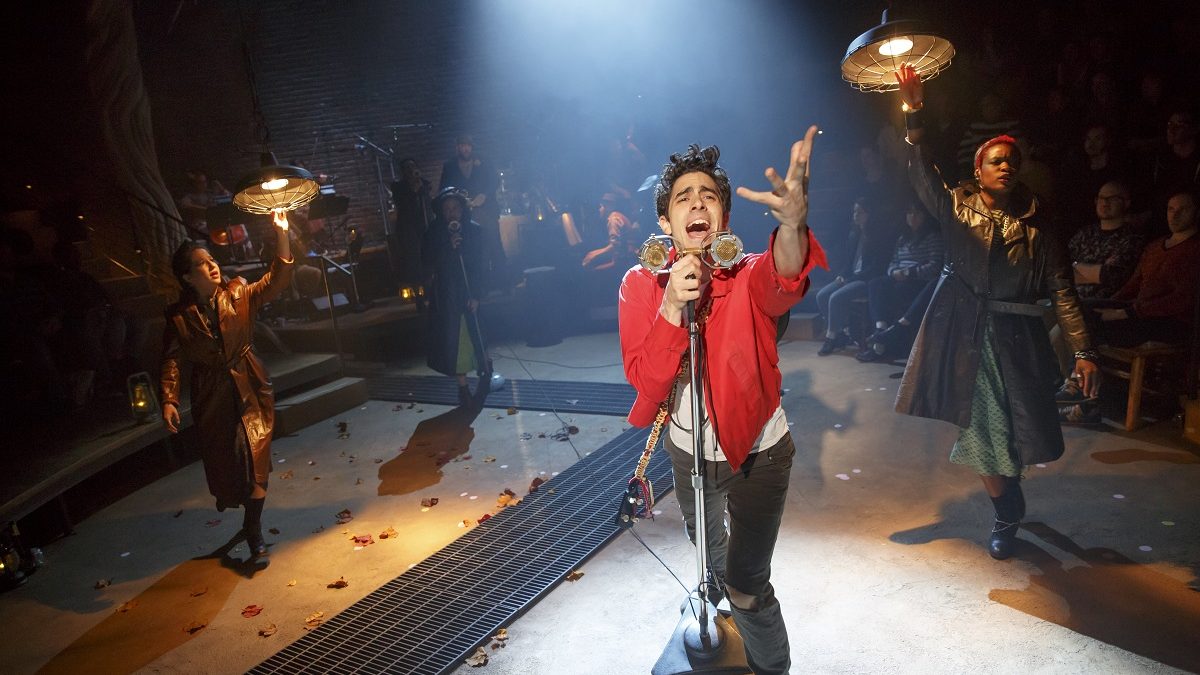 In a city that prides itself on having a multicultural make-up, it just makes sense for its largest regional theatre to reflect these contents. Under the new artistic direction of Daryl Cloran, Edmonton's Citadel Theatre is finally en-route to connecting among Edmontonians of all backgrounds.
"It's our job to represent all communities of Edmonton," says Cloran, almost bouncing with the nervous excitement while revealing his first season at the Citadel Theatre during last week's 2017/18 season launch reception. "All voices, all cultures, and all stories. It's my job to imagine boldly where we are going."
Three "I's" dictate his bold vision: Inclusive, Innovative, and International. But together, the segments represent one factor of peak importance — interconnection. Especially with the current political climate, the responsibility that we have to support one another within our community is stronger than ever.
A South African phrase, "Ubuntu" (roughly translating to "I am because you are"), is at the heart of this interconnection for Cloran. Not-so-coincidentally, it is also the title of the first add-on show of the season, premiering this October. The show, created by Cloran himself in South Africa along with a group of Canadian and South African artists, deals with the concepts of identity and belonging through the story of a young man searching for his father in a foreign country.
This kind of international presentation is exactly what the wide-eyed new artistic director wants the Citadel to be doing. He describes it as being everything he loves about theatre.
But Cloran doesn't only want to set his sights outside of the country — interconnection among Canadians is also among his top priorities. Six of the 10 mainstage and add-on productions are being co-produced by other Canadian theatre companies.
The season opens with a stage adaptation of Shakespeare in Love, co-produced with the Royal Manitoba Theatre Company. Following this is the Canadian premiere of an innovative off-Broadway hit, based on the love story of Orpheus and Eurydice called Hadestown. After seeing the New York show in all of its glory, Cloran approached the producers.
"'Why not bring it to Edmonton?' I asked them. And they laughed and laughed." But after much coaxing, it was decided that in prep for its Broadway run, Hadestown would grace the Citadel's stage.
Though innovative, the season holds onto a beloved tradition that it might never let go of. In December, we will see Bob Baker's 18th Annual A Christmas Carol.
Breaking in 2018 is none other than The Humans — a show about a Thanksgiving dinner gone sideways. Family tensions will reveal secrets, with a mysterious thriller building up in the background.
Another add-on to the season showcases a section of our culture that is not often seen on our stages, the Asian-Canadian voice. Tetsuro Shigematsu, self-described as a non-actor, uses "simple and beautiful storytelling" in Empire of the Sun. The show has completely sold out every venue it has run in.
Balancing out the drama is a musical fan favourite. Following its recent Broadway farewell tour, the Citadel will be bringing back MAMMA MIA!.
"(Director) Ashlie Corcoran is one of the most exciting artists in Canada right now," explains Cloran, settling down an excited audience. "It's going to be a unique version."
Perhaps the most important piece that the 2017/18 mainstage season has to offer is Oji-Cree Corey Payette's Children of God. It is a show that Cloran has known he wanted to include since the very beginning of his journey. The indigenous voice the musical offers, showcasing the trauma and aftermath of residential schools, "weaves together contemporary Broadway sensibilities with a spiritual nod to Corey's roots."
Along with the announcement of Children of God came another revolutionary moment for the Citadel as Cloran announced the first indigenous programming artist that the company has ever hired in Christine Sokaymoh Frederick, the former artistic director of the Dreamspeakers Film Festival. It is the first step in a long process of making up for an underrepresented and wildly important voice in the Edmonton theatre community.
Taking a more comedic approach to a similarly dark topic is the third add-on of the season. Undercover is a work from Spontaneous Theatre. Using audience participation to uncover a murder, artist Rebecca Northan (seen recently on the same stage in Blind Date) will celebrate bravery and heroism.
For the final show of the season, Cloran wants to send a clear message that the Citadel is a home for Edmonton playwrights who belong on its stages.
"It is a home for families," he says, mentioning his two young children. "We want to give opportunities to all."
The Silver Arrow: The Untold Story of Robin Hood is written by Edmonton's own Mieko Ouchi. Showcasing the Banff-Citadel Professional program, the show will be a "giant adventure for audiences of all ages." Filled with acrobatics and aerial arts, it will reach new heights — literally.
Honouring 52 years of history, The Citadel Theatre's 2017/18 season is bound to impress, becoming the inclusive artistic home that Edmonton needs to see.
"Keeping 'Ubuntu' in mind, a person is a person because of other persons," says Cloran. "That's what theatre is all about."
---
Citadel 2017/18 Season Schedule
MAINSTAGE PRODUCTIONS:
SHAKESPEARE IN LOVE
September 16 – October 8, 2017
A co-production with Royal Manitoba Theatre Centre
HADESTOWN
November 11 – December 3, 2017
CANADIAN PREMIERE
THE HUMANS
January 6 – 28, 2018
A co-production with Canadian Stage
MAMMA MIA!
February 17 – March 18, 2018
CHILDREN OF GOD
March 3 – 24, 2018
Produced in association with Western Canada Theatre; An Urban Ink (Vancouver) production; In collaboration with NAC English Theatre In association with Raven Theatre (Vancouver)/The Cultch (Vancouver)
THE SILVER ARROW: The Untold Story of Robin Hood
April 21 – May 13, 2018
WORLD PREMIERE
SEASON ADD-ONS:
UBUNTU (THE CAPE TOWN PROJECT)
October 11 – 22, 2017
A co-production with Prairie Theatre Exchange
EMPIRE OF THE SON
January 31 – February 18, 2018
A Vancouver Asian Canadian Theatre Production
UNDERCOVER
April 4 – 29, 2018
A Spontaneous Theatre creation
SPECIAL SEASONAL PRESENTATION:
A CHRISTMAS CAROL
December 1 – 23, 2017