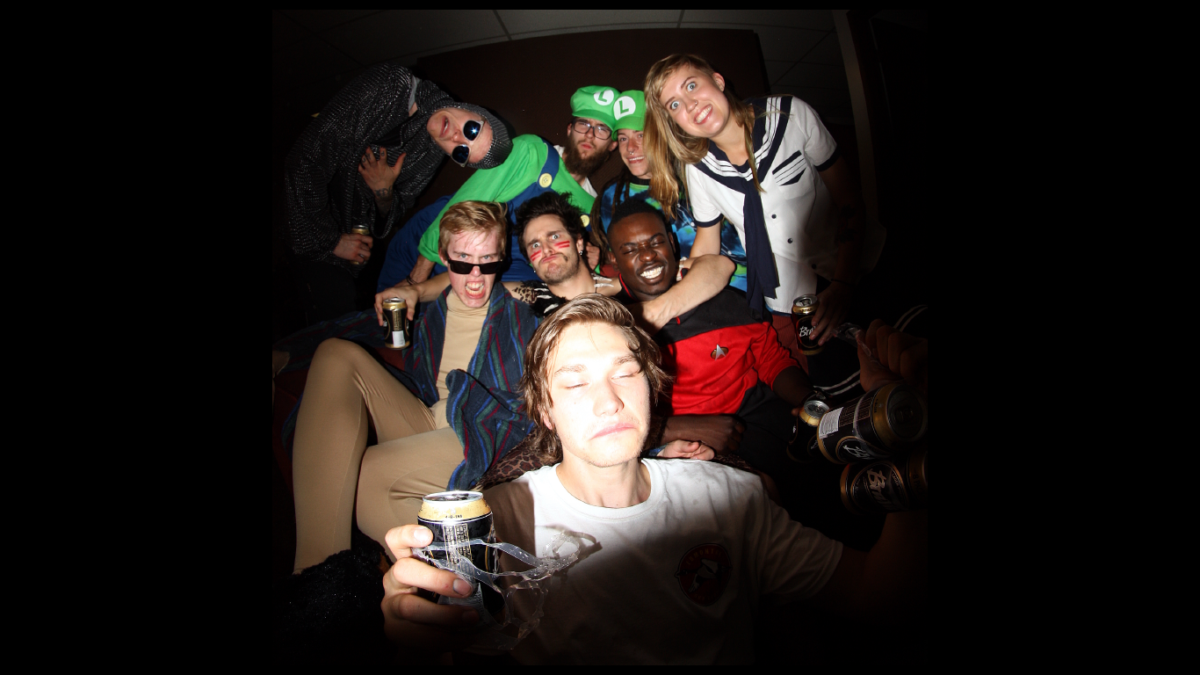 KLUSTERFUNK
with Carter & the Capitals
February 25
The Rec Room
https://www.facebook.com/klusterfunkband
---
Lately it's been impossible to turn on the news without seeing headlining stories full of issues of hate and prejudice. As far back as 2009 people have been asking "Where Is The Love?" but it feels like even eight years later, we still don't have an answer.
KLUSTERFUNK is a band looking to change that. With a mission to "turn all the world's bad feelin's, into good feelin's," this Edmonton-based group is fusing together punk, funk, and hip-hop to tackle issues of apathy, ignorance, and intolerance facing the world today — all while decked out in absurd costumes.
The 11-piece band features Booker Diduck, Dale Osbaldeston, Stephen "Eddie" Robinson, Ray Ray Treeze, Eric Wildeman, Jonathan Chavez, Jon Deppisch, Leah Harman, Sean Bumstead, Juice E. Jensen, and Tim Wilson (woah, that's a mouthful). Each pick up a variety of instrumental duties, ranging from vocals, to MCing, guitar, various horns, and percussion.
Drummer and vocalist Tim Wilson originally had the idea for Klusterfunk back in 2013, but the band wasn't officially formed until last April. "I was thinking through the logistics of managing an 11-piece band (and thought) 'My God, this is going to be a Klusterfunk,'" says Wilson. The name also pays homage to one of the group's biggest inspirations, Vancouver's eight men strong Five Alarm Funk.
Of course, synchronizing such a massive group into a cohesive sound can prove to be a challenge. But Wilson says the work pays off thanks to the unique sound and energy that just can't be matched by a smaller group.
"Basically, I bake a musical cake and bring it to the band," says Wilson. "Then they put the icing on the cake. Everybody knows the icing is the best part, unless it's a DQ cake, in which case the best part is that chocolate fudge crackle stuff in the middle."
But behind their costumes and feel good vibes, Wilson and Klusterfunk hope to send a more powerful message through their music.
"Our hope is that through listening to Klusterfunk, people will become empowered to follow their passions, and be inspired to think critically about the options they've been presented as to what constitutes a 'good life,'" says Wilson.
Their songs look to a range of global issues for inspiration. "Ooga-Chucka" was inspired by the Bill Nye versus Ken Ham debate on the wrongful denial of evolution (which Bill Nye won #sciencerules). The shooting of Malala Yousafzai by the Taliban inspired "Voodoo Doctor," a song about oppressive religious ideologies run amok. And "Bad Feelin's" was written about Wilson's personal struggles with mental illness, which were triggered by the death of a family member, Noah Mydlak, who took his own life two years ago.
While each track is unique, all aim to challenge the way listeners see the world around them. But of course, in boundary pushing fashion, Wilson notes this is done while wearing a variety of silly costumes.
"The best thing about playing music is being able to express what is repressed inside of you, and costumes facilitate that process even more," says Wilson. The idea was fuelled by one too many beers, a few funny cigarettes, and seeing Five Alarm Funk's success with their costuming. Since trying it out, Klusterfunk has run with the concept.
"I've expressed my inner caveman, devil, '70s disco stud, inner-female, and much more," Wilson says. "Once you discover the fun of costumes, you never want to play without them."
Klusterfunk recently finished recording their debut EP, Needs More Cowbell, at Sound Extractor Studios under the watchful eye of Stew Kirkwood, who managed to keep them giggling and focused the whole time. The irony in the title is definitely one to take note of on your first listen to the group.
When it comes to their live performances, Klusterfunk's recipe fuses together all the feel-good ingredients that define the group off the stage. And according to Wilson, their unique showmanship can really only be described in a manner as bonkers as the group is themselves.
"Klusterfunk live is like reading Christopher Hitchens in the middle of a circus after taking 3 tabs of acid," he says. "Equal parts informative, entertaining, and insane."
Perhaps this group can't solve all the world's issues, and many will still be wondering "where is the love?" But at the very least after finding Klusterfunk they won't be left asking "where is the funk?"
---
Dedicated to the life of Noah Mydlak. 1998 – 2015