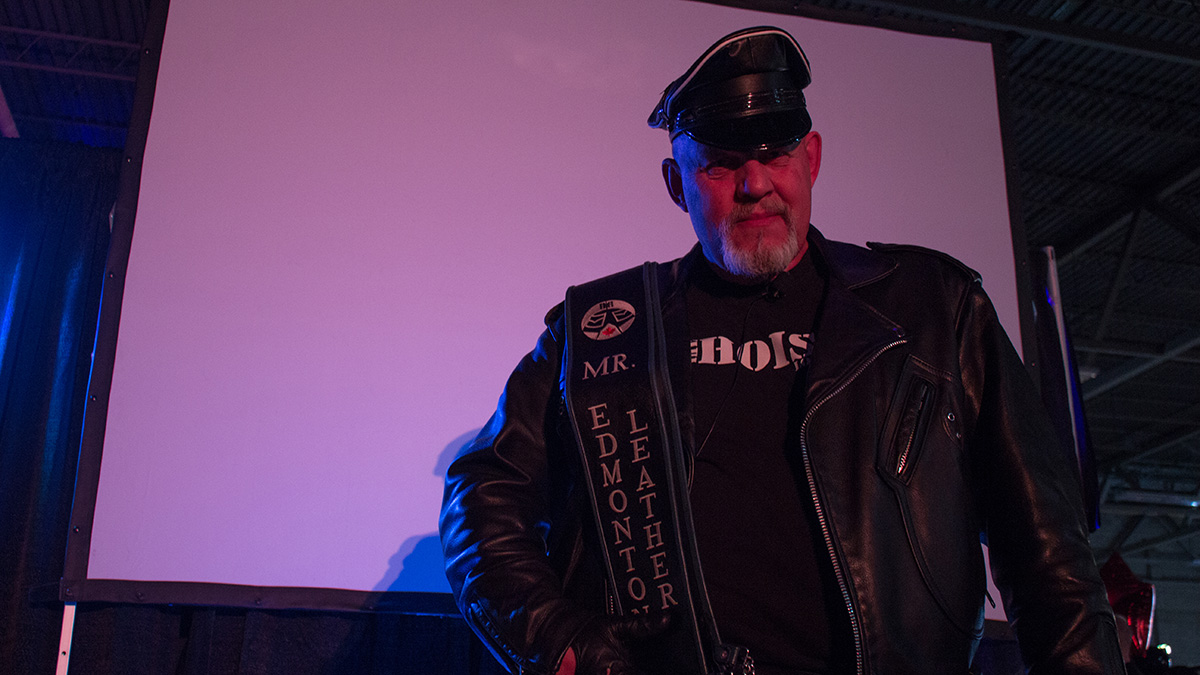 Now in its 16th year, the Taboo Naughty but Nice Sex Show returned to Northlands Park on November 17 to show Edmontonians a wide array of vibrators, sex-positive seminars, and sensual stage performances in the minimally-lit Expo Centre. The four-day exposition rotated a number of performances through the main stage (including drag shows, male strippers, and burlesque dancers) and speakers through seminar areas — between them, a maze of booths selling sex toys, pipes, food, and breaths of oxygen.
We spent a few hours at the sexpo and documented the experience.
---
An introduction to Taboo
Taboo Sex Show doesn't turn away exhibitors, unless they're not sex positive or upscale (sorry, no massage parlours). But the show hasn't been well-received in other Canadian cities. Only 20 exhibitors clustered together its first running, but at this point they're at 200. The community in attendance is very diverse, ranging from hardcore BDSM to vanilla.
Kevin Blackburn, the show's organizer, has been putting the show together for the past 12 years throughout Western Canada and has experienced tension with one particular bible-belt city, Abbotsford, BC. Every year, there have been picketers outside of the showroom, according to Blackburn.
And because of strict provincial liquor laws and the amount of public criticism against the sex-positive event, Taboo had to stop coming to Abbotsford about 4 years ago.
"Then we got a bunch of backlash from our following out in B.C.," Blackburn said. "(Fans) said, 'You can't cancel the show, you have to do it, you have to do it.'"
Blackburn and his team of organizers received hundreds of e-mails and phone calls from people wanting the show to occur in Abbotsford. He flew to Abbotsford and set up a panel with himself and a few of Taboo's long-term exhibitors in front of cameras and radio stations. The panel was asked why the show was canceled, why it was coming back, and what sort of negotiations were occurring with the city, Blackburn said.
"The problem was (the city of Abbotsford) made it so we had one little beer garden, and a big part of Taboo is being able to walk around with a drink and have fun," Blackburn said. "You can't do that when everyone is piled into one little corner. It didn't work and there's no flow to the show or anything. So we stopped going there."
He's had a much different response in cities like Vancouver, where the venue filled up — by 8 p.m., the venue had filled up and the two-hour lineup went all the way down the block. The fire department was even called. No one was lined up outside of the Edmonton venue (thankfully, given that it was snowing), but the expo floor kept busy.
— Jonah Kondro and Jamie Sarkonak
---
Sex and lube go together like food and booze. Luckily, you could find all four at Taboo.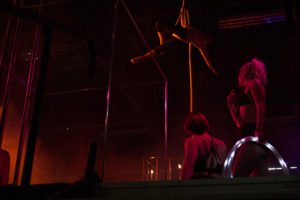 I'm sure Dr. Freud would have something to say about the concession stands for phallic-shaped food alongside exhibits selling rubber and glass phalluses. The smell of deep-fried corndogs and all-beef jumbo hotdogs accosted my nostrils while I tried to avoid awkward eye contact with the ladies selling personal lubricants. Somewhere in this hall, bartenders were selling overpriced vodka drinks, drinks to act as a catalyst for the mixing of the stimuli.
Next, I noticed sex and food products together while I lurked near "The Taboo Dungeon" exhibit on the safe side of the red velvet rope. One consensual woman tied up another consensual woman's breasts with coconut rope. And I thought coconuts were only used for beverages served with a tiny umbrella and a straw — coconuts were no longer fun in my eyes.
I found some respite with a bowl of S'mores mini donuts. It was the candy version of a poutine: the donuts were the fries, chocolate sauce was the gravy, and marshmallows were the cheese curds. I had a mouth full of the sweet gloriousness when I turned my head and watched an artist putting the final touches on a woman's pair of painted breasts. I'm scared the next time I eat a mini donut I might get a flashback vision of a sparkly floral pattern on saggy boobies.
Sex and food was officially blended when I caught sexologist Jessica O'Reilly's "Drive Him Wild with Pleasure" seminar. She was equipped with a couple of peeled garden carrots, and the vegetables were used for live action demonstrations by O'Reilly. Who knew about the various blowjob techniques one could learn from watching a woman sucking on a carrot. O'Reilly had her lips secured and cheeks sucked in on the vegetable, but her air lock was breached to inform the audience of her disgust, "This is a hairy carrot." I learned from the seminar that it doesn't matter if it's a pubic hair or a carrot hair—hair ruins blowjobs.   
— Jonah Kondro     
---
Vibrators on a student budget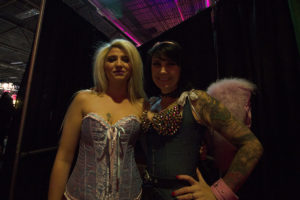 As I walked around the sexpo I was surrounded by vibrators with price tags of $100 to over $200, it didn't strike me as very student friendly. I went to a couple sex toy shops at the expo to find out what vibrator they'd recommend on a student budget. Here's what they had to say:
The Travelling Tickle Trunk:
The salesperson showed me a simple purple squiggly internal vibrator, the Posh Silicone Vibrator for sale at the booth for $44. I was told its cheap price and 10 different functions makes it a good option for a first vibrator.
Length: 5.75″
The Love Shop:
I was shown two options at The Love Shop, the Mi-Vibe Vortec and the Mi-Vibe Storm, each ringing in at $40. The Vortec is aptly named, its swirly design is kind of like a tornado that goes in your vagina. The Storm is actually just shaped like penis. Each of these vibrators has 10 functions and come in a range of bright colours that the salesperson says gives them a "young feel."
Length: 6"
— Sofia Osborne
---
VR porn is now
The internet is a beautiful place, folks. Virtual reality has extended to porn — you can buy different types of 3D goggles at various prices that allow you to get yourself off like you're literally getting it on. The Vancouver-based company HoloGirlsVR sells subscriptions to their porn site with movies filmed specifically for viewing with 3D goggles like Google Cardboard or VR BOX. Samantha Mack, the head of the HoloGirlsVR Taboo booth as well as Mack Models company, says that the greater acceptability of porn today is getting a rise out of all of us.
"We're raising awareness (about sex) and people are saying, 'Hey, it's okay for me to see something and be aroused,'" Mack said. "Now more people are talking about it making it okay."
If taking a peek or seeing if you'll peak piques your interest, subscriptions start at about $10 a month. With HoloGirlsVR, just remember: when you're shooting for the moon, even if you miss, it'll land amidst the virtual pornstars.
— Julia Sorensen
---
Hot Sauce at a Hot Expo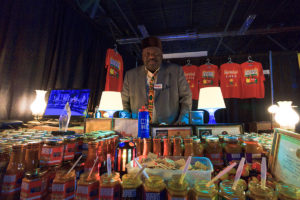 In a sea of dildos and vibrators sat a West African hot sauce seller from Togo.
Edmond Segbeaya, owner of Ebesse Zozo Hot Sauce in Nelson, British Columbia, said he belonged at the sexpo like everyone else. Hot sauce, he explained, is a natural aphrodisiac.
"You eat hot sauce, you fuck better," he said. "You know, sex is like hot sauce. With sex, at the end you have all the pleasure. When you eat hot sauce it burns, but at the end you have all the pleasure."
I tried his "Mild" and "Extra-Mild" sauces on a couple soda crackers while he explained the science of sauce and sex. I kind of wish I bought one of the jars; the stuff would go great with a shrimp ring. Segbeaya called his sauce "tasty, flavourful, and delicious" and said it "makes you happy and you'll dream of Africa and you'll shake your booty." Some of those rang true, but unfortunately I did not dream of Africa.
The recipe itself has come a long way — Segbeaya credits his grandmother for starting it years ago. More recently, the sauce encountered 15 minutes of fame when Segbeaya made it onto Dragon's Den (asking for $400,000 for 25 per cent of the company). But, he said, the Dragons were too cheap, and Kevin O'Leary was a jerk — and was a chicken when it came to eating the hot sauce.
— Jamie Sarkonak
---
Q&A: Alberta Sex Positive Education and Community Centre
Besides running a simulated sex dungeon, Alberta Sex Positive Education and Community Centre (ASPECC) was also running a booth to answer questions and give out flyers. I spoke to the women working the booth:
The Gateway: What does ASPECC do exactly?
ASPECC: We're an educational resource. It's basically about trying to get people to understand that their consensual sexual desires are nothing to be ashamed of. People in this province come from all different directions. A lot of the people coming out of the catholic school in particular don't know how to communicate their sexual desires because the only thing they were taught was that sex is bad. That doesn't really equip you for a healthy sex life. So a big part of our mission is just trying to get people comfortable in their own skin. Get people comfortable understanding and requesting their own sexual desires in general.
How do you go about promoting that mission?
We do seminars, we do workshops, we can do classes. We also arrange events called Safer Spaces. People that are present understand what consent is, it's a higher standard of conduct. You can go to these events knowing that no one will touch you, no one will grope you, unless you explicitly invite it. We have to say, for example, "Do you want a hug?" That's just a mild way of putting it. It's just a space where you know everyone is behaving at a very high standard and where you can feel okay to come out of your shell.
Where do you operate? 
Right now it's mostly in Edmonton. With the educational component, we try to reach as far as we can but the actual workshops and seminars tend to be in Edmonton.
What's next for ASPECC?
For right now, I know we're trying to finish up the last bit of our fundraising. We just had our building renovated. There's also some talk of a newsletter but that hasn't happened yet as far as I know.
— Matt Gwozd
---
Oxygen bar owner breathes life into sex lives
Matt Menchini, owner of the Inhale O2 Bar from Red Deer, might not be pouring you a beer, but he is your stereotypical bartender. Menchini ran oil and gas plant operator for 15 years but he missed interacting with people, now he works with a different kind of gas: oxygen.
His oxygen bar, which travels to different trade events, health clubs, pole dancing classes, and rock climbing gyms, serves up 93 to 95 per cent oxygen. The inert gases are stripped out of the normally 20.9 per cent oxygen air and served up in bottles flavoured with ingredients like watermelon or lavender, which are supposed to have different effects on the inhaler. The oxygen itself is meant to increase your mental clarity and alertness.
While you sit down with Menchini to inhale your oxygen through a nasal tube like you'd get at a hospital, he asks you questions about your life. He asked me a lot about what kinky things I was going to take away from the sexpo and what scary/sexy/crazy things I'd seen perusing the booths. It was a bit easier to open up to a stranger and that's what Menchini said he was going for as an oxygen bartender.
"I know we've only sat for five or 10 minutes with each other, but you'll always remember me. You'll be like, 'do you remember that weird old bald guy at the oxygen bar?'" he said. "That's something that will carry forward long after I'm gone, not my dollar bills. This is something that actually means something."
— Sofia Osborne
---
"The Stratosphere"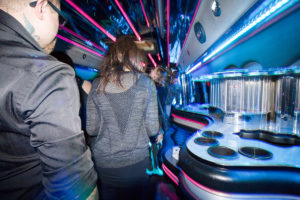 According to bus driver Chris, the "The Stratosphere" is mostly used for stag and stagette parties. Unfortunately, Chris declined to disclose his best bus story (and his best public transportation story, for that matter), only saying that it's "tough to keep focused while driving, that's for sure." Chris added that one of his most common destinations is McDonalds, which leaves plenty up to imagination.
The bus fits around 22 adults, but can go up to 28 if people don't mind sitting on each other's laps (capacity is a subjective matter). It has a stripper pole/pole fitness pole, easy-to-clean leather seats, and a space of about 10 metres in length to explore. At $300 per hour, it might not be your best bet for transportation on a student budget, but if everyone chips in you might have some luck.
— Jamie Sarkonak
---
On the Subject of Orgasms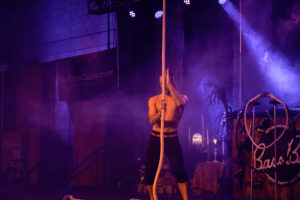 Orgasms are fun. They are the release of sexual tension through involuntary muscle contractions after a period of sustained arousal — often described as "sex." But they are also terribly complicated.
"Every orgasm someone experiences will feel different," said Meagan Filteau, who gave a seminar at Taboo. "The goal (of this seminar) is to give people information so they can kind of take the pressure off themselves or other people when it comes to orgasms. Not being like, 'Well I have to have this type of orgasm.'"
A sex educator based out of Calgary, Filteau has a diploma in psychology and counselling, and a certificate in sex and education counselling. Her seminar, Orgasm FUNdamanetals, went over the biology of the orgasm, how to have more satisfying orgasms, and what and where the elusive g-spot really is. As far as more satisfying orgasms go, she recommends lubricant, slowing down, using measured breathing, or experimenting with alternate stimuli.
"I just want people to take home what might work for them," Filteau said. "I gave some suggestions that I learned from different books: Come As You Are is a great book, Sex For One by Betty Dodson is another great book, (and) Anal Pleasure and Health by Jack Morin — I learned a lot about orgasms from him."
She also noted that negative self-dialogue and masturbating a certain way too frequently can be debilitating to orgasms and arousal.
"Over the years I have learned that I have a lot of comfort around sexuality," she said. "I want to be able to use the things that I've learned through my conversations with other people. To share the knowledge in that way to break down the taboo and stigma of sex."
— Aidan Herron
---
Sexpert professor makes board games for couples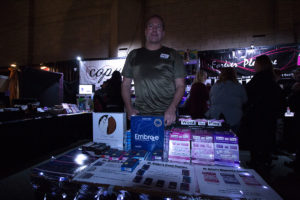 Brian Parker teaches at MacEwan University, guest lectures at the University of Alberta, and creates products to get couples talking about sex.
At Taboo, Parker was selling his board game Embrace: The Ultimate Sex Game. The game has a combination of questions for couples and interactive truth or dare in four categories: romantic, sensual, hot sex, and extreme hardcore. The winner of the game gets to pick an embrace card, one of 40 romantic, sensual, or erotic things to do with your partner.
"(Embrace) helps couples learn about their partner, and learn about their likes and dislikes. Sometimes we don't know how to ask those questions," Parker said. "It gets people to try new things, experiment. And it gets people out of their routines and ruts in the bedroom."
As a sexologist, Parker has a PhD in human sexuality. He teaches a nursing course and psychology course on human sexuality at MacEwan, and is also developing a 500-level course for the U of A called "Sex Positivity."
Parker said he likes sexpos because it allows people to ask questions and see sex toys in a safe way, whether they're knowledgeable about sex or not, and "gives people an opportunity to be themselves, explore, and see new things."
— Sofia Osborne
---
Looking for more Taboo? Check out our video coverage from the 12th edition of the show.