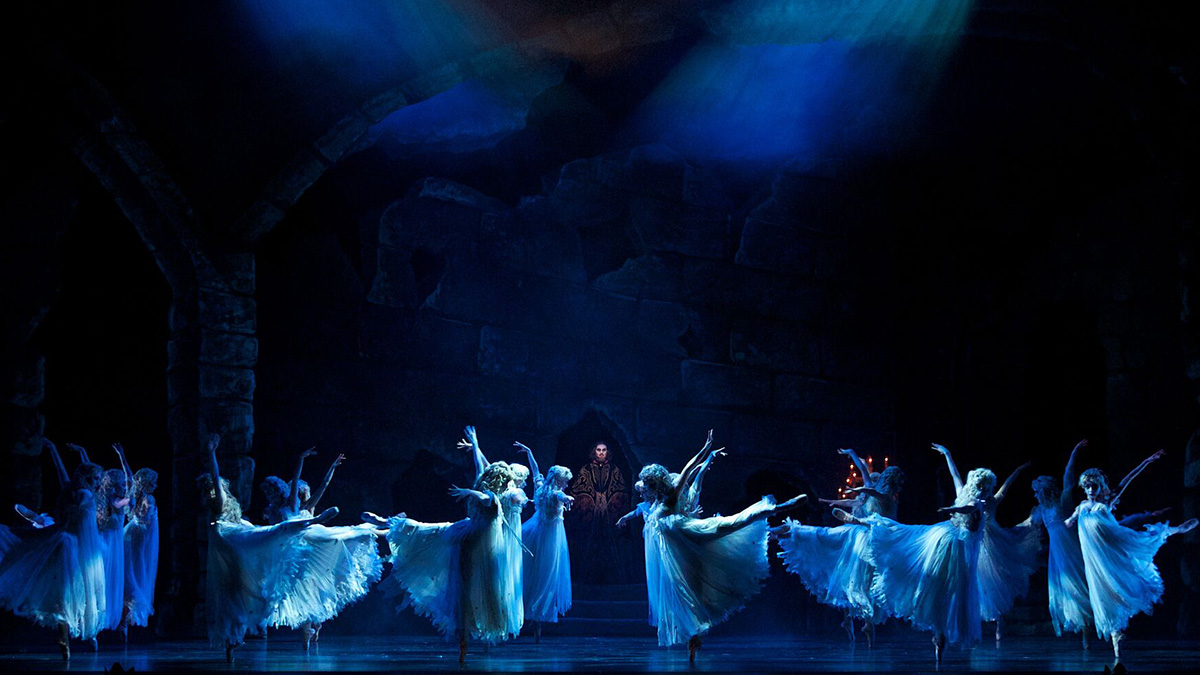 With an authentically gothic portrayal, Alberta Ballet delivers an excellent and chilling interpretation of Bram Stoker's Dracula riddled with lust, desire, and revenge.
On November 4th and 5th, the Jubilee Auditorium filled to the brim with audiences awaiting Canada's first balletic production of the classic vampire tale, Dracula. The show, which features choreography by the internationally renowned Sir Ben Stevenson and the music of Franz Liszt, takes audiences on a journey to the Victorian era, exploring horror, romance, and an age-old battle between good and evil.
The show truly began upon entering the Jubilee theatre, where attendees were met with a lobby decorated as if they were in Dracula's crypt themselves. A candelabra rested on a grand piano in the centre of the room, and eerie melodies echoed throughout the building, adding to the anticipation of the evening's performance.
Once in their seats, onlookers watched an empty stage, which was covered by a screen shaped like bat's wings. As the dancers emerged, they did not hesitate to delve straight into the plot. Act one begins in Dracula's lair, where we are introduced to the Count and his many brides — of whom he controls every move.
The costumes for the characters were extraordinary in their detail and uniformity. Dracula's cape, made of velvet, satin, and sequins, weighed 20 pounds. Kelley McKinlay, who played the bloodthirsty Count, effortlessly glided across the stage, mesmerizing audiences with his dangerous elegance. Although Dracula's brides wore simpler costumes, the combination of their outfits, makeup, and wigs were haunting — each individual donned a simple white gown and ghostly complexions, making them fit for the role of the beautiful undead.
Compared to the horror of the first act, act two played as a needed comedic relief. Here, we are introduced to our hero and his leading lady, played by Garrett Groat and Mariko Kondo, who are brilliantly convincing as Frederick and Svetlana.
Throughout the show the brilliant attire and performances were paired with even more stunning choreography. The brides, dressed in complete unison, danced with equally synchronized movements. As they danced around Dracula in his crypt, desiring his attention, each dancer's form was identical to the one they were next to.
Explosive theatrics elevated the choreography further. In one scene, two brides flew through the air before Dracula himself took flight. In act three, as Frederick and the villagers tried to rescue Svetlana from Dracula's evil grasp, the show concluded with the most excitement as the stage lit up with fireworks.
Dracula was unlike anything Alberta Ballet had done before, as this was their first attempt at mounting this production. For their efforts, the audience cheered in approval, giving the cast a standing ovation. In an era where most vampire tales are reimagined into a contemporary setting, the dance company's classic presentation was refreshing to see.