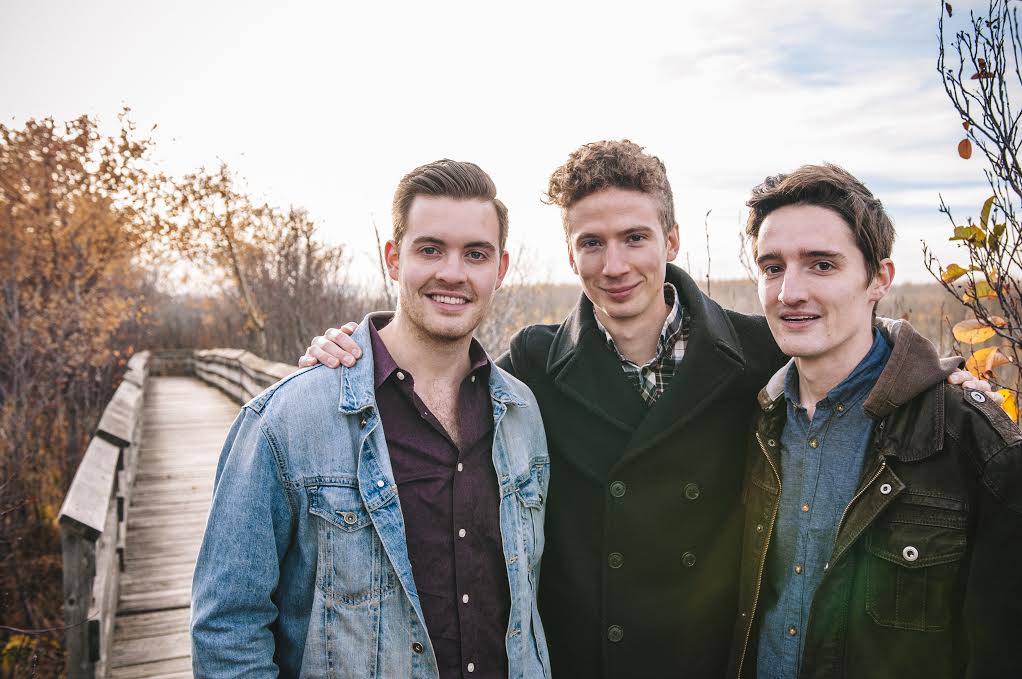 Scenic Route to Alaska is a band that's already known for its members' closeness — but this summer they became even more of a family.
"We're friends first but we're more like brothers," says Trevor Mann, the lead singer and guitarist of Scenic Route to Alaska. "Even when we started living together, it worked because we all know how to deal with each other."
Band members Mann, Murray Wood (bass), and Shea Connor (drums) have known each other since they were kids. They grew up together in the tight-knit community of Riverdale, where they formed the group in 2011; they've been playing, recording, and touring together ever since. The U of A last saw Scenic Route to Alaska, or SRTA for short, recently when they played the main stage during this fall's Week of Welcome. Since then, the band has been incredibly busy, having just recently released their fourth album, Long Walk Home.
"It feels like we just had a baby and we all love it to death," says Mann of the record. "It's a nice weight off your shoulders to actually get it out there to the world."
The relief may be in part due to Long Walk Home marking a departure from SRTA's typical musical style. The band is best known for slower, mellower indie-folk songs, which Mann, the songwriter of the group, typically refers to as "breakup songs," as they often discuss his past and failed relationships — "The Homestretch," one of SRTA's most popular hits, was actually written by Mann as a way to break up with his former girlfriend. It seems like Mann has finally moved on from heartbreak though, as Long Walk Home is far more upbeat and thrilling than much of the music SRTA has put out before.
"This record's about getting out there and living our lives, and enjoying every minute of it," says Mann excitedly. "There are definitely still breakup songs, but they have a twist of optimism now."
Long Walk Home's breakout hits, "Younger" and "Coming Back," reflect this. Both songs are incredibly confident and burst with what Mann calls a "youthful vibe." Even the newly recorded version of "The Homestretch" is far more hopeful than previous iterations on past albums. SRTA's upbeat change of musical style with Long Walk Home makes sense however, as the group is living an increasingly fast-paced life.
"I think we're kind of living what the album is preaching" says Mann. "We decided to put our feet all in and be touring all the time."
SRTA recently returned from their second European tour, which saw the group first touring all across Germany, and playing at the famous Reeperbahn festival in Hamburg. Additionally, SRTA travelled to the Netherlands, where in Amsterdam, they played alongside The Boxer Rebellion at Paradiso, "a legendary club" according to Mann.
"It was an incredible experience," says Mann. "It was one of the best venues we've ever played, with the best staff and the best sound."
Back from Europe, SRTA will continue with their fast-paced lifestyle, starting immediately on their Canadian tour. From Vancouver to Montreal, the group is set to play all across the country, including the hometown stop this past weekend at the Needle Vinyl Tavern.
With a long Canadian tour remaining and plans to return to Europe in November, it's natural to wonder how the group deals with all the stresses of touring and being around one another day-in and day-out. SRTA seems to takes it in stride though.
"I think the busier we get and the more we tackle, the closer it brings us" says Mann.
For a band that's already so close, it's a beautiful proposition.