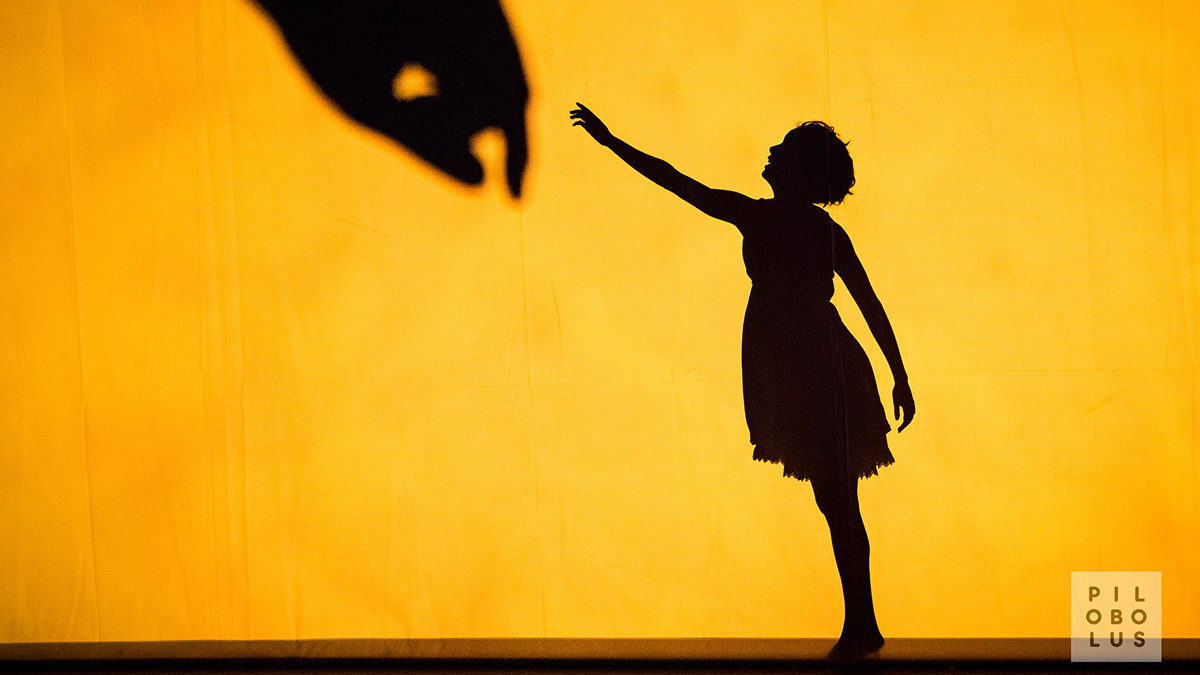 No matter how much research is done beforehand, it's nearly impossible to know what to expect from a production whose lead character is part canine, part human, and entirely made of shadows.
Pilobolus, a modern dance company based out of Connecticut, premiered their show Shadowland for the first time in Canada on September 27th. Thanks to Alberta Ballet (who hosted the production) audiences at the Northern Jubilee Auditorium were treated to a performance that showcased not only talented dancers, but impressive acrobatics, lighting, and contorting.
Before the show, props were scattered around the Jubilee stage. A lone white nightgown on a mannequin stood dead centre, behind it was a small screen, and above a much larger one. To the casual observer, predicting how the tale of Shadowland's lead character, Dog Girl, would unfold was a challenge — especially because the show's program gave no details or descriptions.
As the performance began, Heather Jeane Favretto (who plays Dog Girl) slowly walked onto the stage, and (like the audience) appeared bewildered and confused — there was no indication of how her story would develop, keeping the everyone in the shadows. However, as other dancers emerged from the sidelines, Favretto's bedroom was established as the setting and the (still human) girl she was portraying was revealed to be an adolescent, bordering on young adulthood.
As Favretto's character slipped into a deep slumber, the small screen at the back of the stage filled with unsettling visuals made out of shadows. Dancers snuck behind the screen to create disorienting shapes, bringing to life the girl's dreams, some pleasant and some nightmarish. During her unconscious journey, she encountered a wide cast of characters from chefs trying to cook her, to walking plants — all created through precise lighting and the body movements of the dancers behind the larger screen. The way the dancers could craft virtually any object, from a table, to oven, to flower, using only their own shadows was remarkably creative.
One of the most intriguing moments was Favretto's transformation from human to part canine. A dancer's arm extended as the hand of a god-like figure, and when he placed his palm overtop of the girl's head, it suddenly disappeared, and in its place was head of a dog. Instead of using a mask or a prop to create this silhouette, Favretto used her elbow as a snout and her hands for ears. It was incredible how she used her body to create an entirely different species on the stage, let alone while moving, dancing, and performing acrobatics.
Taking on the form of Dog Girl, she encountered more bizarre characters, each representing the various trials and tribulations which occur on the road to adulthood. An encounter with a cowboy, a group of circus folk, and a centaur led her through heartbreak, hardship, and finally self-acceptance. Each scene showcased the dancers flexibility and acrobatic skills,  including a notable one where they performed on each other's shoulders using multiple props and costumes (including whips and red sparkles).
The diverse characters were accompanied by David Poe's original score, which transitioned incredibly through the story and its emotions. When Dog Girl was struggling, the score was angst-ridden and tense, but when she was exploring and joyful, it was uplifting and face paced.
Aside from being visually extraordinary, Shadowland's story — which was written by SpongeBob SquarePants co-creator Steven Banks — solidified just how impressive the overall production is. The writing symbolized each encounter for Dog Girl as a defining moment in adolescence, from the struggles of accepting oneself, to facing the judgement of others, and finding her way with the right people.
The Pilobolus Shadowland cast had an extraordinary impact on the Jubilee audience, creating a form of art that is incredibly precise, creative, and intricate — it truly earned each second of its multiple standing ovations.