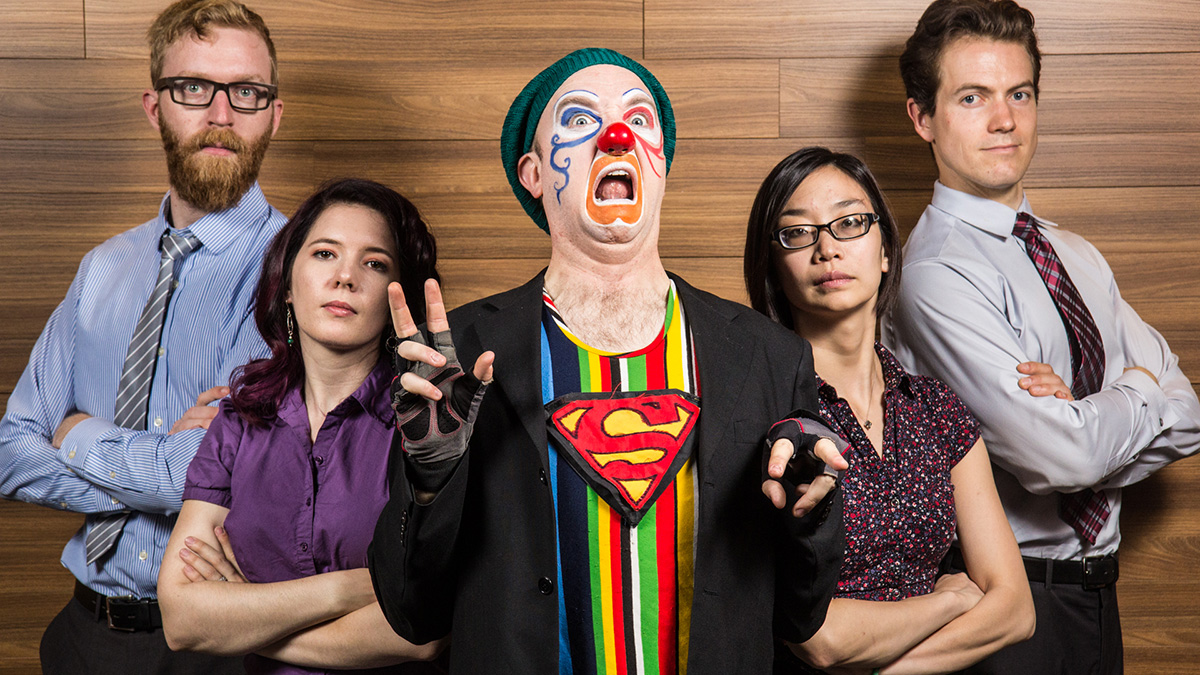 What: Edmonton Clown Festival
When: September 29 – October 2
Where: L'UniThéâtre at La Cité Francophone, 8627 91 Street Northwest
Tickets: $95 for the Festival Pass; $20 per show (TIX on the Square) info@edclownfest.ca
It's only a coincidence that The Balloon Store is on the ground floor of Julie Kiraly's daytime office building. Kiraly is the producer of Edmonton's maiden clown festival, an event which she says has been in the works since 2008.
"Clowning is something that comes in waves," says Kiraly. "We have started it now because there's greater interest in the community as a whole. It's not a new concept, (just) the festival idea is new."
The Edmonton Clown Festival begins this week at La Cité Francophone's L'UniThéâtre and will run from Thursday, September 29 to Sunday, October 2. Although it's the first event of its kind for the city, Toronto has held an annual clown festival since 2005 and Montreal will host its first the same weekend as Edmonton. The Edmonton lineup features a headlining show (Deanna Fleysher's "Butt Kapinski"); three full-length solo shows; one Double Bill (two performances back-to-back); two Clown Short series; a free panel discussion (addressing the topic "What is a Clown?"); a Cabaret; and a closing party.
Kiraly earned her Bachelor of Arts in drama from the U of A in 2006 and is an active member in Edmonton's dance and theatre communities. She cites a class taught by Drama instructor Michael Kennard on clowning that inspired her to "find her inner fool."
"The clown is reflecting real life and experiencing it in the moment," says Kiraly.
Although Kiraly's definition for clowning is flexible — she mentions Charlie Chaplin, Stephen Colbert, Mr. Bean, and WALL-E as examples of her favourites — the two principal modern clown types are the Joey and the Auguste. Joeys' faces are painted white with red patches on the cheeks, and their style of performance relies on highly skilled and choreographed comedic violence. Augustes (German for 'fool'), on the other hand, are clumsy, boisterous, and sport flamboyant colours and patterns. Kiraly explains the dynamics of their performing relationship.
"The Auguste comes from a place of innocence, and then the Joey will keep (him) in line," says Kiraly. "The Auguste may be afraid of the Joey, but he is also there to please him. It's a loving relationship."
However, the rising star in clowning circles is the Bouffon (French for "jester"), a character who is distinguished from his red-nosed counterparts due to his affinity for taboo topics. Kiraly explains that while the Auguste takes the audience on a cathartic journey, the Bouffon incorporates dark humour.
"They may talk about sex, race, gender… basically anything that may make you feel uncomfortable," says Kiraly. "And they're kind of gross looking." Watch out for Pride & Pre-Jeu-Dice and Exposing the Mould as primers for the Bouffon style.
Kiraly hopes that the festival will broaden the public's perception of the possibilities of clowning.
"There's this stigma of clowning as something to be feared, which is bizarre," says Kiraly. "Maybe it's a product of being a child of the 80s with Stephen King's It. It's easy to take something benign and turn it into the stuff of nightmares."
But the festival provides its visitors with the opportunity to explore different types of clowning — one that extends beyond a horror flick's birthday-party-gone-wrong characterization.
"I think that if people interacted with different styles of clowning — like Mr. Bean — they would understand the real scope of clowning," argues Kiraly. "And who doesn't like Mr. Bean?"