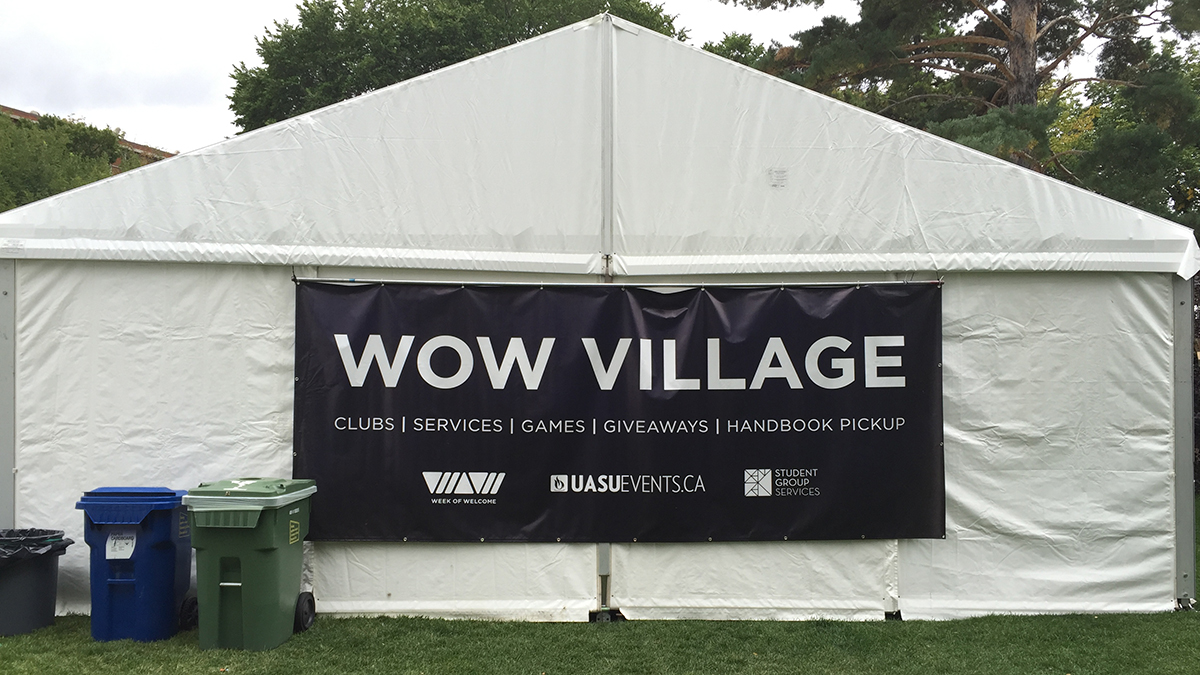 I always liked Week of Welcome. Actually, I didn't even know that's what it was called — I just knew it as the first week of school when it was warm outside, I could meet new people at school, and there were the beer gardens. Even though going back to school kind of sucked after a four-month break, I loved that first week back. Usually I would hit up my classes the first day to grab the syllabi and to meet a friend who I could convince to email me the notes that I would inevitably end up missing. Whether or not I found that person, then I would go straight to the beer gardens.
I always thought of the first week as kind of a blowoff week where I could ease myself back into the campus life by drinking my face off in the sun with my friends. Looking back on my degree, I can't recall much of what I learned in class, or even who some of those classmates were who I carried a rapport with throughout the semester, but I vividly remember the beer gardens. Truthfully, I didn't even know there was anything else going on elsewhere on campus because beer gardens were what was important, and it was even strategically placed in the quad — a.k.a. the centre of the universe. It's what I fondly reminisce about when I'm asked about my university experience, and as poor as my grades were, I definitely would not have changed my Week of Welcome routine.
— Devan Larson, BEd
I am involved with a couple organizations on campus, so one of my favourite parts of the first week is getting started with these organizations and having the opportunity meet all of the new volunteers and members and seeing everyone that I worked with before. It's rather exciting to finally get started.
I always enjoy the hypnotist event that is usually held. I've only been once or twice but each year I have Facebook friends who attend, so I have the enjoyment of watching the videos after the fact — they are hilarious.
A few years ago, I had the opportunity to be an Orientation Leader and I think this has been one of the highlights from the first week of school. I really enjoyed having the chance to share my fondest memories of my time at the University of Alberta and give incoming students advice and information about the campus where they'll inevitably be spending the next few years. I was also (finally) able to attend the hypnotist during Week of Welcome and I watched one of my fellow OL's become hypnotized into thinking she was Beyoncé — definitely a memorable moment.
— Marina Gianna, Psychology 
Week of Welcome pretty much only benefits people in their second year or higher, assuming they're in a general undergraduate degree. It assumes you already know what's happening. It wasn't always open or sensitive to the fact that people come from different backgrounds, and it generally appealed to the majority crowd, which seemed to be caucasian and heteronormative. I think the only fun experience I've had with WoW was seeing Said The Whale live in my first year. For that reason, I always appreciated the energy of orientation and its volunteers a bit more.
However, things seemed to taken a positive spin this year. With the amalgamation of orientation and WoW, I think both efforts have more insights on how to make a functional "orientation week," and perhaps apply some of the great ideas in action at other post-secondary institutions. Talking to the SU employees and TFs this year, they have a lot of hope for making this a unique WoW to remember, and I'm looking forward to it too. I hope that WoW is more inclusive this year.
— Sai Vemula, Neuroscience 
The best part of Week of Welcome is definitely the socialization part. You meet so many different people that are on a different part than you, academically speaking, but everyone is so relatable at the same time. It's a lot of fun and overall a good university experience.
It's also interesting to see all the different clubs at Clubs Fair. I never realized all of the opportunities the University of Alberta offered to students. It's nice to be able to talk to people at different booths, see the vast amount of organizations and interests, and find out which club is a good fit for you.
— Kristen Lee, Business Economics and Law
Week of Welcome is such a great overall experience for students either returning to, or starting their University of Alberta experience. I personally loved the overall atmosphere. Students are back to school, ready to take on the year, make new friends, and live new experiences. WoW helps to breed this atmosphere and make everyone feel welcome.
My absolute favourite part of it would have to be Clubs Fair. When all the different clubs at the University of Alberta are set up in the Main Quad, it makes for a great location to hang out and meet new people.
You can go around to each table, ask about whatever club or organization that is present, and listen to people speak so passionately about the association they have turned into part of their lives and identities. And the best part is that not only can you learn about these organizations, but you can also join them!
In my first year at Clubs Fair I became acquainted with and then joined my Fraternity (Phi Delta Theta) when I saw their table during WoW. This ended up being one of the most impactful decisions I made regarding my University Career — Phi Delta gave me a chance to get involved both on and off campus in charity events, fundraisers, competitions, and other events through the Greek System.
— Dalton Schamehorn, BComm