News
The Fast and the Eco-Furious: Engineers win international electric car race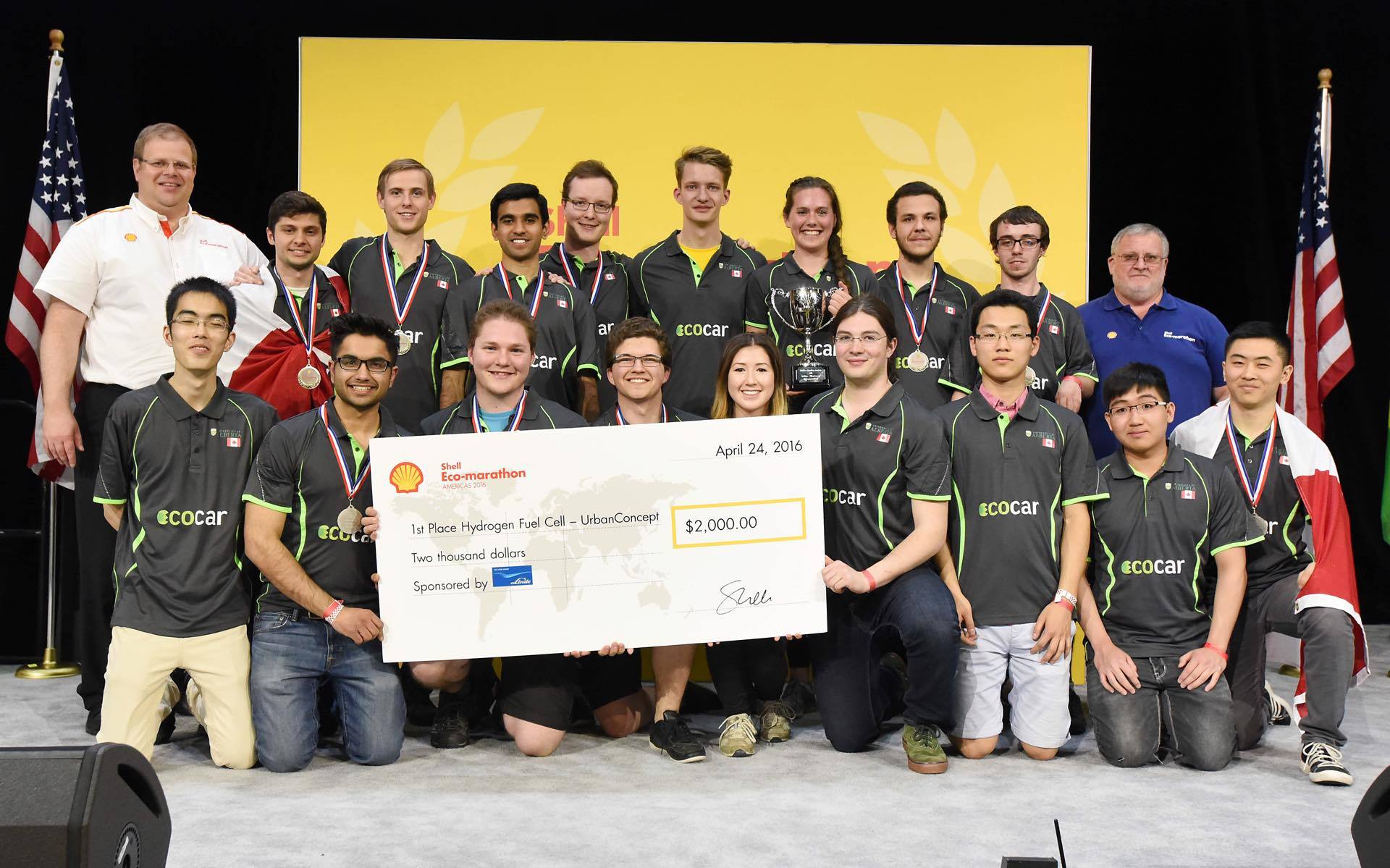 Engineering students at the University of Alberta are entering the international racing circuit with their eco-friendly car, Alice.
Alice won the 10 km Shell Eco-marathon in Detroit, Michigan, against competitors from North and South America. The U of A's team won $2,000, with Alice being the only car in its category to finish with a working flowmeter — a device that records the amount of fuel a car uses.
The first place win is huge for the team, Nik Viktorov, the team's project manager, said.
"This car has been a two-year design and build process," he said. "To see it perform as well as it did was really excellent."
As a competitor in Shell's hydrogen fuel urban concept category, Alice runs on electricity created by combining hydrogen gas stored onboard with oxygen from the surrounding air to form water.
The 40-person team's goal in the Detroit eco-marathon was winning first place, outreach coordinator Natasha Pye said. Having won, Shell is paying for the team to fly to London, England to compete in the Drivers' World Marathon from July 7 to 10. There, Alice will compete with top EcoCars built by students from around the world.
In London, the team must use a smaller fuel tank to race around a longer track. Though Alice was efficient enough to beat other cars from North and South America, the EcoCars in the European and Asian circuits are more advanced, Pye said. Currently, Alice is not efficient enough to cross the finish line at the world competition and is unlikely to win in Europe. The team has since reevaluated its goals for the upcoming race and hopes to learn how it can improve Alice in the future.
"Our goal is not to get first place," Pye said. "We're going to make it there, we're going to give it our best shot, but we're also going to use this opportunity to see what we can do to make Alice better or to make our next car better."
With Alice set to ship out to London in early June, the U of A team only has a month to prepare for the competition, Viktorov said.
"Up until (June) it's going to be fairly busy," he said. "We are getting on the ball trying to see where we can prioritize our efforts in the lead up to that competition."
The team plans to improve Alice's fuel efficiency by attaching a free wheel and removing a drive shaft. They also want to implement a controller area network, a component used in most real cars that collects data from the throttle, brakes and other electrical systems, Viktorov said.
Next year the team hopes to race two cars: Alice and a new prototype. Alice races in the urban concept category which requires features such as windshield wipers and a horn. The new car will race in the prototype category, which has fewer requirements.
Viktorov said that the team is thankful for the support they received from the university community through a crowdfunding campaign prior to the competition in Detroit. Through crowdfunding, they received $6,233, followed by a $5,000 match grant from the Spirit of George Ford Endowment Fund.
"We'd like to thank all of our supporters throughout that crowdfunding campaign, because this year was a really great send-off for us," Viktorov said.