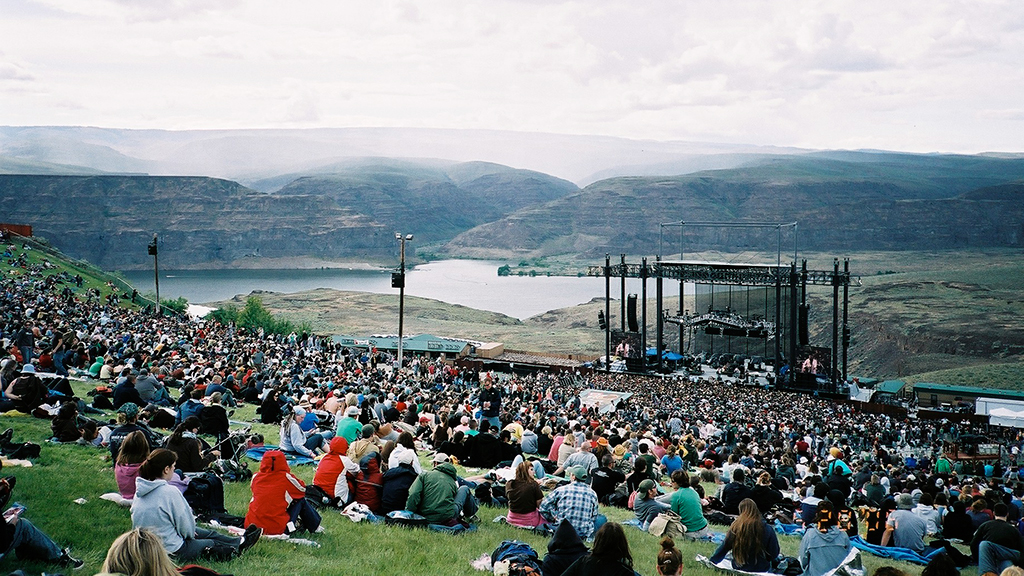 Nothing screams illustrious music festival quite like a parade of vehicles heading to the same destination, packed with camping gear, illicit drugs and ironic-bordering-on-ridiculous summer attire.
It doesn't matter what your preferred genre or demographic is, chances are there's a music festival out there for you. Recently, the bigger festivals (the Coachellas, Lollapaloozas and Bonnaroos of the world) have become increasingly homogenized, resulting in cookie-cutter lineups and posters. However, there are still a number of lesser known, less commercialized, and more diverse festivals where seasoned attendees are flocking to.
Whether you're new to the festival scene or not, I encourage you to consider these five underrated music festivals before committing to that summer vacation in Victoria with your extended family. You can thank me later.
5. WayHome Festival (Oro-Medonte, Ontario) July 22 to 24
Lineup Includes: LCD Soundsystem, Arcade Fire, The Killers, Major Lazer, M83
Located in Oro-Medonte, a small town an hour a way from Toronto, WayHome focuses on bringing different people together for the sake of music, food, art, and film. WayHome showed that they are going all out this year by releasing a stacked lineup ahead of the other notable festivals like Osheaga and Pemberton. It has a strong group of indie and alternative rock headliners, and a supporting cast that's just as good with more bands, rappers and DJ's rounding out the rest of the bill. Situated in forested area, WayHome has a natural vibe and is perfect for camping, making it the ideal venue for a weekend of music and a "kaleidoscope of sound, smell, colour, and spectacle."
4. Best Kept Secret (Hilvanbeek, Netherlands) June 17 to 19
Lineup Includes: Beck, Jamie xx, Two Door Cinema Club, Wilco, Beach House
This European festival is a stunning weekend of both music and spectacle. The festival grounds span around a lake in Hilvanbeek on the Safaripark Beekse Bergen. Both the stages and campgrounds are situated either by the lakeside or in a forested field nearby. With a unique lineup of indie and electronic acts from Europe and North America, in a time when most major festivals seem the same, Best Kept Secret shapes up to be a fresh experience.
3. Electric Forest (Rothbury, Michigan) June 23 to 26
Lineup Includes: The String Cheese Incident, Major Lazer, Bassnectar, Fetty Wap, Porter Robinson
The spectacle of Electric Forest itself is reason to make the pilgrimage. Situated inside a forest outside of Rothbury, Michigan, the trees and structures are illuminated by vibrant lights, beautiful art pieces and colorful decorations which all give Electric Forest its very unique aesthetic. During the daytime, the festival is naturalistically psychedelic and at night the festival is both figuratively and literally lit. The music focuses on a unique combination of electronic and jam music, so there is something for the hippy inside all of us. Just don't get lost in the forest.
2. Levitation Psych Fest (Austin, Texas) April 29 to May 1
Lineup Incudes: Brian Wilson, Animal Collective, Caribou, Ween, Flying Lotus
Levitation is a smaller yet diverse festival which consistently amazes with its lineup and focus on music across the spectrum of psychedelia. With three stages including a dark, nightclub inspired tent and a riverside amphitheater, Levitation ensures the perfect environment for some of our favorite psych acts. At night Levitation comes alive with a multitude of light shows and video projections throughout the festival. For those wishing Levitation were a little closer to home, in 2015 the festival expanded to the Malkin Bowl in Vancouver's Stanley Park, and it will be there again this June 16 to 18.
1. Primavera Sound (Barcelona, Spain) June 1 to 5
Lineup Includes: Radiohead, LCD Soundsystem, Sigur Ros, Tame Impala, Brian Wilson
An outlier on this list, Barcelona's Primavera Sound is the lone festival without any camping. Instead, the festival takes place within Barcelona at the Parc Del Forum, right off the Mediterranean Sea. What separates Primavera Sound from other festivals is its consistently amazing lineups, and this year is no exception. It's a wet dream for indie fans, but it's also considerately diverse with bands of all genres from all over the world. Even though you're not escaping the city, Primavera Sound is a perfect way to embrace that temporary and sensory escape by the ocean with your favorite tunes