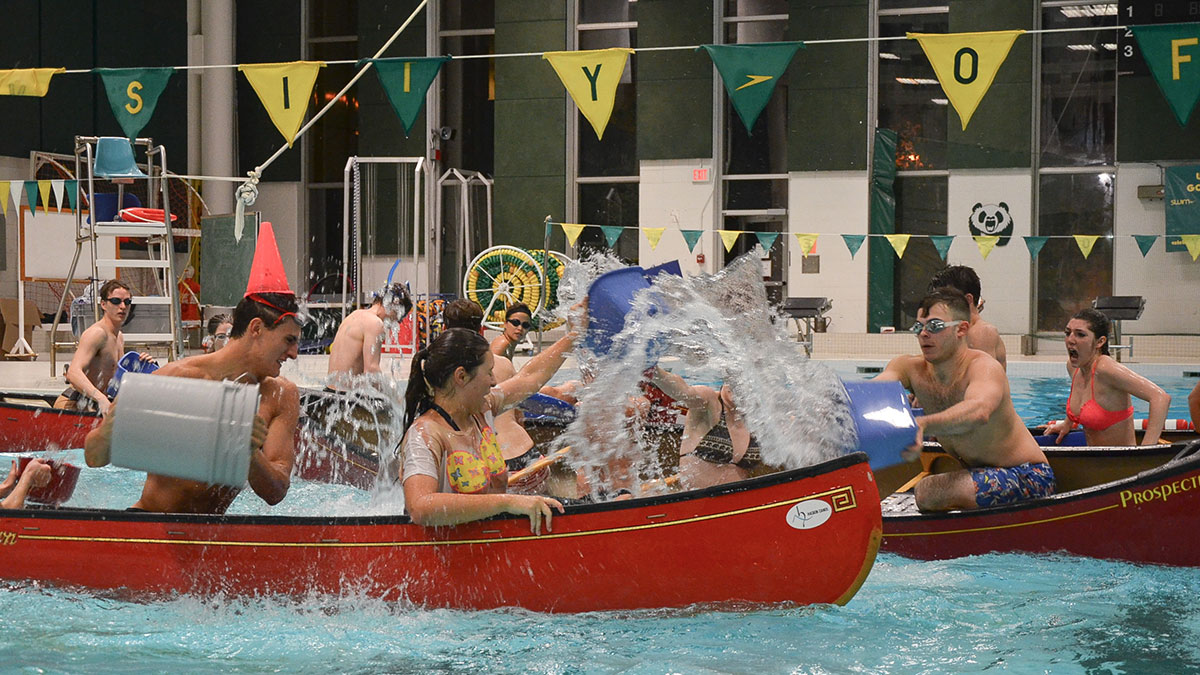 Red Eye, arguably one of Recreation Services' most popular events, is coming up on March 18-19. Red Eye is an overnight sports tournament where teams move quickly from game to game. Some of the most anticipated games in Red Eye are wheelchair basketball and sledge hockey.
Red Eye attracts primarily able-bodied participants, according to organizers.
"In the three Red Eyes I've overseen, we actually haven't had any people with disabilities sign up," said Alberto Bustamante, Recreation Services assistant intramural sports coordinator. Bustamante said individuals with disabilities don't take part in the planning the event, either.
Is this ableist? Or is it okay for able-bodied people to use wheelchairs for fun?
"Wheelchair basketball should be for physically disabled people who need wheelchairs," said Ophelia Brown, a disability advocate best known for a viral article she wrote in response to Kylie Jenner's infamous wheelchair photoshoot.
"People (like me) need them to get around. To get to the bathroom, to get to school or work, to get to the shops, to lead a 'normal' life," she said.
Josh Taylor, power wheelchair soccer player and former U of A student, disagrees.
"At least there's awareness getting out," he said. "I can't imagine any of them walk away thinking it's easy. I know if it was powerchair soccer, I'd like it if people had a chance to experience what I do for fun as a sport."
Bustamante's thought process is along the same lines as Josh.
"It eliminates the barrier between able-bodied and not able-bodied athletes," he said. However, Bustamante said disability awareness is not the focus of Red Eye.
"The aim is to promote different programming … and have a variety of sporting events," he said.
Bustamante's reasoning is in line with the contentious concept of reverse integration. Reverse integration involves able-bodied people playing adaptive sports alongside people with disabilities, and is heavily debated in the world of parasports. Nowhere on Red Eye's website is reverse integration referenced, nor is disability culture mentioned. Bustamante hopes able-bodied athletes who understand what it's like to use a wheelchair can "eliminate some barriers."  Yet wheelchairs are used in Red Eye as a novelty for primarily able-bodied participants. Additionally, reverse integration cannot occur without involving athletes with disabilities.
Red Eye is not an awareness event. It is intended to be a recreational activity for students. Regardless, the use of wheelchairs by able bodied people for fun is a form of cultural appropriation.
Disability culture is a minority culture and it must be granted the same rights and opportunity to educate as any other, particularly in university environments. Intentionally or not, Red Eye is executing an ableist event under the guise of a fun recreational activity, with a reference to awareness taken for granted. Educational institutions should be held to a higher standard for eliminating discrimination in their programming.
To improve, Red Eye should be planned with the input and involvement of wheelchair users. Reverse integration can be positive and create a more accessible playing field, but that simply cannot be accomplished by a group of exclusively able-bodied people. The stories, experiences, voices and expertise of people with physical disabilities must be heard in order to end ableism on our campus.