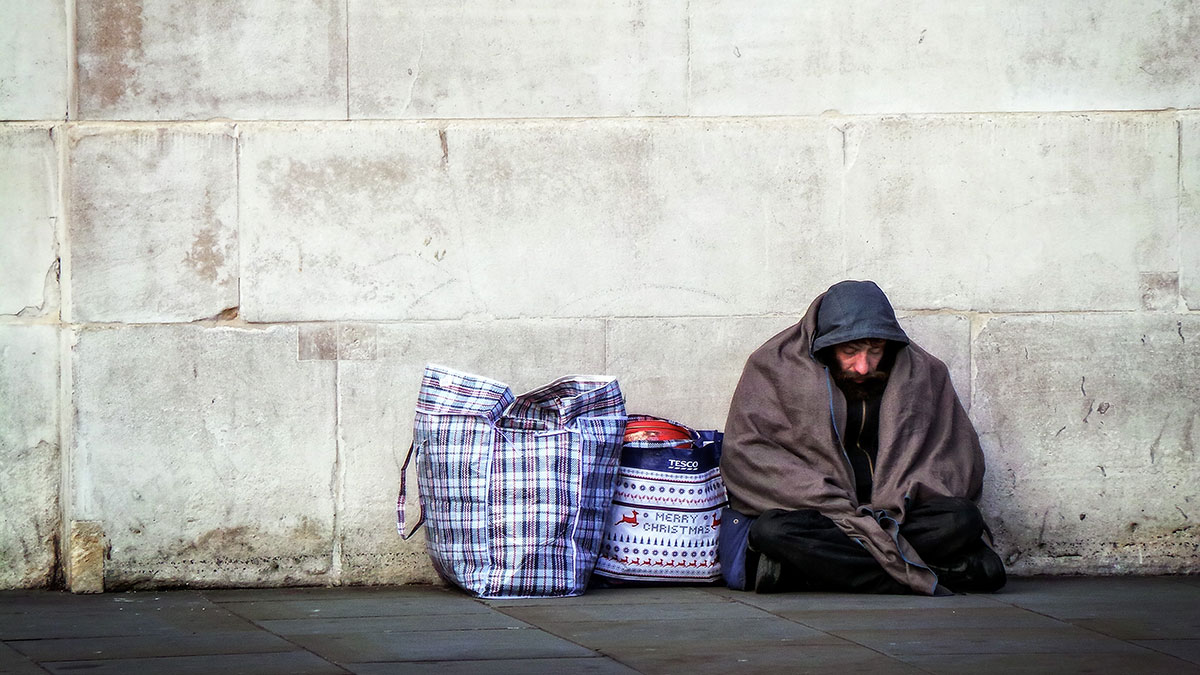 Despite good intentions, 5 Days for the Homeless doesn't seem to understand that being homeless is more than just going camping.
Over the past week, you might have seen participants of 5 Days for the Homeless — an "educational" campaign that was launched at the University of Alberta in 2005 and has since spread to 26 business faculties across the country — sitting in front of their tent in Business Quad. Eight of their executive members have committed to remaining on campus for five days, sleeping outdoors and only consuming food or drinks given through direct donations in order to raise money and awareness for Edmonton's Youth Empowerment Support Services.
Of all the resume boosters offered at the U of A, 5 Days for the Homeless is by far one of the most demanding. There are dozens of other social justice-related groups on campus that would look just as good on a CV and would require far less effort than what these participants have dedicated themselves to. Of course there's some ego-stroking involved, and it doesn't hurt that the campaign was covered this week by Global News and CTV, but it's clear the people who take part in this initiative have their hearts in the right place.
While their motives may be pure, the way these participants go about raising awareness for homelessness appropriates the lives of people in a marginalized group. The experiences of a couple of white, able-bodied business students, whose salaries within three months of graduation are estimated to be around $50,329, are not comparable to the experiences of Edmonton's homeless population. Their highly publicized initiative is an absurdly romanticized version of the stereotypical homeless person's struggles, yet it's treated as if it's comparable, often by the participants themselves.
"It's crazy how just sleeping outside can affect the rest of your day," one exec said in a video blog posted on Facebook. "I couldn't focus in class, because I knew at the end of the day I'd have to go back outside and sleep again. It's pretty tough."
The people partaking in 5 Days for the Homeless are sleeping with their friends outside Business, not alone in a cardboard box off Calgary Trail when it's -30ºC. They're congratulated for braving the elements inside their $200 North Face sleeping bags, while homeless people are often avoided as being undesirable or blamed for their misfortunes. These participants know there will be an end to their homelessness, while homeless people have to somehow come to terms with the reality of being caught in a cycle of instability and hopelessness.
I've never been homeless, unless you count the time I lived for a week in a makeshift shantytown in Cameron basement (which the 5 Days for the Homeless people probably do). I can't speak on behalf of a group in our society that is overwhelmingly made up of Aboriginal people, battered women, disabled persons, and people with severe mental illnesses. 5 Days for the Homeless claims to replicate the experiences of these individuals, but a school week is not enough time to suffer the social inequities built up over a lifetime that force people onto the streets.
The homeless in Edmonton do not embrace poverty for a feel-good public relations campaign. Barbeques and pancake breakfasts are not thrown in their honour. Local celebrities do not choose to spend a night with them in solidarity. And articles like this one are rarely written about them.
Correction: An earlier version of this article stated that "The people partaking in 5 Days for the Homeless are sleeping in a tent with their friends outside Business." Rather than sleeping in a tent, participants are sleeping outside.